One of the best ways to properly maintain a car is by making sure it gets engine tune-ups on a regular basis, which includes checking and replacing the spark plugs. The spark plugs deliver electric current from your car's ignition system to the combustion chamber. The resulting electric spark ignites a mixture of compressed air and fuel, which helps power up the engine. Deciding what type of spark plugs are the right option for you and your car can be challenging. Luckily, we have compiled this buying guide to help you choose the best spark plugs for your car.
The Best Spark Plugs
[table id=19 /]
8. NGK (5464) BKR5EIX-11 Iridium IX Spark Plug

This spark plug was constructed to be exceptionally durable with its laser-welded iridium tip, which measures 0.6mm. If you take pride in having a high-performance engine, then these are a great option for you. They can improve the response of your throttle and offer a stable spark at each and every startup.
These NGK plugs feature a triple gasket seal and a longer insulator nose than many other plugs on the market, making them far less likely to malfunction or misfire. Additionally, they have great anti-seizing properties.
Pros
Metal plating is designed to resist corrosion and seizing
The iridium allow has an extremely high melting point, making it durable enough for even the most high-performance engines
Long insulator nose keeps the plug from fouling
Ribbed insulator prevents flashover
Triple gasket seal prevents combustion gas from leaking
Cons
May not perform as well in German cars

7. Autolite APP5224 Double Platinum Spark Plug

These extremely long-lasting spark plugs offer platinum to platinum firing. They feature not only platinum tips but the platinum center and side electrodes as well, which makes this plug incredibly durable. If you are looking for a plug that will help you achieve better fuel economy, then this product is for you.
You care will run better than ever with these plugs. The center electrode fires quickly and cleanly, which makes the engine startup even easier. You will experience faster acceleration and high performance.
Pros
The steel shell is plated with nickel, making it extra resistant to corrosion
Platinum to platinum firing for durability and high performance
Center electrode fires quickly and cleanly for an easier startup
Allows for better fuel economy
Resistant to gap wear, so the plug is incredibly long-lasting
Cons
Need to be manually gapped

6. ACDelco 41-993 Professional Iridium Spark Plug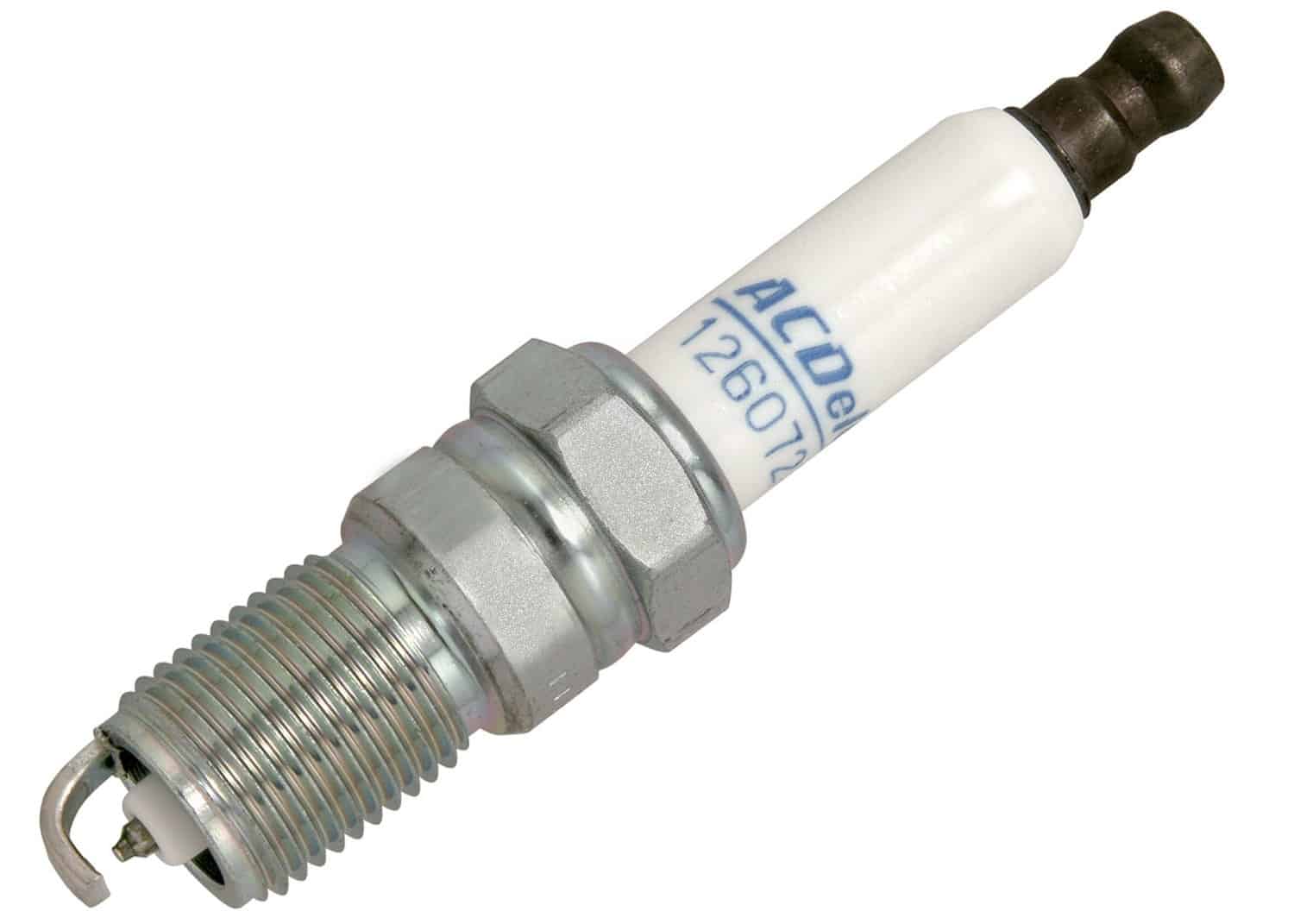 These ACDelco plugs are a great option if you live in colder climates, as they feature a small electrode designed specifically for an easy startup in the cold. The super-fine electrode allows for fuel to be efficiently ignited and will have your engine running more smoothly than ever.
The suppressor seal on this plug features a single-piece design, which helps to prevent radio interference. Additionally, this seal prevents the leakage of combustion fuel.
Pros
Iridium allows for a smoother-running engine as well as easy idling
The small electrode will assist in faster acceleration
Electrode burns away carbon deposits on the tip before they significantly build-up
Improved fuel economy
Suppressor seal blocks radio interference, which protects your car's other electronics
Cons
May not be as good as OEM plugs in new model cars

5. Denso (3297) SK20R11 Iridium Spark Plug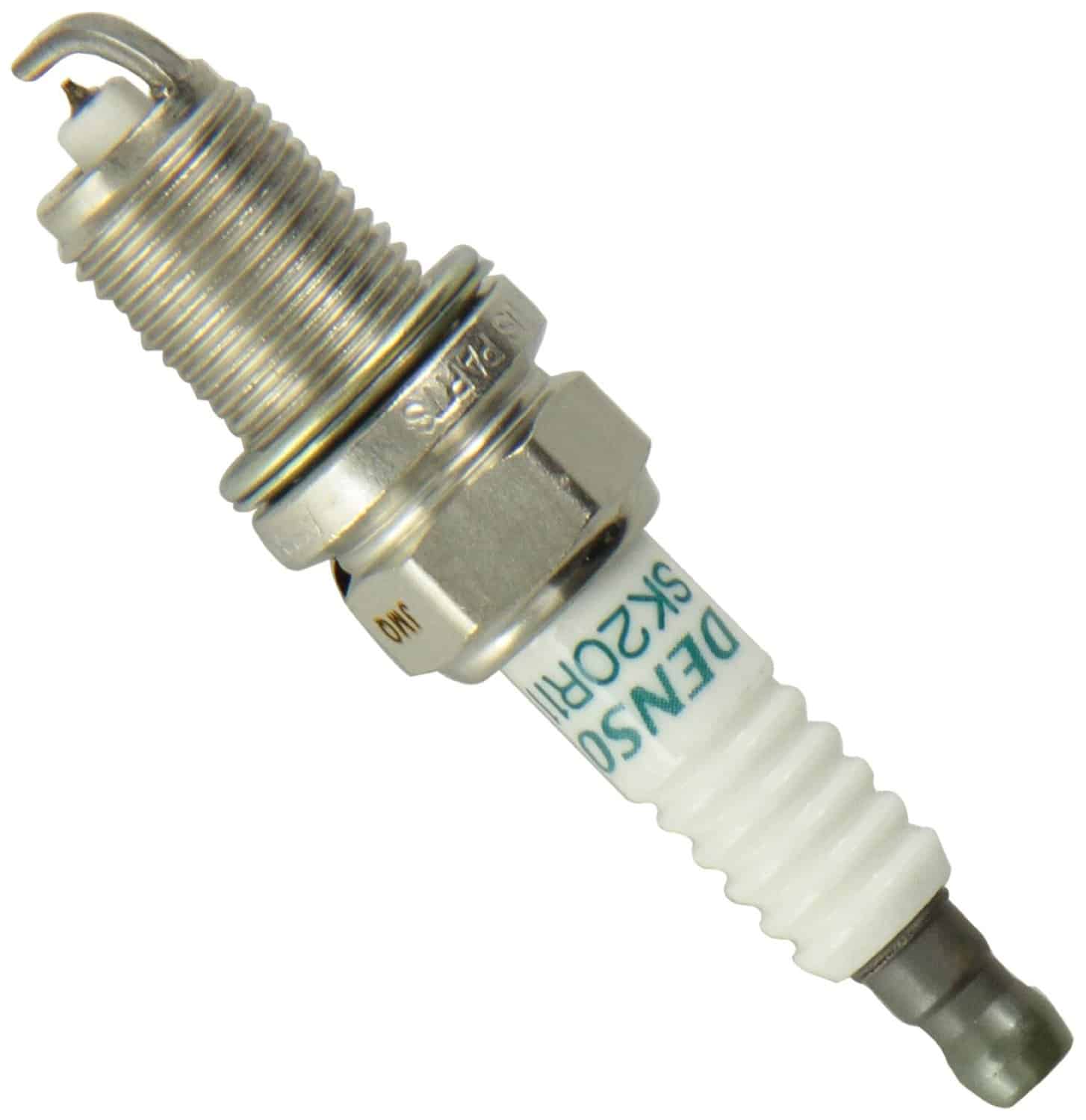 If you are looking for plugs to go on your high-performance engine and crave the ability to accelerate at top speed, these plugs are a great option for you. The iridium tip not only aids in acceleration but also keeps the engine running smoothly as it idles by keeping combustion stable.
All parts of this plug are constructed for durability at the highest temperatures, so you can be sure that they will last you much longer than competing brands.
Pros
Iridium tip allows for fast acceleration
Remarkable longevity with parts that are built to hold up against the highest temperatures
Ensures that combustion remains stable during engine idling
Cons
These plugs seem to be shorter than most, making for difficult installation in some models of cars

4. Bosch (4417) FGR7DQP Platinum +4 Spark Plug

These plugs are among the best of the best in terms of efficient combustion. The ground electrodes provide easy access to the air/fuel mixture, so the process runs smoother than ever. The yttrium alloy that these electrodes are constructed with ensuring that the plugs stay resistant to oxidation, so they won't wear as quickly as others.
This plug features a durable four-pronged design for its ground electrodes, ensuring that the optimal amount of the air/fuel mixture is reached for combustion and that the plugs last you a while without causing any misfires. They are built to be long-lasting and are incredibly resistant to wear even at the highest engine temperatures.
Pros
Easy to install, with no need for manual gapping or adjustments
Four-pronged for greater combustion power and efficiency
Long and powerful spark make your engine run better than ever before
Cons
May not work as well in Japanese models
3. Bosch (4501) FGR8DQI Platinum IR Fusion Spark Plug 

This spark plug is one of the best you can use, featuring a unique mix of both platinum and iridium which self-cleans itself of buildup at high temperatures. They last even longer than platinum or iridium plugs would alone and resist oxidation as well as typical wear.
Like other Bosch plugs, the Fusion comes pre-gapped right from the factory, so they can be immediately and easily installed right out of the box, saving you precious time and hassle. If you want your high-performance engine to run cleaner than it ever has before, then this spark plug might be perfect for you. You'll experience smooth engine idling and see a noticeable difference in the way your car drives.
Pros
The fusion of both high-quality materials, iridium, and platinum, for some of the highest-quality performance on the market
The powerful spark from the four-pronged ground electrode design
Comes pre-gapped from the factory for easy installation right out of the box
Resistant to oxidation and wear at even the highest temperatures
High temperatures allow the electrode to burn off any buildup of residue, making them efficiently self-cleaning
Cons
Like the above plug, these Bosch's aren't a great option for Japanese model cars

2. Denso (4504) PK20TT Platinum TT Spark Plug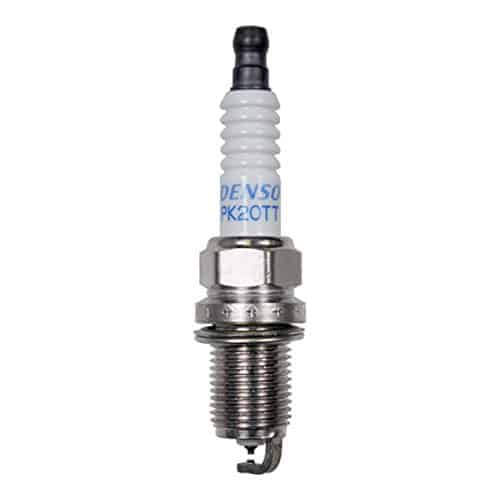 These Denso Spark plugs are one of the absolute best options for car owners looking to efficiently power their high-performance engines, taking their car to the next level. The plugs feature a twin-tip with an 11mm platinum center and an 11mm titanium ground electrode. If you want to see a noticeable difference in your car's fuel economy, these Denso plugs are definitely for you.
This plug's design will have your engine starting up quicker and cleaner than the single platinum options. They can handle more stress than their competitors because of their high-quality insulation and thermal protection. High-performance engines can easily heat up lower quality spark plugs to the point of some serious damage, but this plug can stand up to whatever it has you put it through.
Pros
Effective twin-tip technology
Cleaner and faster acceleration than almost any single platinum plug
Purified alumina powder insulator provides excellent thermal conductivity, ensuring that these plugs hold up in the most extreme conditions
Long-lasting and cost-effective
Cons
May need to adjust the factory gap

1. Autolite APP104 Double Platinum Spark Plug

If your car is your pride and joy, then you'll want to buy nothing less than they best spark plugs in the market. In that case, we suggest these platinum plugs from Autolite. They will allow you to get the most out of your engine's performance, improving your fuel economy and allowing you to go longer amounts of time between tune-ups.
The electrode on this plug fires cleanly and at top speeds, which will have you accelerating at unbelievable rates. You can show off your car's newfound performance and enjoy smooth driving everywhere you go. The platinum to platinum firing is incredibly powerful, and the nickel-plated shell helps this plug resist corrosion better than any other option.
Pros
Platinum on platinum firing for powerful startup and clean engine idling
Remarkable acceleration and fuel economy
Nickel-plated shell helps to fight corrosion and makes these plugs even more durable
Cons
Factory gap may need to be manually adjusted

Best Spark Plugs Buying Guide
What are the types of spark plugs?
There are four different types of spark plugs. Copper core plugs are the most inexpensive and work at a higher temperature than the rest. While they are great conductors, they typically only last around 20,000 to 40,000 miles. Iridium plugs work at a lower temperature, and while they aren't as good at conducting, they do last between 40,000 and 60,000 miles. Platinum plugs last between 40,000 and 80,000 miles and are of better quality than iridium. Finally, for people who want the highest quality spark plugs, there is a double-platinum option.
Why is there a Need to Use Spark Plugs?
Using high-quality spark plugs will ensure that your car engine displays top performance and efficiency, taking your already high-performance engine and pushing it to the next level completely. You could experience troubles with the engine if any of your spark plugs misfire or if you don't replace them after a certain number of miles. You could find that your car becomes much less fuel-efficient over time, or even start experiencing problems with your exhaust emissions during a misfire. If you want to avoid these problems, and potentially save your engine from having to endure the damage a misfire can lead to, make sure to use the best spark plugs during your next tune-up.
Conclusion for the Best Spark Plugs
We hope you found this buying guide useful in determining which spark plug is the very best for your personal needs and preferences. Cars are something most of us take great pride in, and ensuring that you put in the very best products during a tune-up can greatly benefit your engine's performance. Buying poor-quality plugs will leave you burning through fuel at rapid speeds and noticing that your car has trouble starting up. You may even find that your cylinders are misfiring more often. Instead, buy a spark plug that was specifically made to perform efficiently and last longer than ever. Your car will thank you. If you purchase any of the listed eight products during your next tune-up, you will be buying on pf the best spark plugs on today's market.
More Tips for the Best Spark Plugs
How To Change & Inspect Spark Plugs
More Automotive Buying Guides