A modern car is not deemed complete unless it has a quality stereo unit with excellent sound. A good car stereo unit gives you an unmatched control over your music including how deep, loud or crisp it sounds. Unfortunately, if you rely on the OEM factory units that are originally shipped with the car, the best you would get is a mediocre tweak over the bass and treble settings as far as the sound quality is concerned. However, there are more than enough varieties of aftermarket stereo systems that you can purchase from both online and brick and mortar stores and rejuvenate your car's listening experience. Below is the list of best car stereo you can buy if you consider buying one.
The Best Car Stereo
[table id=20 /]
11. The Kenwood Double DIN Bluetooth Radio Receiver DDX372BT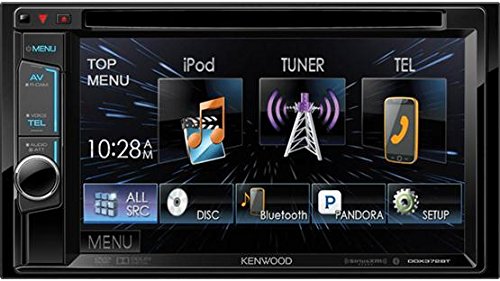 Being a double-din model, it is not surprising that this model has a 6.2″ LCD touch-sensitive screen with backlit illuminated keys. Not just, the various background onscreen customization functions are also lit up to allow easy access when using the stereo system. The Kenwood DDX372BT is capable of churning out over 22-watt amps per speaker for the treble output and 50 watt-amperes per speaker for the sub-woofer. On the downside, however, this car radio's AUX port is located, rather inconveniently, at the back, along with the microphone and AV inputs. The rest of the ports, the CDs, DVDs, USB and Radio ports can be accessed from the front-facing dash.
Pros
a. Fully functional and compatible with the latest iPhone's music voice commands, Lightning Cable-to-USB control, and Siri Eyes-Free Control.
b. For Android users, it is conveniently Bluetooth-enabled. You can thus stream and play all your music wirelessly straight from your phone.
Cons
a. Has limited audio control of the sound output
b. AUX port is placed at the back of the system making rather cumbersome accessing it.

10. The JVC Single-Din KDR-330 Car Stereo Receiver
It might be a basic system and quite common at that, but it a few notches better than the Kenwood above. Being a single din car radio model, the JVC KDR-330 is quite easy to operate and access and has a detachable face to boot. And like any other entry-level unit, it puts out 20 Watt amps RMS for each of the four channels and 50 watt-amperes MAX for the sub.
Pros
a. Have a motorized, detachable face for easy customization. The AUX input and controls are located in the area you would naturally place your fingers, giving you easy touch control over your music.
b. One of the few entry-level units that come with dedicated remote control.
c. Plenty of external connection ports including a CD/DVD slot and an AUX port.
Cons
a. Very basic and barely only serves just the purpose without any additional features e.g Bluetooth

9. Clarion USB/MP3/CD/WMA CZ302 Bluetooth

Moving up a few rungs in size, cost, style, price, and functionality is the Clarion single din radio receiver. It looks like the JVC above but can deliver a better punch to the music thanks to the SeriesXM trademark. Otherwise, it is one of the few units that are considered a huge step-up from the factory-fitted OEMs without the typical prohibitive price tag that characterizes aftermarket units.
Pros
a. Bluetooth-enabled hence compatible with all wireless audio devices.
b. Compatible with Pandora hence you can stream music online trough it.
c. Has a quality built-in equalizer.
Cons
a. Limited functionality and harder to navigate due to the lack of a wider 7″ screen.

8. AVH270BT Pioneer Bluetooth Car Radio Receiver ( Double Din )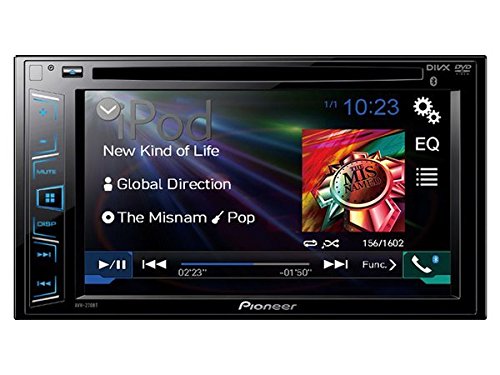 Our eight spot is reserved for this Pioneer double din car radio that is not only considerably cheaper than most Kenwood models you can come across but also offers a knob-free user interface. The 7″ LCD touch-sensitive screen is by no means the best out there but it still gets the job done pretty well by allowing you a host of customizable settings.
Pros
a. Packed with seamless audio streaming and Bluetooth Hands-free Calling capabilities. This means that it can even be paired with your handset and allow you to receive calls and communicate even without touching the phone.
b. Rated at 50 watt-amps Max power but can deliver about 25 watt-amps RMS to each of the four channels.
c. The display has quite a decent resolution matrix for a $150 car radio.


7. The Sony DSXA40UI Single Din Car Radio Receiver

The 7th spot is reserved for Sony. And this is mostly because the brand 'Sony' will rarely miss in any audio system review. They make exception products after all.
That said, the single din car radio is nicely sleek with a unique black-on-black matte finishing giving it that expensive, stealthy look. And you can also bet that the excellent looks are matched with the superior sound quality that emanates from this small beast.
Pros
a. The front panel is easy and 100% detachable in a bid to reduce the chances of vehicle theft.
b. Shipped with a wireless remote control unit
c. Fitted with custom Sony RCA outputs for the connection of external amplifiers.
Cons
a. Lack of a sensitive LED/LCD screen makes it a tad less stylish and limited as far accessibility is concerned.

6. AVH-4100NEX Pioneer Double Din Radio Receiver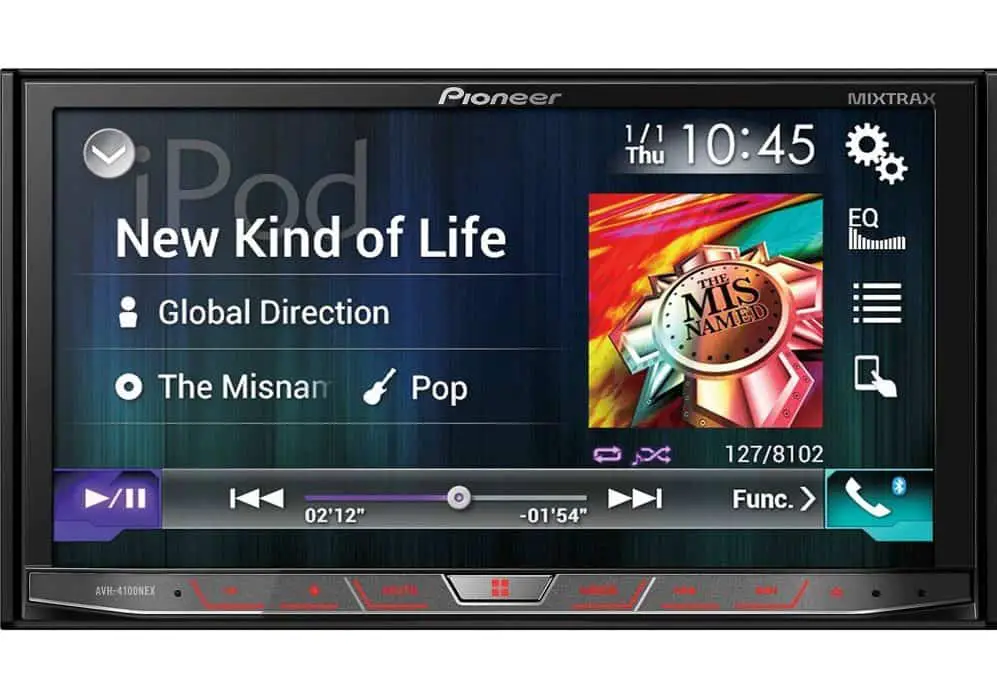 Priced at over $500, this Pioneer double din head unit is by bar one of the most expensive on this list. But if you look closely, its features might as well justify the pretty penny. Right off the bat, you are accosted with an HD 7″ LCD screen with LED backlighting. The backlit feature gives it a premium look and feel just by switching it on, and gives it that sophisticated eerie appearance at night.
Pros
a. A Crisp and Clean Touchscreen Interface that allows you to issue commands just like a light flick or touch.
b. Shipped with iPhone's Carplay compatibility out-of-the-box. This essentially allows the user to have access to some of the basic features on your iPhone straight from the head unit itself.
c. Has the latest Bluetooth hands-free calling and online audio streaming capabilities.
Cons
a. A highly prohibitive price tag.
b. Both AUX and RCA ports are located at the back of the stereo system.

5. Alpine Radio Receiver CDE-143BT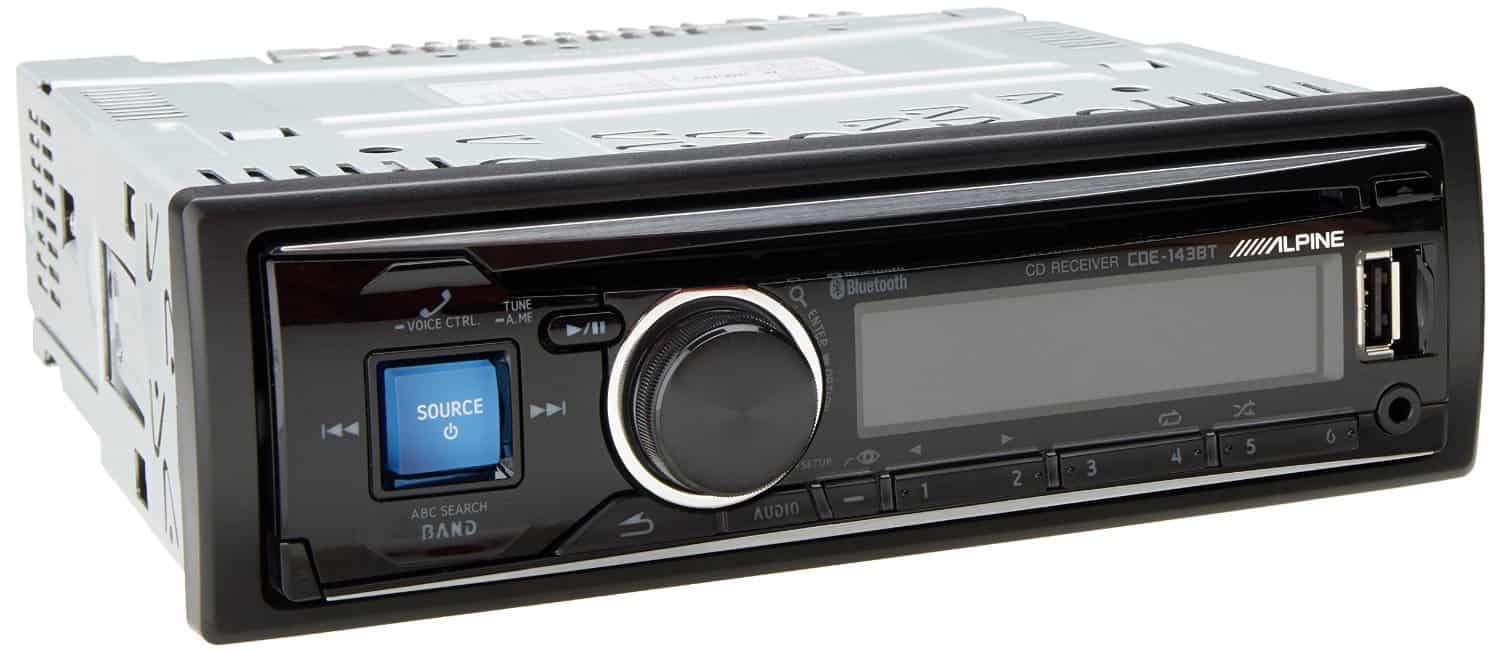 One of the best single din car radio head units today, the Alpine is without a doubt a stellar product. If anything, the alpine system is not meant to be paired up with cheaper car stereo accessories. Rather, it is designed to tie together an existing Alpine equipment collection together.
Besides that, it boasts of an impressive 50 watt-ampere maximum power output and the classic single knob look is the ultimate definition of Alpine excellence.
Pros
a. High-speed Advanced USB Connection ports for connecting your iPod or USB sticks.
b. Seamless Bluetooth Integration into the stereo's operation system.
c. Offers a wireless car listening experience.
Cons
a. Lack of a 7-inch display makes it less superior to double din car radio systems.

4. Pyle PLDNAND621- GPS Android Double Din – DVD Car Stereo, WIFI Hands-free Bluetooth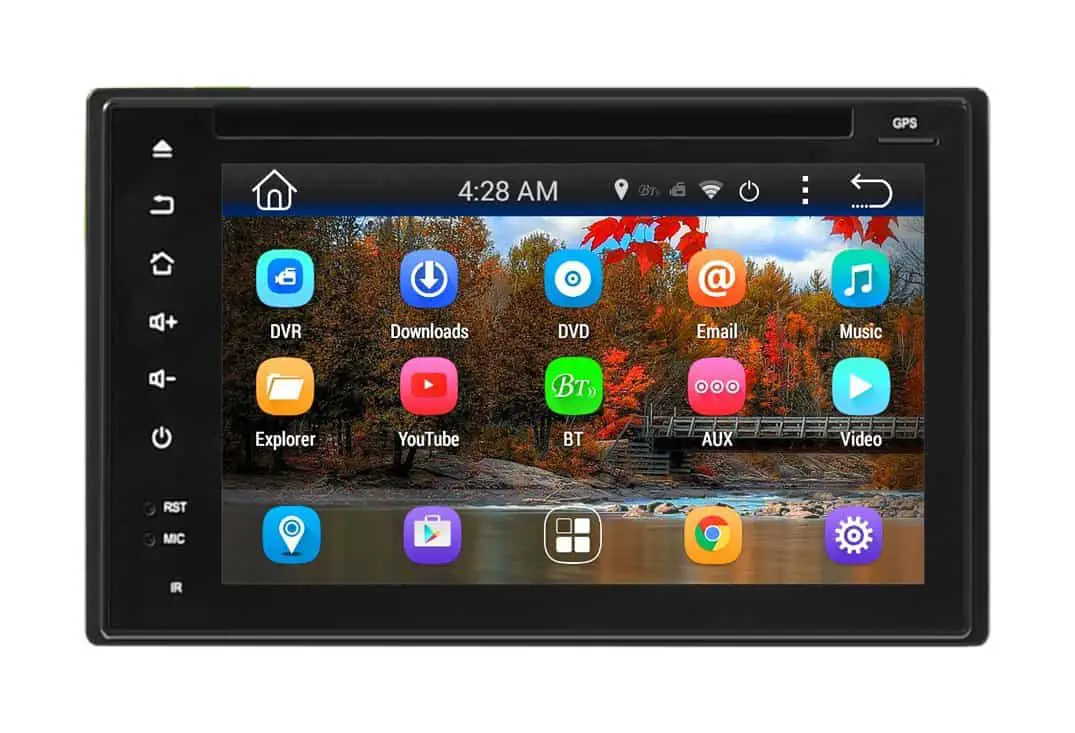 Considered hands-down one of the most feature-rich stereo units out there, the Pyle system is arguably the best-advanced car radio on this list. Boasting of a next-generation 'tablet-style' functionality, the $272 double din system can deliver a mind-blowing 50-watt amp power that is uncharacteristic of many units with a heavy software utilization.
That said, here are some of the strong and weak points of the system.
Pros
a. Features a built-in Android operating system that is mirrored via the 6″ Touchscreen display.
b. The only double din car receiver with GPS Navigation out-of-the-box,
c. Features a 1080 High-Definition 1080p screen.
Cons
a. Incompatible with other operating systems apart from Android. This includes iOs and Blackberry OS.

3. The BOSS BV9976B AUDIO 7″ inch Bluetooth Radio Receiver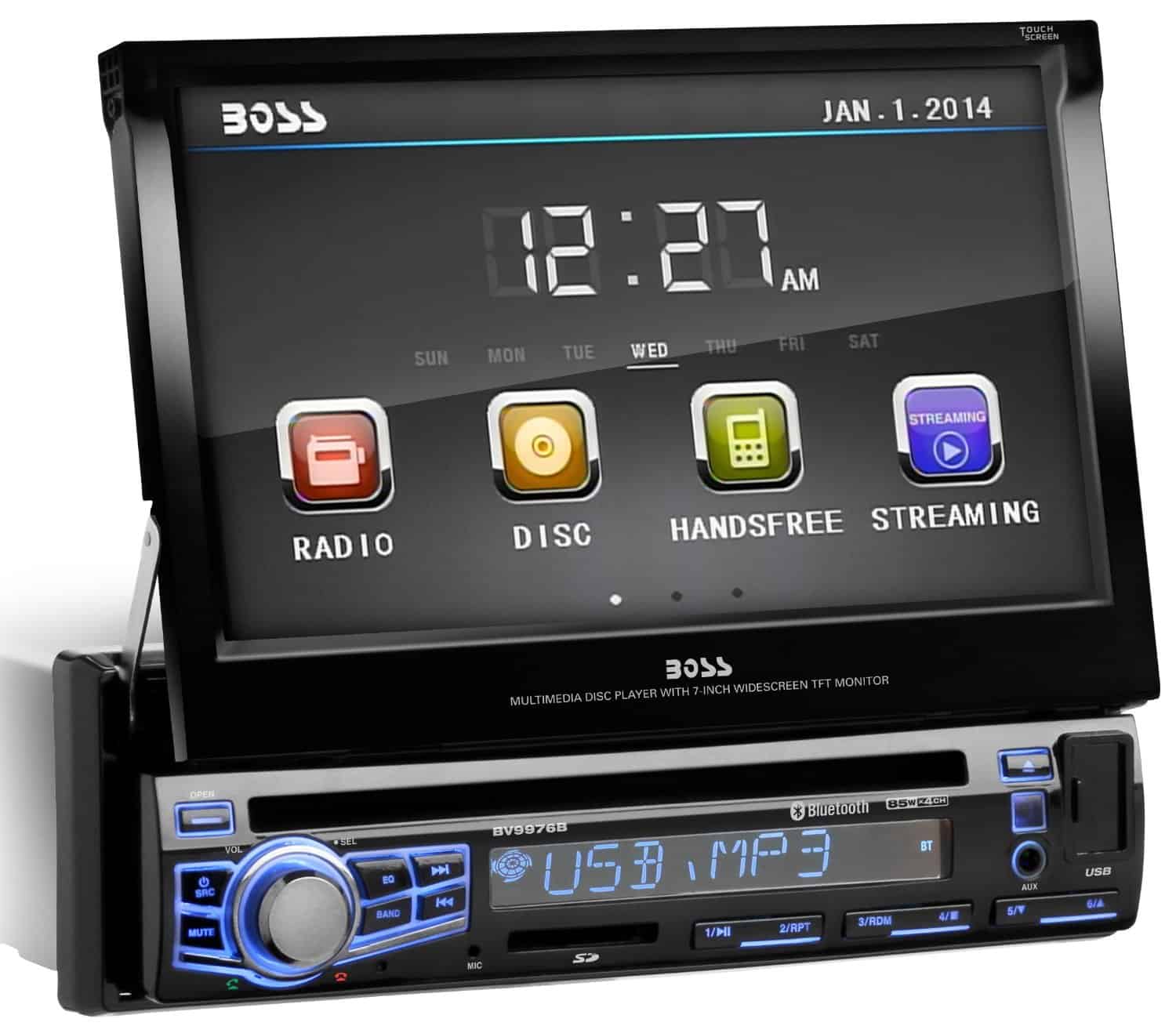 One of the most popular double din car radio receivers takes the third position. But that's mostly because of its easy-to-use interface backed up by an attractive price-point. It is also capable of 85 watts via its four channels makes it the most powerful system on this list.
Pros
a. Significantly cheaper than its high-end counterparts i.e Kenwood and Pioneer.
b. It has a relatively easy-to-navigate interface that is typically lit by bright LEDs.
c. Handsfree Bluetooth enabled.
Cons
a. The attractive budget price implies that the manufacturer had to compromise on certain aspects such as the absence of additional crucial features such as live audio streaming.

2. The KDC-255U Kenwood In-Dash CD Radio Receiver (USB + AUX)

The KDC-255U is the most produced and sold of all Kenwood car radio received. There a number of factors behind this. For starters, at just $60, it is priced at an undeniably affordable point that appeals to many car owners.
Secondly, this Kenwood unit, despite its cheap price tag, has the same modern classy finishing as other high-end units. What's more, simply because it costs $60 doesn't mean that it can't crank up an aftermarket amplifier with a tremendous 50 watt-amps RMS.
Pros
a. A reasonable and extremely affordable price tag.
b. Compatible with streaming apps such as Pandora despite being a budget model.
Cons
a. The notable absence of Bluetooth compatibility is a huge deterrent to many.

1. The FH-X720BT Pioneer Bluetooth Double Din Car Radio Receiver
Look inside any high-end vehicle today, and you won't miss this 'serious' system. It's the only car receiver that takes a double din approach but while still maintaining the single din look. Undoubtedly one of the best car head radios you can lay your hands on, this Pioneer unit delivers an unparallel superb listening experience at such a reasonable price point.
Boasting of a sleek exterior, the FH-x720BT is primarily black with LED accents to complement the modern look. Like any other modern unit, all the crucial controls are found on the front panel circumventing a central volume control knob.
Pros
a. It's Bluetooth enabled for a convenient hands-free listening experience and seamless wireless audio streaming.
b. Features a unique voice-recognition software that makes it possible to make outbound calls from your iPhone without even touching it.
c. At slightly just under $100, it is the most practical stereo system for the average car owner.
Cons
a. Lack of a 7″ LCD display despite its double din look makes it look a little ancient in 2016.

Best Car Stereo FAQs
What is a single din car stereo?
These are mostly about 2″ inches high and about 7″ long. They don't have any fancy features other than a simple classic head unit with a crowded bevel of the relevant audio setting buttons.
What is a double din car stereo?
They are bigger and more sophisticated than the single din and measure about twice the height of single din car radios. A majority of them come with a 7″ inbuilt color LCD screen to match. Sometimes, this interface can be customized with the car's video player, navigation, camera hookup interface system.
Conclusion for the Best Car Stereo
Eventually, at the end of the day, the car head system that you settle for will be dictated by a number of factors, including but not limited to your budget, personal preferences, and experience with previous past models. And it doesn't here. Your new car radio receiver unit should be complemented by quality aftermarket car door speakers and a powerful centrally placed subwoofer. To top it all up, you will also need a quality battery to power and drive the complete car audio system, especially the external amp unit. With all this in place, choosing a suitable aftermarket car radio head unit will be a walk in the park.
More Tips for the Best Car Stereo
How To Install a Car Stereo
More Automotive Buying Guides