Some people make the mistake of buying high-quality speakers and expecting a huge difference in their car's sound quality. However, the quality and capacity of your speakers mean very little unless your stereo is delivering the correct amount of power to them. This is where buying a car amplifier can help you and your speakers out. This product will ensure that the correct amount of power is getting to the speakers, making the sound quality in your car something to be proud of. Below, we have compiled a list of the best car amplifier you can buy.
The Best Car Amplifiers
[table id=18 /]
8. Lanzar HTG157 3000-Watt 2-Ohm Monoblock Mosfet Amplifier
This powerful monoblock amplifier from Lanzar pushes an incredible 3000 watts at 2 ohms, so you can rest assured that plenty of power is getting to your speakers and delivering high-quality and clear audio. If you're someone who enjoys bumping up the low end, you will love this amplifier's effective bass boost circuit.
With soft on and off switches, low pass filter controls, LED indicator lights, and high-performance construction materials, the Lanzar amplifier has enough safety features to keep it from overdrawing power or blowing your speakers.
Pros
RCA inputs are silver-coated, establishing the best possible connection between the amplifier and head unit
LED light indicators to let you know when the amplifier is installed safely and securely
The soft on/off switches prevent damage to the speakers
Incredibly powerful delivery
Cons
Can draw a lot of power, so absolutely must be wired perfectly to prevent damage
Needs to be extremely well-ventilated to prevent overheating
Overheating may cause a shutdown

7. Alpine MRV-M500 Mono V-Power Digital Amplifier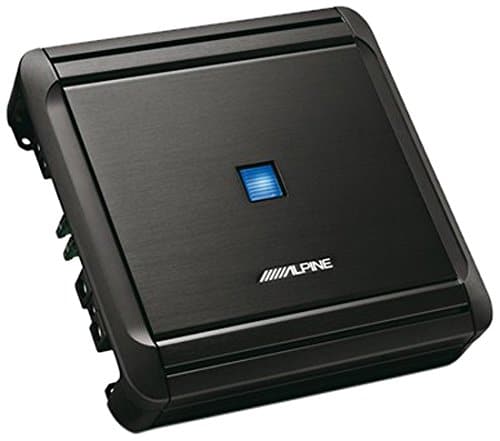 This mono subwoofer amplifier from Alpine is the best amplifier on the market if you need a good bass boost in your compact car. With 8″ x 8″ x 2″ dimensions, this amplifier can fit almost anywhere you need it to. It delivers 500 watts RMS to the subwoofer for an exceptionally powerful bass boost.
With its low pass filter, enhanced shutdown performance technology, and snap-on terminal covers, this product is as easy to maintain as it is to install.
Pros
Enhanced shutdown performance technology allows the amplifier to sense overheating and pull back power, without shutting off your audio, until it cools back down
Powerful bass boost
Small enough for compact cars and hard to reach installation areas
Snap-on terminal covers for easy installation and quick tool-free maintenance on the go
Cons
Short lifespan if used passed the overheating point consistently
Needs to be regularly maintained

6. New Pioneer GM-D9601 2400W Mono D Car Audio Amplifier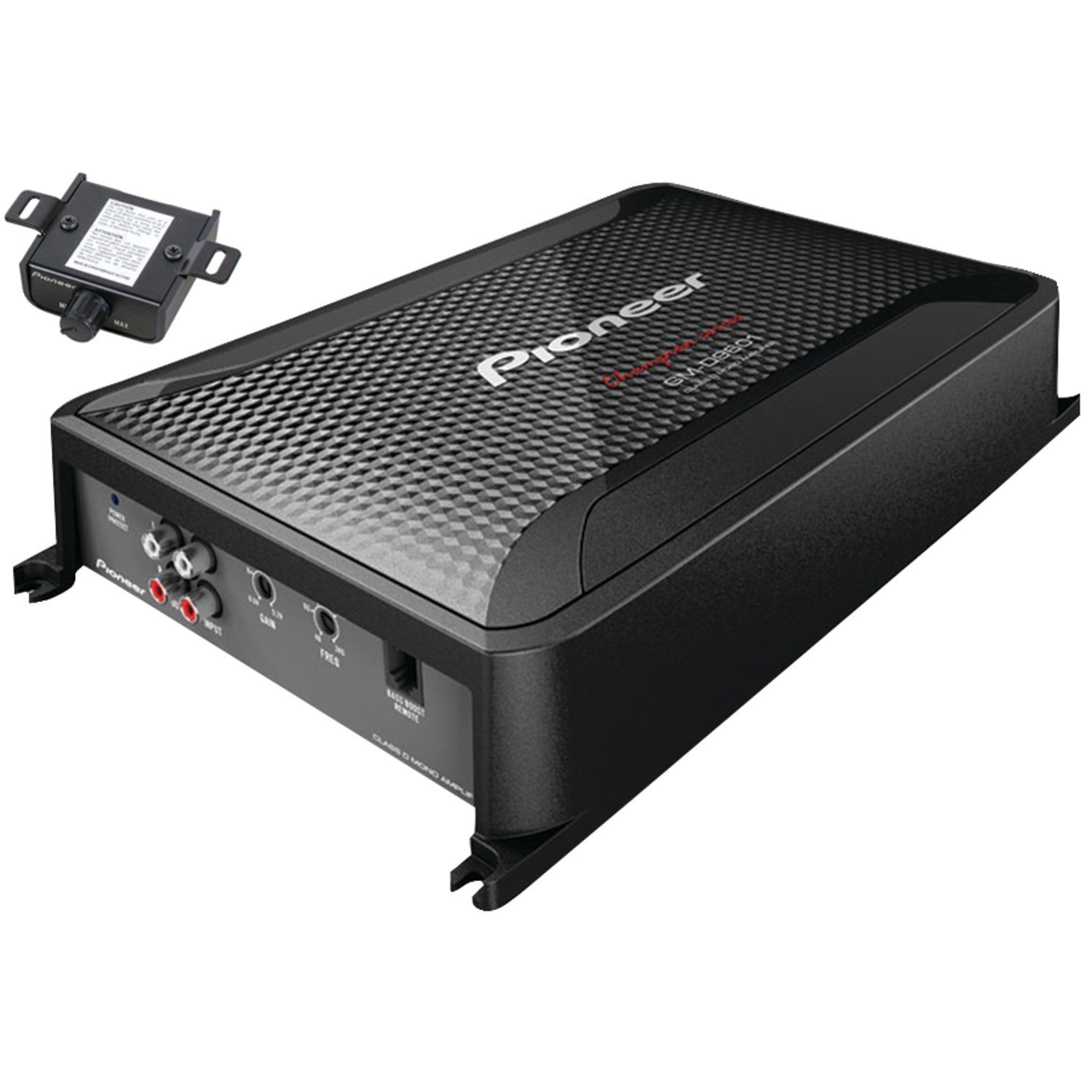 This mono amplifier from Pioneer delivers 2400 watts of power to your stereo system. It is the perfect product for you if you like having complete control over your bass, as this amplifier comes with a bass control remote so you can change your preferences as often as you like. The wired bass boost is powerful enough to satisfy even the pickiest customers.
This amplifier is equipped with stable circuitry and is able to sense heat, so you won't have to worry about the shutdown in the middle of use. It is extremely versatile and can be installed virtually any way you need it to be.
Pros
The protection control system can sense internal temperatures and moderate input levels accordingly, so the amplifier never shutdowns unexpectedly
Stable circuitry lowers the risk of an overdraw of power
Versatile installation options
Remote control for bass booster preferences at all times
Cons
Lifespan may be shortened by consistent prolonged use and overheating

5. BOSS AUDIO AR2500M Armor 2500-Watt Monoblock, Class A/B 2-8 Ohm Stable Monoblock Amplifier
This powerful monoblock amplifier from Boss Audio delivers an incredible amount of power, pushing 2500 watts at 2 ohms. The audio is easy to customize because this amplifier has a wired remote control for the subwoofer and a variable low pass crossover, as well as a powerful bass booster. If you like being in control of your audio experience, this is the product for you.
Additionally, this amplifier features a slim design that is easy to install almost anywhere with both high and low-level inputs.
Pros
Bass is pure and clear sounding, even when fully boosted
Slim design fits almost anywhere
Wired remote control for the subwoofer
Sound quality and level are easy to customize with variable low pass crossover and switchable bass booster
Cons
Because of small size, this product can easily overheat, causing shutdown during use
Doesn't perform up to potential power in some types of stereo systems

4. Pioneer GM-D8601 Class D Mono Amplifier with Wired Bass Boost Remote
This amplifier from Pioneer pushes 1600 watts at 2 ohms and is one of the best car amplifiers currently on the market. It features a compact design for versatile installation and comes with a wired bass booster remote control, so you can adjust your preferences depending on what you're listening to. This is a great product for you if you have more than one subwoofer in your system, as this amplifier can connect to multiple subs without issue.
Additionally, this amplifier has built-in protection control system technology to regulate the internal temperature, as well as a highly durable and stable circuitry to reduce the risk of a power overdraw.
Pros
Can be quickly installed without adapters
Variable bass control wired remote
Stable and durable circuitry prevents damage to the product
Regulates the internal temperature to avoid shutdown during use
Cons
There have been some issues with faulty connections
Warranty repairs take a while to get shipped back to you

3. Rockford Fosgate Prime Car Amplifier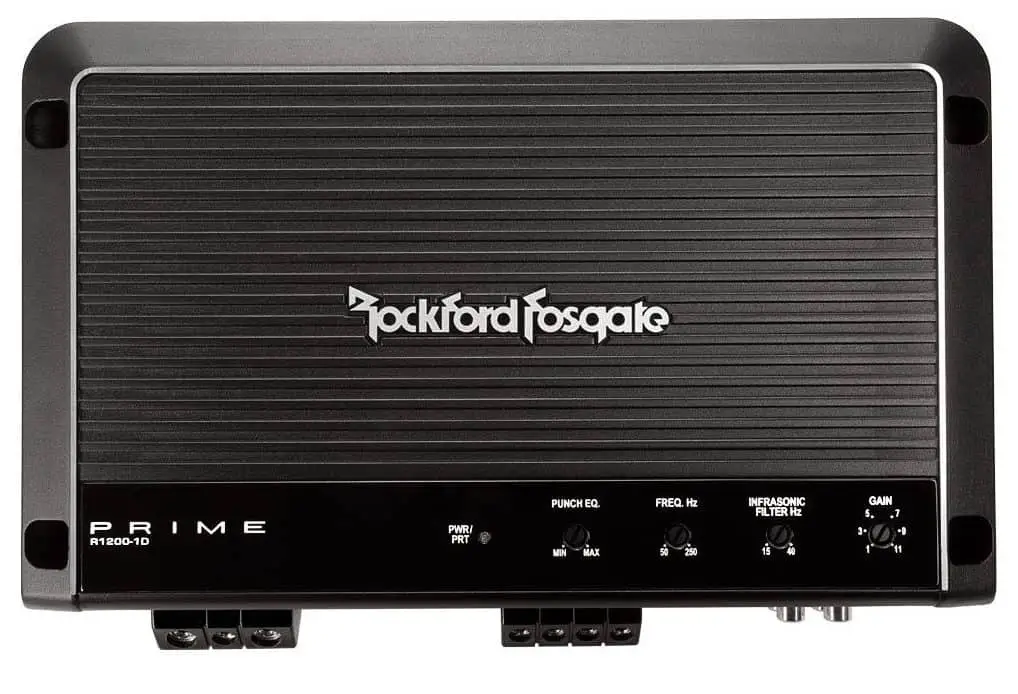 This high-quality monoblock amplifier from Rockford pushes 1200 watts and just 1 ohm without ever causing damage to your car's electrical system. It has easy-to-use top-mounted controls and a variable crossover. It has a unique infrasonic filter, which prevents even the lowest bass notes from damaging your subwoofer.
This product was definitely built to be long-lasting and durable. It is constructed with heat-resistant cast aluminum and has tri-stage protection to prevent overheating, an overdraw of current and power, and short-circuiting. If you want the best of the best, this amplifier is a terrific option.
Pros
The infrasonic filter protects subwoofers from low and inaudible bass notes
Won't strain your electrical system despite the power
Tri-stage protection
The cast aluminum build is resistant to damage from heat
Easy-to-use controls can be accessed right on top of the amplifier
Cons
Some concern with a faulty protection light

2. Planet Audio Car Amplifier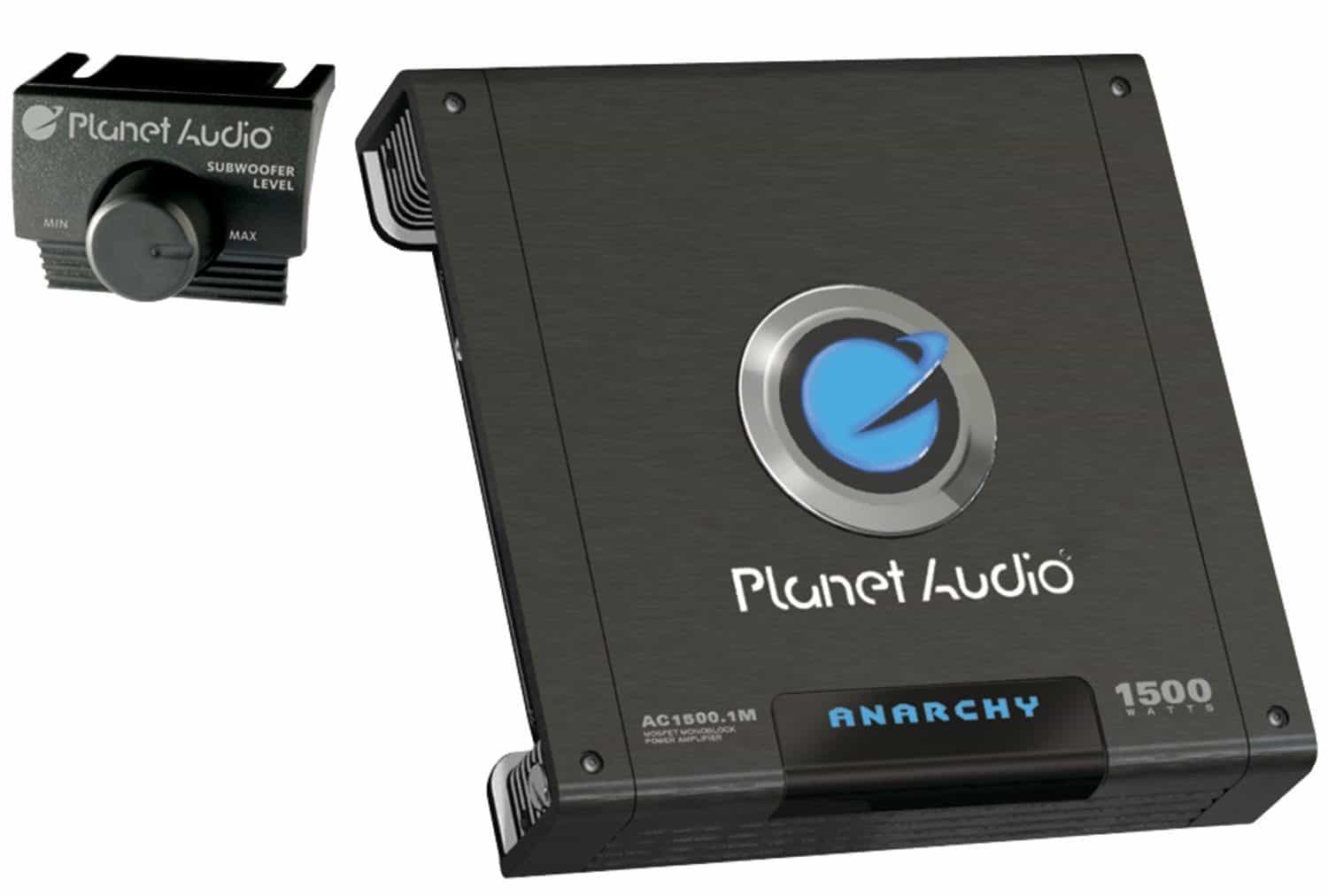 This monoblock amplifier from Planet Audio offers some of the best sound quality you can get on the market today, all while pushing 1500 watts at 2 ohms. The audio is completely open to customization and remains clear at all volume and bass levels. It has a variable low pass crossover as well as a variable bass booster and comes with a wired remote subwoofer control.
This amplifier has easy-to-use connections, and the option to connect to more than one subwoofer in your stereo system.
Pros
High and low-level inputs
Customization of the bass booster, low pass crossover, and subwoofer
Clear sound quality no matter how loud you play it
Remote control for the subwoofer
Cons
The electrical system may be strained if connected to more than one subwoofer

1. BOSS AUDIO R3400D Riot 3400-Watt Monoblock Car Amplifier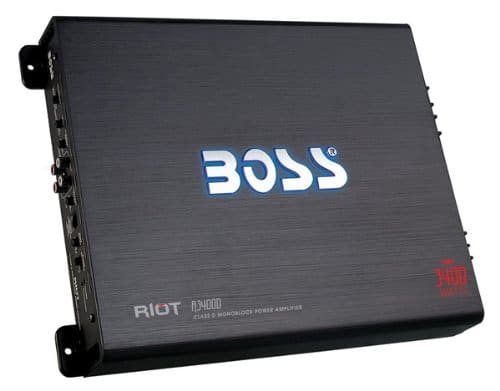 The absolute best car amplifier on the market today is this monoblock one from Boss Audio. It pushes an amazing 3400 watts and is completely stable even at just 1 ohm. It can even be safely stacked with a second amplifier for double the performance. Because of its subsonic filter, you can rest assured that you will be hearing the clearest and high-quality audio while not having to worry about subwoofer damage.
Everything about this amplifier can be customized, including the variable bass booster, the remote-controlled subwoofer, and the variable low pass crossover. If you want to be the envy of everyone you know and take your car seriously, then this Boss Audio amplifier is the one for you.
Pros
Incredible 3400-watt power
Stable at just 1 ohm
Can be stacked for double the performance
The subsonic filter protects subwoofer and delivers clear sound quality
Cons
Needs to be wired perfectly to avoid electrical strain

Best Car Amplifier FAQ
Why is there a Need to Use Car Amplifiers?
Let's say you have decided to upgrade your OEM speakers to something more powerful, so you install a highly rated aftermarket brand. Just because those speakers have a higher watt rating, your stereo is still only providing the speakers with a limited amount of power. Usually, the two ratings don't add up. A car amplifier can increase the power your stereo is sending to your speakers, and this will finally leave you with impeccable sound quality.
Cars are something most of us take great pride in, and a clear-sounding and a powerful stereo system can take our cars to the next level. Amplifiers are absolutely necessary for ensuring that your car speakers can work up to their full potential and deliver full power from your bass and subwoofer. Don't just settle for any amplifier that might short circuit and cause problems in your car's electrical system. If you choose one of the above eight products, you will be buying one of the best car amplifiers on the market in 2016.
More Tips for Best Car Amplifier
How to Install a Car Amplifier
More Automotive Buying Guides