Before car GPS navigation systems, there have been lots of jokes about men who get lost and yet still insist on not asking for directions. It's the bane of disgruntled wives and girlfriends everywhere when their man just drives on and on without a clear idea of where they're actually headed. But it's not always wise to ask directions when you're in a strange place, especially if you're a woman driving alone. Fortunately, you have GPS so you should never get lost again and having the best car GPS has never been more important nowadays.
Of course, it depends on which GPS system you use. Many iPhone users still remember the disastrous iOS map app that got so many people lost. Police in Australia warned people not to rely on the app after they've had to rescue lots of folks in the wilderness that the app had led astray. Quite a few Apple executives were even fired because of it.
Now you don't have to rely on a dodgy smartphone app to get your bearings. You don't even have to endure the crappy (or non-existent) car GPS navigation system on your otherwise excellent vehicle. Here are some excellent alternatives that will lead you to where you want to go:
The Best Car GPS
[table id=38 /]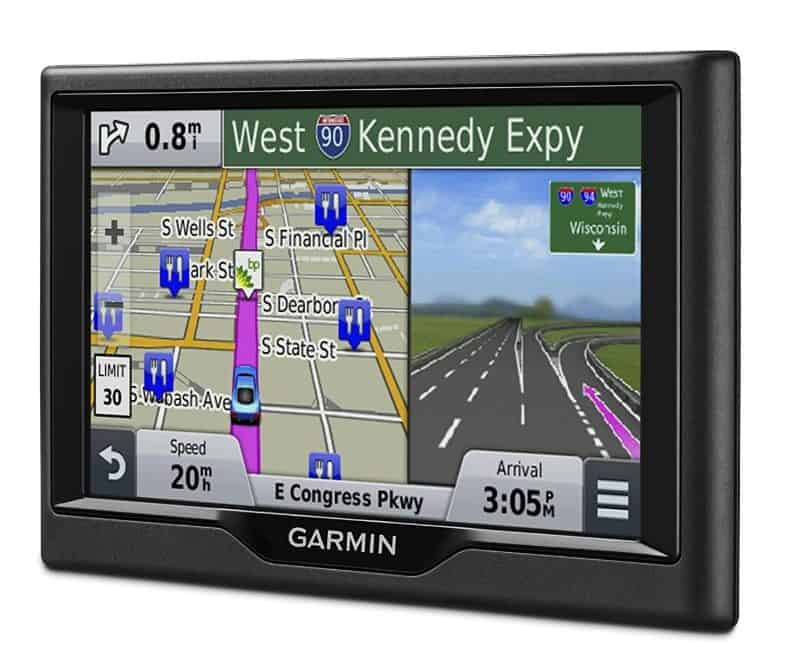 This is one terrific example of a GPS gadget that you can install in your car. It doesn't use cellular signals, so it won't power down when you're in cellular dead zones. The 5-inch screen can be used vertically or horizontally, and you even have a suction cup mount so it stays in place.
This has maps for all the continental US states, although you can use the micro SD slot for other areas and countries. For the continental US, you have free lifetime map updates, which is what the "LM" stands for. However, there is no live traffic info. For that, you need to get one of the Garmin LMT models.
Still, even without real-time traffic data, this gadget works great. You don't have to squint at the screen reading the street names, as it will give you spoken directions to the address or the location you want to go to.
Its database partners with Foursquare, so you're not limited to basic "points of interests" in your maps when you're sightseeing or driving around. With Foursquare, you can also find restaurants, shops, and business locations. You can even find your ways around complicated places, such as the airport or malls. It will tell you exactly where the particular mall shop is located.
The screen also offers more than just your basic map data. Aside from the street, you're currently in, you can also see the legal speed limit for the road, and your ETA depending on your current speed. It also shows other interesting places up ahead, such as gasoline stations, ATM kiosks, and your favorite restaurants.
When you approach a school zone, it will display a screen alert and offer an audible warning as well. The school zone speed limit will also be posted so you can drive through more safely (and avoid expensive traffic tickets).
Finally, the screen also works as a display if you also buy the BC 30 wireless backup camera. With this setup, you can see what's behind you more carefully when you're driving in reverse.
Pros
The display is very clean and clear, and it's easy to see the info shown on the screen.
It doesn't need cell coverage, so you won't get lost in rural areas.
It offers vocal directions so you don't need to even look at the screen display at all to find the right roads to turn.
It's very easy to find the address or shop you want to look for. You can even use the database to find the types of shops or restaurants you want.
It provides you with detailed directions when you have to go to sprawling areas, such as malls and airports.
The updates to your maps are free for the duration of your lifetime.
You can even use the display with a rear camera.
Cons
The maps are not quite as reliable as Google Maps, and you must update your maps constantly.
The voice that gives you directions doesn't really sound friendly for some people.
You can't speak to it to give an address as it doesn't have a microphone.

2. EinCar FBA-2531GNN+FCAM8
It can be annoying when you have to squint to see just what's on your GPS navigation display because the screen is too small for you. This shouldn't be a problem with this EinCar navigation system, as it measures 6.2 inches with 800 by 480 resolution. You can also adjust the contrast and brightness so it can really clear for you.
This is actually a car stereo system, so it's not limited to just GPS. It has an FM transmitter, and it even has Bluetooth. So you can play videos on a screen or play music through the SD card connector or stream music wirelessly from your smartphone. Since the FBA-2531GNN also has a built-in microphone, you can use it for your calls so you don't have to hold the smartphone on your hand for your phone conversations.
The map it comes with can be a bit old, so you will have to update it. There are several ways you can do this, such as by registering the device. You can also go online and do research on how to do map updates.
Actually, that's the main trouble with the EinCar. It offers many advanced features like steering wheel controls, but the manual that comes with your purchase is distinctly unhelpful. You have to go online and check forums to get the directions you need.
Your best bet here is to have it professionally installed, so you can enjoy all the features it offers. It also comes with a backup camera that shows the view behind you, although the camera that comes with is purchase is a bit so-so. You may want a better camera instead.
Pros
It's not just a GPS navigation system. It plays music and videos and it also offers hands-free phone conversations.
The maps are alright as long as you update it.
It offers various OSD displays aside from English, so users in European and Latin American countries can make use of this too.
The screen is very clear and easy to read.
Cons
There really isn't any clear way to install this on your own without too much research. You really need that professional installer to work for you.
Sooner or later you will have to replace that camera, as it isn't really good.

3. Garmin 010-01198-01 55LM GPS Travel Assistant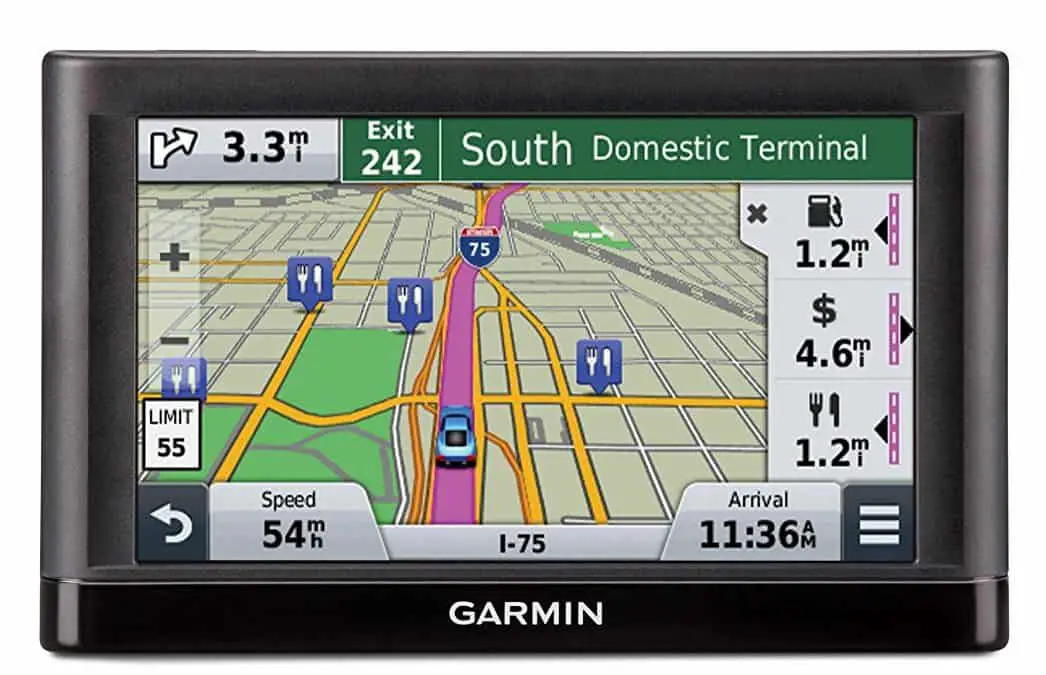 This is the Garmin GPS navigation system you should get if you don't much care for the frills of the 57LM variant. With this 55LM version, you don't get the Foursquare points of interest, Garmin Real Directions that use landmarks and buildings, and backup camera compatibility. What you get is a very functional GPS navigation system that's consequently a lot more affordable.
First, you do have that same 5-inch display which offers both horizontal and vertical orientation. Again it doesn't rely on cellular tower signals, so you won't have to worry about going through rural areas with prominent cellphone dead zones.
This still offers you the maps for the entire continental US, which you can get an upgrade for free for the rest of your life. If you want to get other maps for other countries, you can just for out a few extra bucks.
Even without the Foursquare integration, you do have lots of "points of interest" on the map to visit if you're new to the area. It will show your turns on the display, and you even have a "lane assist" feature that uses bright arrows to show where your lane ought to be before you make your turn.
Here you can also search for addresses and shows using the quick search feature. You can find specific shops or even types of shops such as pizza parlors.
The display shows you your current street, the speed limit on that street, your current speed, and your projected arrival time to your destination. There's also an "up ahead" feature you can customize, so you can be informed if there's a kind of shop (such as an ATM or gas station) that you really want to know about.
Pros
It can really help you find your way around town, as it shows you where to go.
The speed limit is displayed for the street you're in, so you can drive more safely and avoid tickets. There's also a special school zone warning that comes with an audible alert. The speed display even turns red when you're over-speeding.
It allows you to find interesting landmarks along your way.
It has a micro SD slot for map upgrades.
Cons
If you're not an experienced Garmin user, it may take a while for you to get used to the navigation quirks.
It's not compatible with a backup camera.

This is the most affordable GPS navigation system on this list, yet it's laden with lots of cool features. This comes with a car charger, a back bracket, and a suction cup mount. To make full use of this, you have to really get to know that English instruction manual. The customer support is a bit lacking.
However, once you do get it going using the manual, it offers very useful features to keep you from getting lost. It comes with free maps for North America (US and Canada) and Europe, and map upgrades will always be free. The maps are upgraded twice a year.
Enter the address you want to visit, and it will give you turn by turn directions so you don't get lost. The display shows you the distance for your next turn, the distance to your destination, and your projected arrival time.
It also gives you some warnings so you can avoid getting a speeding ticket. It gives warnings when you're driving faster than the speeding limit for the road you're on, and it even notifies you if there's a traffic camera up ahead.
The display is very easy to use and read, and there's really not much to it. You just pray that you don't get a buggy unit because the customer support really isn't all that supportive. But at this price range, for many it's worth a gamble—and it's paid off for most.
Pros
It's very affordable yet laden with features.
The 7-inch screen is very easy to read.
When you do figure out how to use it, it works very well.
The speed limit warnings are very helpful and should keep your driving record pristine.
The maps are for the most part very accurate.
The voice directions are clear.
Cons
You're in trouble if you can't comprehend the instruction manual.
The customer support is lousy.

5. TomTom VIA 1515M
If you're anywhere in North America and you don't want to get lost, this TomTom is one of your best lifelines to guide your way around. Unlike other devices, its definition of "North America" includes Mexico, aside from the US and Canada.
TomTom provides map updates 4 times a year, so you don't have to suffer long if there have been changes to the maps. However, there's also a Map Share feature that allows for more frequent changes. These updates can give you a heads up alert if there are detours due to road blockages and provide you with new speed limit rules so you're not caught off-guard.
Each TomTom comes with the IQ feature, so it offers very accurate arrival times. It even shows you the current fastest way to get to where you're going. It also has more than 10 million points of interest, so you'll be able to find shops, restaurants, hotels, and gas stations. It comes with a 5-inch screen, and it displays split screens so you can easily see where your next turn will be.
It's very easy to use even at the start, although it has its own quirks. Basically, it'll get you where you want to go with minimum fuss.
Pros
This gives you access to lifetime free maps for the US, Canada, and Mexico.
The map updates are 4 times a year while other brands make do with just twice a year.
It's very easy to use.
The voice that gives you directions is very pleasant.
Cons
If you're a speeder, the unit may be too slow to give you warnings about the next turn you need to take.
The sound control isn't on the main screen, as you have to press a button to find it first.
The POI feature does offer fewer terms for categories of places.

Conclusion for the Best Car GPS
Most people use the Garmin GPS systems, as they've proven reliable over the years. But the TomTom is a great alternative for those who have never used Garmin before. As for the EinCar and the Carelove systems, they're both interesting although some may not find them as easy to use.
Whichever unit you get, you may find it a better option than your stock navigation system. It's certainly better than using a paper map or your smartphone. Use these things, and you won't get lost and you can even avoid speeding tickets!
More Tips for the Best Car GPS
How to Install GPS Navigation in Your Car
More Automotive Buying Guides