When it comes to live reports, whether pertaining to police, weather, or events, your usual communications device simply won't help, which is where scanners come in. These small devices, resembling small radios, act as informants for users who want to know when it comes to live police communications, as well as other institutional announcements that are relevant to users. By channeling as broad a range of frequencies as possible, it is able to pick up on any announcement, and in the ideal case of a contemporary scanner, one is allowed to save these channels in order to listen in as quickly as possible. Their use has been known to be both handy and lifesaving, making them a relevant piece of technology in a world full of high-tech gadgets. The following is a list of the best police scanners, including those that can be fixed in place as well as the portable types.
The Best Police Scanners
[table id=79 /]
1. Uniden BC75XLT: Public Safety Scanner
Starting off our list is a portable scanner that weighs only 14.4 oz. and is compact enough to carry in one hand. The Uniden scanner boasts a 300-channel range capacity, all of which can be stored in its internal memory for easy access, making accessing these channels quick and easy. This sort of coverage provides access to monitor police departments in the vicinity, local fire departments, NOAA weather transmission, and pretty much anything that the scanner can pick up with its frequency capabilities, as well as being compatible with picking up narrow bands.
The scanner also comes with Close Call RF technology, allowing it to detect and tune nearby frequencies, even if they are not part of what has already been saved in the scanner's memory, ensuring that it picks up information that not even users are expecting. It also comes with a PC port that makes it programmable, and an LCD screen that serves as an indicator and helps make all the functions easy and manageable.
Pros
Compact and easy to use
Features smart close call RF
Good memory & fast access to desired channels
Cons
Low speakers
Short battery life
Summary
Equipped with all that's needed to perform, the Uniden BC75XLT goes a little bit further, doing much to make life easier for users and further the reputation scanners have of being both handy and essential information devices for multiple purposes.

2. Uniden BCD536HP Mobile Scanner
Ideal most especially for vehicles or fixed locations, the BCD536HP is a scanner with multiple functions that put together age-old functions with modern technology. This ability to juggle the old and new is highlighted in the scanner's ability to be easily programmed from a mobile app, whether it be a smartphone or a tablet, from any given location within the boundaries of its Wi-Fi perimeter. The functions that can be operated, whether from the aforementioned mobile devices or directly with the buttons fitted onto the 6 lb. device.
The many buttons help users access the wide range of channels available with ease, giving them quick shortcuts to tune in whatever frequency is needed, as well as guiding the user with its large screen. It also includes a 4GB memory capacity that can easily store hundreds of channels, including communications on APCO 25 Phase 1 and Phase 2 as well as Motorola, X2-TDMA, EDACS, and LTR trunked systems.
To add to its convenience, it also features Close Call RF technology, allowing it to detect tunes of nearby frequencies on its own, something that is a mark of quality scanners. A S.A.M.E. feature, letting users know whenever there is an emergency alert from the NOAA, makes sure users know whenever severe weather conditions are forecasted.
Pros
Mobile app programmability and use with Wi-Fi capability
Multiple buttons for quick use
Multiple system support
Cons
Allows for some interference in noise
Summary
This particular make shows just how much the well-known manufacturer, Uniden, is keen on providing different products that tackle the same objectives in unique ways. With all the capabilities offered by this scanner, users are allowed to use it for a number of different concerns, whether those include staying alert for any police reports or making sure they do not get caught in a bad storm.

3. Whistler WS1080 Handheld Digital Trunking Scanner
At just over 7 oz., and measuring 5.31" in height and 2.2" wide, the Whistler WS1080 is a compact device that is as sleek as it is useful in a number of ways. Its multi-functionality makes it suitable for Motorola P25 Phase I, Phase II, and X2-TDMA capable. To make the piece even more impressive, it includes a Micro SD memory card with all the US and Canadian frequencies pre-programmed, meaning users do not have to search manually to get themselves started, though that capability is still left intact.
Fitted with an antenna, its reception of digital channels is impeccable, and the use of these is made easy with the simple keypad and screen that help users navigate through the various functions. Finally, it has a large speaker that takes up most of the bottom half of the unit, making sure that all that is received is suitable audible.
Pros
Great digital trunking scanner
Light and portable
Good sound quality
Cons
Difficult to program
Lacks features to easily tune into emergency broadcasts
Summary
Perhaps handier than anything else, this is the ideal pick for those with a very specific target in mind, such as those scanning police communications, and it is rid of too many cumbersome features that simply burden to those who know exactly what they want. That said, it is in no way limited, and all its different features address the needs of the vast majority that those with scanners need. Add quality to that and there is no doubt this is a great product.

4. Baofeng Black Two-Way Radio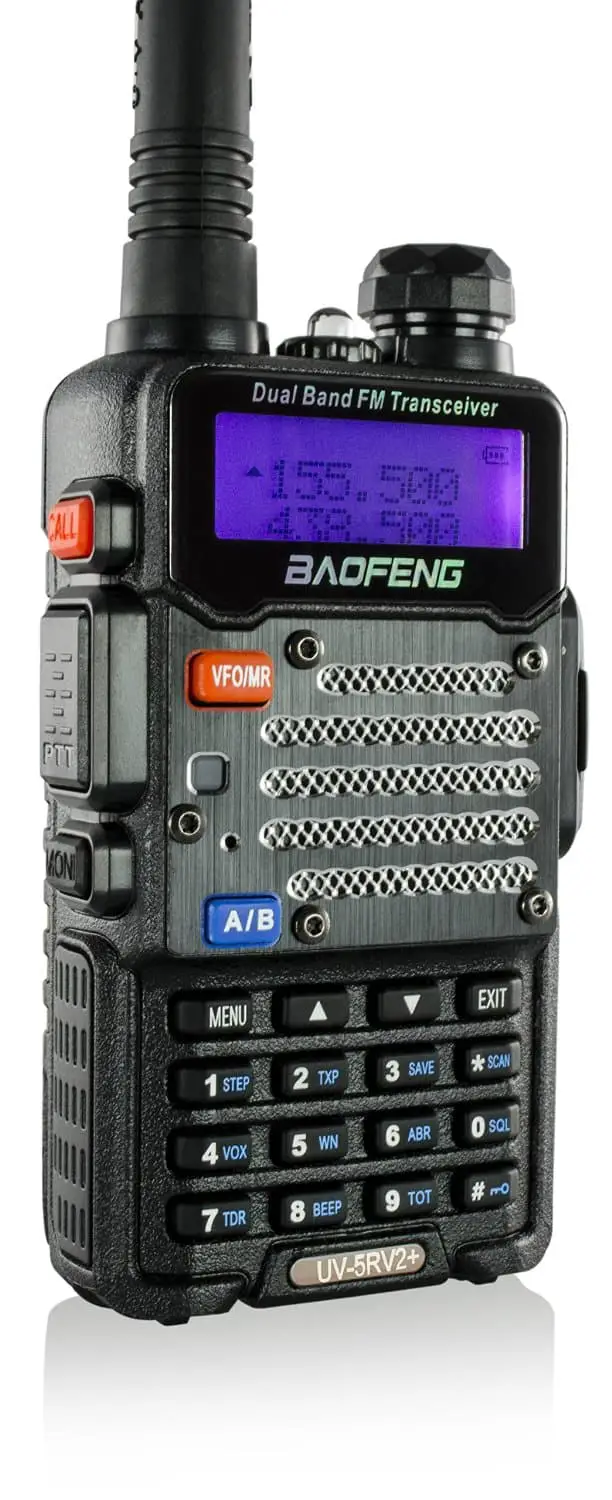 This device is exactly what it promises to be, and being as tough as it looks, thanks to the 4" x 2" exterior case that functions as an exoskeleton that protects its many interior pieces, the Baofeng two-way radio promises to be a lot. The first fulfillment of this promise is in its ability to both receive a wide range of frequencies as well as send out transmissions of its own.
With a frequency range of 136-174 and 400 – 479.995MHZ, all of which can be easily tuned with its keypad and indicating two-color LED display, the IV-5R V2's coverage is as extensive as you would expect from a product of its caliber. Its rigid structure and far-reaching receiving capacity are complemented by its compatibility with 3800 mAH and 3600 mAH extended batteries. When it comes to portability, the 1.2-lb. the device is also fairly easy to carry, and the tough exterior also allows for a better grip.
Pros
Two-way communication capabilities
Wide frequency coverage
Durable and long-lasting
Cons
Programming difficult for beginners
Summary
This US-made scanner is all about steel and strength, and if that is what you are looking for, then it is the obvious pick. Although its features may not be as sophisticated as other options, it covers the basics better than anything else, and it takes a number of measures to ensure that it does so for as long a period of time as needed.

5. Uniden BCD436HP HomePatrol Series Digital Handheld Scanner
This trunk tracking device, able to follow communications on APCO 25 Phase I, Phase II, X2-TDMA, Motorola, EDACS, and LTR systems, is about as extensive as it gets. It covers five different frequencies, including 25-512 MHz, 758-824 MHz, 849-869 MHz, 894-960 MHz, 1240-1300 MHz, all of which can be easily tuned with the keypad buttons on the rather light 1ib device. An LCD screen helps users keep track of the different functions and progress they are making as they use the compact device, measuring only 9" in height, 2.4" in width, and 3.8" long, making it as small as the first mobile phones that were made.
With close call RF technology allowing the scanner to pick up on nearby transmission automatically, one is quickly reminded of how up-to-date the device is. This is further helped by its GPS connectivity, its ability to adequately receive narrowband frequencies, Radio System Analysis and Discover Modes that help make the scanner the efficient device that it is. All of this would be incomplete were it not for the 4GB memory capacity that allows users to save and, therefore, quickly and easily access the channels.
To top it all off, it also comes with a S.A.M.E. weather alert which lets users know whenever the NOAA makes an announcement on critical weather conditions.
Pros
Able to catch on any frequency and band
Large LED for easy use
Light and portable
Cons
Summary
This scanner hardly differentiates itself from a number of good scanners available, especially those made the popular manufacturing company, but it covers all the features you can find in the most extensive way possible, and that is exactly what helps it make the list. The reliability and traditional approach is something many users will appreciate, especially beginners, and this helps make the experience all the more enjoyable.
 6. Uniden BCD996P2 Digital Scanner
There are very few scanners that can boast 25,000 dynamically allocated channels like the Uniden's BCD996P2 scanning and storage capabilities do. The entire structure is ideal for fixed locations where using its antenna, it can follow communications on APCO 25, Phase 1, Phase 2, X2-TDMA, Motorola, EDACS, ITR systems, making it the ultimate trunk tracker. With its wide-band coverage, ranging from 25MHz to 1.3GHz, it is also about as receptive as they get. With its advanced memory system, storing these channels could not be easier.
The scanner is also GPS compatible, and the last of the many features is a USB port to allow for programming, joining the list of features that can be accessed or tuned with the number of buttons and knobs the 5.9-lb. device. With lithium-ion batteries, the use of the scanner is guaranteed for a long enough period of time.
Pros
Wide coverage
Long-lasting
Great sound quality
Cons
Summary
Ending the list is a device that can be placed anywhere that's convenient and works to receive as much as needed, ranging from narrow to broad bands, all while offering buttons that make accessing the very many features easy and quick.

Conclusion for Best Police Scanners
Great scanners, as evidenced by the options above, will feature more than the expected essentials. Being extensive really is what scanners are all about, so looking for as wide a range as possible is often what constitutes looking for a good scanner, and that should never be forgotten, despite the many other features available. That said, the list above makes sure that the latest products with all the latest features are included, because why not have both the essentials and everything else that makes these handy devices important communications tools?
Despite the many modern devices that aim to expand networking in an ever-shrinking world, short-distance scanners are still relevant tools for a number of purposes. They come in different shapes and sizes and selecting one could not be made easier than with the comprehensive list above, which narrows down one's options to a mere six devices. Even so, it still might be a little tricky to pick one of the six, and that's where one's own personal preferences come in, acting as the ultimate deciders. Either way, they each guaranty to be the best scanners available, and for those who go with a random pick, they can still be assured of the best performance.
More Tips For Best Police Scanners
Radio Scanners 101
More Automotive Buying Guides