Decreasing unpleasant smells in order to purify the air in your home, workplace, or car work wonders for the well-being of the mind. Air fresheners and purifiers do just that, and those made compatible for cars ensure that whenever you step inside your vehicle, whether busy with day-to-day tasks or on a long trip, there is a pleasant consistency in how your car smells. In selecting the best car air freshener and purifiers,  we chose the most efficient in getting the job done and those with uniqueness and variation in its overall features.
The Best Car Air Freshener
[table id=76 /]
1. Moso Natural Air Purifying Bag
Contained within the 7 oz. sachet is Moso's bamboo charcoal, a natural ingredient that acts as an odor filter, absorbing the air around it and only letting pure air go through its pores while it retains undesired bacteria particles, allergens, and other harmful chemicals. It does all this without adding any extra chemicals into the air, or any fragrances, leaving the environment clean and pure in a completely natural way. While the bags work on their own without any assistance, 24 hours of the day, basking them in sunlight once a month will clear up the filtering pores of the charcoal, making the bags as fresh as when they were new.
Pros
2-year life expectancy
Compact and easy to use
Odorless
Works on its own 24 hours a day
Cons
Takes a while to take effect
Summary
With its metal grommet fitted in the upper left corner, you have the option of either hanging their natural air purifying bag or, thanks to its small size, simply placing the bag anywhere in the car, after which you can expect great results.
 2. Little Trees Black Ice Air Freshener
This car freshener may be a little discriminatory to its target audience, as the black ice lets off a smell the US-based Little Trees manufacturers describes as masculine, but when it comes to taking care of unpleasant odors by replacing them with ones of its own, it is as far-reaching and inclusive as they come. It boasts a variety of fragrances, such as sandalwood, bergamot, and lemon, all of which fuse together to create a very active and stimulating smell.
Pros
Pleasant synthesized odor
Comes in an affordable 24-piece pack
Cons
Summary
By unleashing a popular and harmonious blend of smells in your car, the Black Ice freshener helps stimulate the mind of any and all present in the car, making buying the entire pack to use for a long time worth the investment.

3. Ozium Smoke & Odors Eliminator Gel
Unlike absorbing purifiers or fragrance-producing air fresheners, Ozium's Eliminator Gel is something you apply to your car in much the same way you apply lotion to the body, and the effects are also similar. Allowing car owners to apply the gel in the tightest of corners, under surfaces, and anywhere that's traditionally unreachable, you can get rid of any unpleasant smell from anywhere in the car. The bad is replaced with a patented formula from the company that is fast-acting, long-lasting, and incredibly easy to use.
Pros
Cons
Summary
The gel comes in a compact 4.5-oz. container and is ideal for tight places. The Ozium gel is a unique solution to a common problem, one that all car owners can benefit from.

4. Meguiar's G16402 Whole Car Air Refresher Odor Eliminator
This air refresher uses a powerful and effective way of eliminating foul odors by filling a car's ventilation system with a scent that leaves your car smelling just like it did when it was new. Working at a molecular level, this fast-acting freshener can get the job done in just 15 minutes, as long as the easy 5-step instructions are followed. The can features a locking trigger that can easily be engaged, thus unleashing an odor-eliminating mist that circulates through the car's ventilation system whenever the car is, keeping it fresh and clean at all times.
Pros
Long-lasting effect
Powerful and easy to use
Includes after-use fragrance
Cons
The car needs to be vacant and cleaned out before engaging locking trigger
Summary
It may not be the most convenient of options, but in being both a purifier and a refresher, the Meguiar Odor Eliminator is one of the most powerful options available on the market and a valuable accessory for all car owners.

5. Febreze Car Clip Air Freshener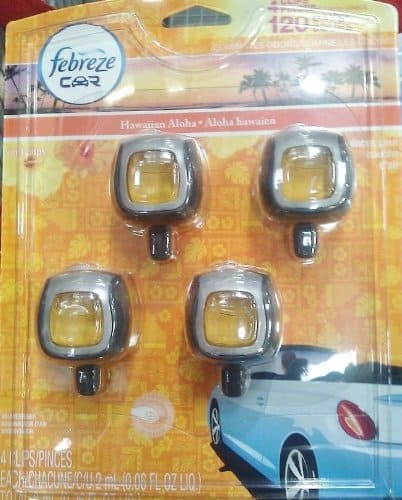 The Febreze pack includes four clips, each of them contained within an affordable price pack, something that could either appeal to prospective clients or repel them since cheaper isn't always better. In the case of Febreze, the air freshening clips can be easily placed wherever you need them, working around the clock to absorb all the unpleasant or simply undesired odors that got you hunting for a freshener in the first place.
Not only do they leave your car rid of bad odors, but with the "Hawaiian Aloha Scent," it also leaves the air in your car with an air that bears testimony to the overall quality of the freshener.
Pros
Works 24 hours a day non-stop
Clips are compact and easy to place anywhere
Affordable 4-in-1 pack
Cons
Relatively short lifespan
Summary
For a quick, easy and effective fix to get rid of the different odors in your car, going for the Febreze car clips is highly recommended. Being so small and not needing to do anything to get them working, all you need to do is put them in place after purchasing, it would be easy to forget their presence in the car if not for the pleasant odor that works as a constant reminder.

6. PURGGO Car Air Freshener
The Purggo car freshener is unique in a number of ways, but there is one particular attribute, something the manufacturers themselves are careful to point out, something that makes it stand out from the rest of the pack. First of all, its very design is the first and most apparent positive attribute, being a soft pad that can easily be hung anywhere in the car.
Packed in this discrete material is absorbing bamboo charcoal, which takes us to the most attractive of its features—it freshens the air by actually absorbing all the unwanted substances more than anything else. It does all this without adding anything artificial to the air as its ingredients are 100% natural.
Pros
Works 24 hours a day without assistance
Long lifespan
Easy to use with no need for refills
Blends well with the rest of a car's interior design
Cons
Does not add any pleasant smells
Summary
The only maintenance needed for this product is occasional exposure to the sun's rays, which help unclog the pores in the bamboo charcoal, and that's about it. The Purggo's powerful absorbing action works for just about any unpleasant odor and coupled with how easy it is to use and how good it looks in a car, it is an obvious pick for those who not only want to take care of the air around them but of their cars as well.

7. KOKO AROMA Car Air Freshener
Apart from being aesthetically different, these car clips work in much the same way that other air purifiers and fresheners do, but they add a little customization to it all, making them one of a kind. The entire piece comes with eight felt pads, all of which are safely kept within the stainless-steel pack; the piece is easy to open in order to access the washable pads.
The aforementioned customization, however, comes with the added option to insert whatever essential oil you fancy, meaning that the natural vent diffuser not only absorbs odor, but it also replaces it with the fragrance of your choice.
Pros
Elegant design
Easy to use
Versatile
All-round purification process
Cons
Optional oil fragrances added do not last long
Summary
By placing one of these cute and compact clips to the air vent, you will begin a process that will filter through all the air circulating in your car and replace it with the scent of your choice. There are very few products out there as complete as this.
 8. California Home Goods Air Purifying Bag
There are few purer products on the market that work to neutralize bad odors. The purifying bag also takes care not to upset any allergic sensitivities and guarantees that no toxic substances are added to the air. The greatest thing about this is in the wide range of smells it eliminates, using the bamboo charcoal contained within the sachet, such as smells caused by humidity, smells left by pets, smoke smells, and anything else that has been introduced to your car that can be classified as undesirable. It also absorbs bacteria and pollutants as well as prevents mold, mildew, and excess moisture.
Pros
Acts against multiple factors
Small and can be used anywhere
Long lifespan and easy maintenance
Cons
Does not offer additional fragrances
Summary
Simple, efficient, and worth the price, there can be no harm in buying this product, and as the many who have will testify, it makes all the difference.

9. HDE Car Air Purifier
Resembling a miniature flashlight, this high-tech accessory is so precise, working on a molecular level, that it is hard not to classify it as one of the most effective air purifiers available. By plugging the device into the DC port of a car, the ionizer works to increase the number of anions in the air, negatively charged particles that have been proven to help oxygen find its way to the brain easier, resulting in stimulation and increased activity. The device itself produces an impressive 4.8 million anions per square centimeter. It also works to get rid of bad odors, as expected, such as smoke, pet smells and pollen pollutants.
Pros
Fast-acting and effective
Purified air results in better health
Blue LED indicator light
Cons
Dependent on the DC port to work
Summary
If the manufacturing company, HDE, found a way to make the purifier more self-sufficient in its energy supply, there really would be no competition as the ionizer is pretty compact and light, weighing only 0.8 oz. Other than that, it is as effective as they come, and pretty easy to use too.

10. Blue Magic North American Air Freshener
Packed in a traditional spray can, weighing only 6.25 oz., this air freshener may seem ordinary, but it is anything but. Though it features everything you would expect from a car freshener, it does so in the most efficient way, making sure not to leave anything out. The pure citrus orange scent it emits is done so in such a way that no artificial chemicals are released into the air, making sure that the air is as pure as it is pleasant. The freshener itself is made of natural food-grade citrus oils that are environment-friendly and beneficial to the human body.
Pros
Easy to use
100% natural
Great scent
Cons
Summary
Overall, despite the temptation to discard this spray as just another gadget, it packs a number of pleasant surprises that make it one of the ten best car fresheners available.

Conclusion for the Best Car Air Freshener
If there is one thing that is apparent when looking for car fresheners, it is that there is plenty of variety, each of them working in different ways to produce the same results everyone who cares for their environment is looking for. For such a person, the list above goes a long way in helping make the right choice, and the benefits, including the improvement in one's health, are sure to be felt for a long time.
More Tips for Best Car Air Freshener
Eco Air Purifier DIY
More Automotive Buying Guides