An important factor when scouring for the best car wax is to make sure the product is safe for your vehicle. Always read and follow label instructions and double check that the product is safe on your chrome, trim and other parts of your vehicle. The best waxes on the market typically contain Carnauba wax derived from the palm tree. The great thing about carnauba wax is that it is typically safe with a wide range of surfaces. The good car waxes on the market usually do not contain strong, volatile solvents and chemicals which make them safer for you and safer for the surfaces of your car.
The Best Car Wax
[table id=24 /]
9. Zymol Carbon Paste Car Wax
This carnauba-based wax is tested and proven amongst many classic car owners. This high-quality wax goes above and beyond a simple polish. Zymol wax produces a deep, durable shine that consumers can expect to protect their vehicles for months. This is a dark wax and is to be used on dark-colored cars. Zymol comes in a small container with a screw tight lid but consumers should not worry about the size. One small container of Zymol can cover and treat the largest of vehicles.
Pros
It can cover small scratches.
A small container can cover a large surface area.
It is one of the highest-rated dark waxes.
Cons
Wax must be kept cool.
You must use Zymol HD-Cleanse to remove old wax.
It is a relatively small size for the price.
Conclusion
Although Zymol is a great product and is highly trusted among car enthusiasts, there are better options for your dollar. If Zymol is your choice I would highly recommend going all-in on their products by buying their washes to use before waxing.

8. The Chemical Guys

Extreme Depth Liquid Carnauba Creme Car Wax
This carnauba-based wax is one of the fastest one-step waxes on the market. This wax is specially formulated to bond with other waxes to create a superior shine. This wax is layer-able and works with both light and dark-colored paint. This wax is an excellent value considering it is roughly the same price as the Zymol brand but comes in a gallon container.
Pros
It is an excellent value per ounce.
It is layer-able with other products.
It has a fast one-step process.
Cons
The product can leave a foggy sheen to your paint.
The one-step process will not last as long as other products.
Conclusion
This product is a great value considering its price per ounce. Chemical Guys WAC111 is great for anyone looking to routinely use a wax product and who intends to use it as a layer with another wax. When done properly it can leave a great luster but if rushed you will be left with a foggy sheen.


7. Mothers California

Gold Synthetic Paste Wax
This wax is a concentrated paste, similar to Zymol, and a small container goes a long way. Mothers California Gold delivers a superior shine and luster that is similar to new paint. The great thing about this wax is its silky smooth texture and its effortless application. You can apply this wax virtually anywhere including in direct sunlight. Mothers boasts that their effortless-to-remove paste offers superior value.
Pros
This paste wax will cover a large area per can.
The silky-smooth texture leaves paint looking brand new.
The wax can be used in direct sunlight.
Cons
Can size is still relatively small.
This wax can be too soft to use with an orbital buffer.
The containers have been known to leak.
Conclusion
I have always enjoyed Mothers Brand waxes and they do offer a great shine for the price. I enjoy the silky smooth texture and the easy application. This is not the greatest paste wax product on the market but when applied correctly you will get an amazing shine.

6. Meguiar's G18211 Ultimate Paste Car Wax
This paste wax offers mirror-like reflectivity in a one-step process. Meguiar's offers a premium paste wax with ThinFilm technology to bring extreme shine and bead water. This product is safe on all glossy paints and clear coats. It can be applied by hand or by orbital buffer and it goes on almost as smoothly as a liquid wax. This wax is completely synthetic and is modestly priced compared to other paste waxes.
Pros
It is a one-step process, paste wax.
This wax offers a deep, mirror-like shine.
It is modestly priced compared to other paste waxes.
Cons
This wax does not work well with dark-colored vehicles.
The wax goes on easy but it also comes off very easily.
Conclusion
Meguiar's is a trusted brand and its products typically offer great depth. I would recommend this product to anyone with vivid color paint who are looking for that mirror-quality shine. I would not recommend this paste to anyone with darker colored vehicles because there are better options.

5. Liquid Glass Ultimate Auto Polish/Finish Sealant
This product differs from all other previously mentioned because it is a synthetic sealant, not a wax. Liquid Glass offers superior value while still protecting your vehicles shine for six to eight months. The great thing about this sealant is that it goes on easily, doesn't have to be removed and does not crack.
Pros
The finish will not crack, chip or turn yellow.
It does not have to ever be removed once applied.
It can be used on all paints.
Cons
The product is known to be volatile on some surfaces.
When it is used on highly oxidized paint it can leave a gooey mess.
Conclusion
This product is a great alternative to waxing and can be used on all paints. Liquid Glass is a great option for anyone who does not want to spend an arm and a leg on their vehicle care but still is seeking paint protection.

4. Kevian Quick Car Wax Detailing Spray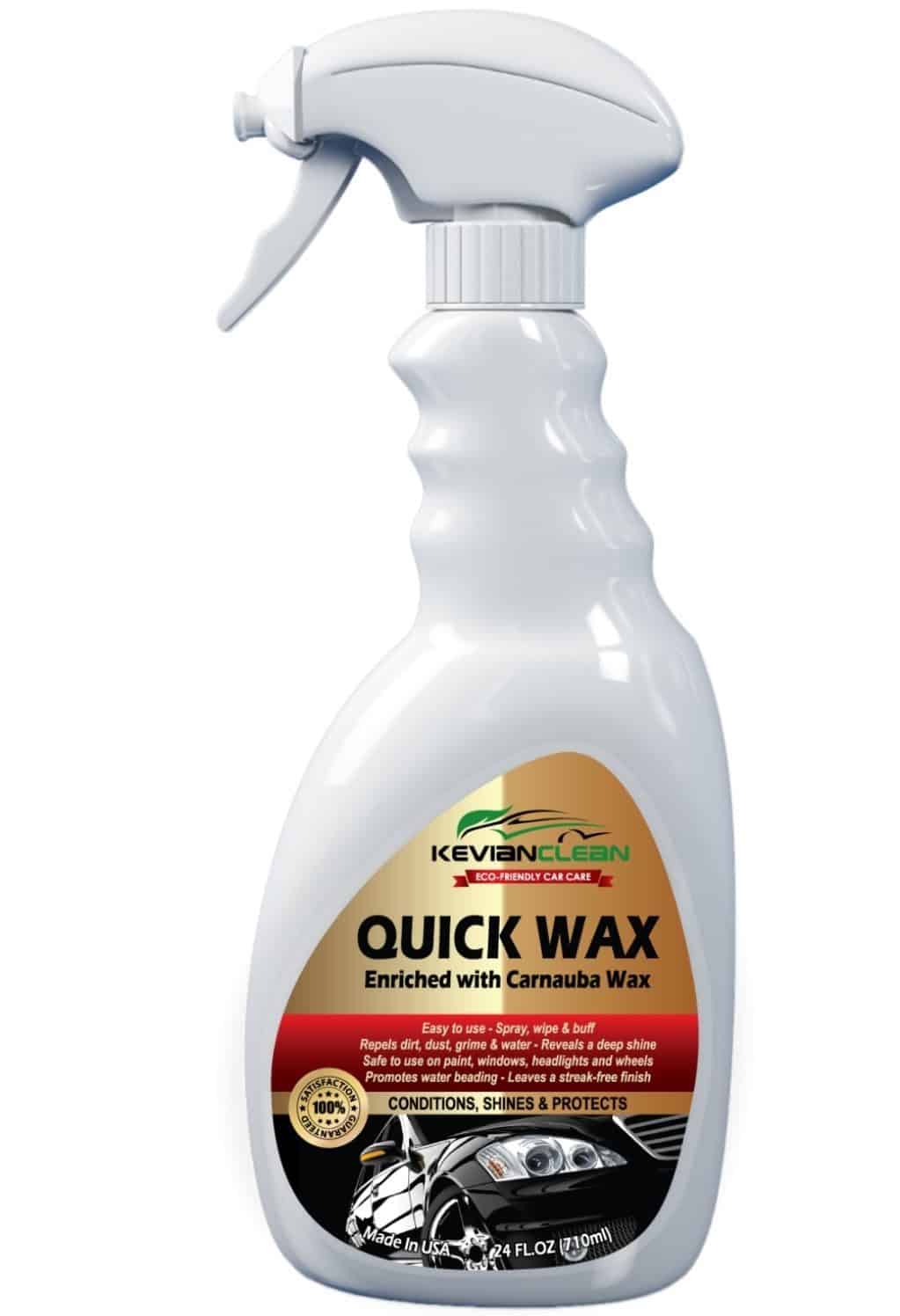 Despite being a spray-on quick wax, the Kevian Clean Deep Shine spray works great. This wax offers superior protection against the elements and its ease of use makes it a great choice for multiple applications throughout the year. This wax is different in the sense that it can be used on windows, headlights and even wheels and rims. This is one of the few multipurpose products that actually work well.
Pros
It can be used on a multitude of surfaces.
It is comprised of a plant-based, eco-friendly formula.
It offers a shine that is very quick to apply.
Cons
The shine diminishes a lot faster than other waxes because it is a quick wax.
When it is applied in sunlight it can leave a foggy finish.
If it is used on a multitude of surfaces you can go through a bottle rather quickly.
Conclusion
This product is great for an enthusiastic automotive detailer who is looking for a use-everywhere product. I would not use this as my once or twice a year wax but as a quick alternative for a great shine on a multitude of surfaces.


3. Griot's Garage Spray-On Car Wax
This wax is similar to the Kevian Clean in the fact that it is a spray-on wax. The great thing about Griot's wax is that it comes in a gallon-sized container and that can last you quite a while. It can be used with other products as an enhancing layer which brings out the superior luster. Truck owners love this product because of its size and ease of application.
Pros
This product is an excellent value based on its size.
It's a spray-on wax so it applies very easily.
It can be layered with another wax to enhance shine.
Cons
To get the best shine it must be layered with another product.
It has been known to occasionally be streaky.
Conclusion
This product is great based on its size. The value of this product is immense and I would recommend using this product year-round to enhance the shine of my vehicle quickly. This is a great product to layer with paste wax.

2. S100 

Carnauba Paste Car Wax
This product is another excellent example of paste wax. Although it does have a very small container size it does go a long way. This wax offers superior shine with dark and black paint and is free of abrasives which can slowly diminish luster. What's most interesting about this product is the fact that it contains a unique blend of carnauba and beeswax to bolster its extreme shine.
Pros
It is one of the best-priced paste waxes on the market.
It is very durable and can last through high-pressure washing.
This product offers great depth in dark colors.
Cons
It can leave some streaking when not applied properly.
The paste does not work with the best with an orbital buffer.
Conclusion
This is one of the best paste waxes on the market and you cannot go wrong with the price. This product offers great shine and depth and I would recommend this as your go-to wax. Apply this product by hand with the provided applicator and you will be amazed. Skip the orbital buffer.


1. P21S Carnauba Car Wax
This paste wax is very similar to the S100 13700W but is a much superior product in a few ways. Again, this product is a carnauba and beeswax blend that offers superior shine. The P21S offers absolutely no streaking or white marks left on trim and rubber which can be an issue with the S100. This product can also be applied with an orbital buffer with little to no issues.
Pros
This product was named best paste wax on the market by independent testing.
It offers a quick and easy application with no powdery residue.
The P21S offers bold, extreme shine.
Cons
This is one of the higher-priced paste waxes on the market.
Conclusion
This is hands-down the best product on the market right now and it was named the best paste wax by independent study. This product does come with a higher price but you do get what you pay for. Apply it by hand or give the orbital buffer a go; you cannot go wrong.

Best Car Wax FAQs
Why Is Waxing or Sealing Your Vehicle Important?
Finding the correct wax or sealant for your vehicle is crucial to the longevity of your vehicle's paint. It is recommended that you wax or seal your car's paint at least once a year to protect against salt, dust and debris, acid rain and UV radiation from the sun. While all paint has a life expectancy, waxing or sealing can greatly increase the life and shine of your vehicle. Having your car waxed at least once a year also makes your vehicle much easier to clean. Bird droppings and bugs can tarnish your paint and effect your shine but a good wax can help prevent that. Also, small rocks and debris are less likely to chip away at your paint when protected by a good sealant or wax.
What are other things to consider when looking for the best car wax?
Every year new waxes and sealants come into the market and consumers are left wondering what their best options are. If you're like me, you want the best product for the best possible price. Car guys (and gals) can spend their entire lives scouring car shows, watching demos and product tests only to find that their vehicles seem to react differently to those products. This is because there are many great products on the market but not all are made specifically for your exact paint. Black car waxes are typically for darker vehicles and are made for a deep, brilliant shine. Some waxes are specifically made for glossy, vibrant colors and give your vehicle a nice candy shine. Other things to consider are waxes that go on and come off easily. Keep in mind, quick waxes are typically a quick fix. They go on easy but they also come off easily. High-pressure washing can strip your vehicle of a quick wax rather easily. Some waxes are formulated to bead the water off of your vehicle; this can help with water spots and drying. Ultraviolet radiation protection is also something to consider when looking for the best car wax and sealants. The UV radiation is the leading cause of fading paint and a good wax or sealant can protect your vehicle's vibrant shine.
More Tips for the Best Car Wax
How to Wax Your Car
https://www.youtube.com/watch?v=1dc4toCFGFI
More Reviews and Buyers Guides
More Automotive Buying Guides