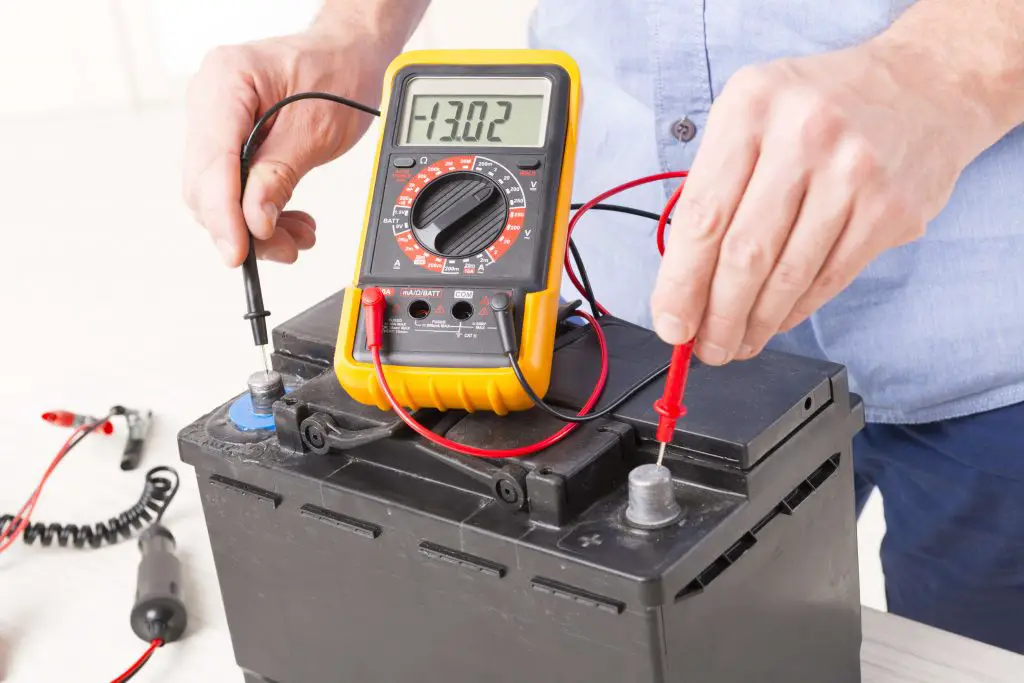 Some of the most prestigious and coveted auto brands in the world today are not just famous for its Italian leather seats, or 6-month production system. What gives them their well-deserved fame is their reliability and ability to dominate most other cars in terms of performance, all thanks to the reliable car battery. One thing every automobile nerd acknowledges is that your car is only as good as its battery. Good car batteries are all it takes to separate a car from a loyal car. If you are looking to replace your car battery, below is the list best car battery you can consider buying.
The Best Car Battery
[table id=25 /]
6. The Optima 8020-164 35 RedTop Starting battery
You may already know by now what a starting/starter battery is. Well, this is a great starter battery from Optima that produces 12 volts of electricity to start your car instantly. The battery weighs 31.7 pounds and measures 9.3 x 6.8 x 7.6 inches in dimensions. With a cold cranking amp (CCA) of 720, you can tell this battery will not let you down in cooler temperatures.
One neat design credit in the 8020-164 35 has to be that it is spill-proof and made to resist vibrations 15 times more for more durability and longevity. Speaking of longevity, the Optima 8020-164 35 RedTop Starting battery comes with a 3-year replacement warranty.
Pros:
Great for colder climates
Spill-proof and resistant to vibrations
3-year replacement warranty
Cons:
The warranty has not been honored as per consumer claims

5. The Optima 8006-006 BlueTop Marine starting battery
This AGM (absorbed glass mat) starting battery, also from Optima, is specifically designed to be used to marine vehicles like boats and yachts, but can also be fitted into RVs. It weighs 38.4 pounds and measures 10 x 6-7/8 x 7 13/16 inches in dimension, meaning it is a 34M group size.
This battery produces 12 volts, induced cold-cranking amp of 800 replenishes faster and has a reserve capacity of 100 minutes. The 8006-006 is spill-proof, vibration resistant and mountable in any position.
Pros:
Dual-purpose; works like a starting, as well as, a deep cycle battery
Great for extreme weathers
Resistant to vibrations and spill-proof
3-year replacement warranty
Recharges 3 times faster
Cons:
The warranty has not been honored as per consumer claims
4. The Optima 8014-045 YellowTop Dual Purpose Battery
When you hear a brand come through again and again in a list, you know it must be doing something great. The 4th pick out of the 6 top-rated car batteries is from Optima once again. The 8014-045 YellowTop Dual Purpose Battery from Optima, as the name suggest already, is a dual-purpose car battery that works both as a deep cycle and a starting battery. It weighs 43.5 pounds and measures    10 x 6-7/8 x 7-13/16 in dimensions.  The battery produces 12 volts of current, 750 cold cranking amp, and has whopping 2-hour reserve capacity.
This battery also shares the same Optima signatures features like being spill-proof, resistant to vibration and fee mounting, along with a 3-year replacement warranty.
Pros:
Dual-purpose battery
Great for extreme weathers
Resistant to vibrations and spill-proof
3-year replacement warranty
Recharges 3 times faster and has more than 300 recharging cycles cycles
Cons:
The warranty has not been honored as per consumer claims
Did not seem to nearly last the warranty years; consumers found it difficult to stretch this battery to a second-year without breaking down

3. The Odyssey PC1500T-A battery
The Odyssey PC1500T-A is one of the many rare batteries that are made out of the pure virgin lead, unlike most batteries that use lead alloy. This battery weighs 49.5 pounds and measures 10.8 x 6.8 x 7.8 inches in dimensions. Along with the usual 12 volts current, it produces 850 CCA and 135 minutes of reserve capacity.
The PC1500T-A recharges super fast, is spill-proof and vibration resistance has a great mounting facility, and most importantly, comes with a staggering 4-year replacement warranty and 3-year limited warranty.
Pros:
Made out of the pure lead, eventually generating more power
Is great for colder weathers
Are spill-proof and vibration resistant
Comes with a generous replacement and warranty offer
Cons:
Due to its petite size, users often have to adjust their battery spaces to hold it in safely

2. The Kinetik HC600 Blu Power-cell Battery
If you are looking for a car battery that pays special attention to your audio system, then you do not need to look any further beyond the Kinetik HC600 Blu. The HC600 is perfect for a 600-watt car stereo system. It is rather lightweight: 13.3 pounds, and compact: 7 x 3 x 6.5 inches in dimensions.
This 12-volt power cell has a sealed AGM design and ultra-low ESR with more plates for maximum energy generation.  It is spill-proof and can mount in any position you want it to.
Pros:
Specially complements your car's sound system
Spill-proof and flexible mounting
Cons:
It drains electrons very fast

1. The Yuasa YUAM6RH4H YTX14H-BS Battery
The YUAM6RH4H YTX14H-BS from Yuasa is a car battery that comes with some reliable features. It is a sealed and maintenance-free battery, meaning that you never have to bother refilling it with distilled water. It weighs 8.6 pounds and measures 6.5 x 9.25 x 6 inches in dimensions, generates 240 CCA, and 12 amp-hours.
The YUAM6RH4H YTX14H-BS can generate 30% more power thanks to its additional plates.
Pros:
Maintenance-free battery; never has to be refilled with distilled water
Spill-proof
Generates more energy
Cons:
Consumers have had complaints stating that it fails to start after a few months into use

And there you have your 6 of the best auto car batteries to ponder upon! Picking the perfect one out is not going to be easy, but I think in this review, I have covered you on most of the basic aspects of a car battery well enough so that you can confidently walk into a store and walk out with at least one of the best car batteries for your car. Refer to this review for information whenever needed, and always make sure to check with your store expert prior to purchase. Getting the right car battery can truly change your driving experience!
Best Car Battery Buying Guide
Do you even need one of the top-rated car batteries? Is it that essential?
To answer your question in one word, I'd say both no and yes. You do not need the most powerful car battery in the world, but yes, it is absolutely essential that you get a good one. If you have a car that starts on the first go, does not stop its crack half-way to the grocery store or has not died, then you are good as is. But most automobile owners do not have that luck, and you could be one of them any day if you are not careful. In fact, car battery failures are one of the most common and frequent problems faced by car owners.
So, whether you need one or not, having a great quality battery in the trunk of your car as a backup will never do you any harm. It is better to be prepared than to be stranded in the middle of nowhere!
A few typical questions that arise
If you are a smart consumer, a question or two is already starting to pop in your mind. Well, here is what you need to know to clarify all the mystery:
"How long will the best car battery last me?"
Most car batteries last about 5 years into the installation, but a good number of them may fail or "die out" before the allotted time. This is because car batteries disintegrate overtime after manufacture, thanks to its science side: acid and water components. So, be sure to purchase one that is no more than 6 months old, or best yet, one that just got out of production fresh. Check the dates with your seller since reading the dates on the battery is a little complicated.
"How do I know I need one now?"
Like previously mentioned, car batteries degrade over time with use or without it. A driver's carelessness is also one of the reasons too: forgetting the lights on, AC on, etc. Apart from the obvious symptoms like failing to start and all, you can also go for a "load test" at your local garage to check the life of your current car battery. The load test diagnoses your current battery to see if it has still got any life left in it.
Things to look for when buying a good car battery
Almost all good car batteries encompass a few basic and fundamental features and points that you should keep an eye out for when considering to buy one. These points will make sure you know exactly what you are getting for your car when you walk into the store:
Deep cycle versus Starter battery
Before you even stepped into a store, you need to decide whether you need a heavy-duty car battery or a starter battery. While they are both lead-acid batteries and operate on the same chemical principle, the 2 batteries do have different forms of operation.
A deep cycle battery:
It designed to provide a steady amount of current over a long period of time. It can be discharged over and over at a time and has more reserve capacity. These types of batteries are great for RVs and boats.
A starter battery:
It is designed to provide a large amount of current (enough for a car to start and run) over a very short period of time. This battery needs to be replenished with electrons each time after discharge and is mostly used in automobile vehicles.
Hot:
In warmer and hotter locations and temperatures, the electrolyte solution (sulphuric acid = water) volume inside the battery of your car evaporates faster. For such warmer climates, consider getting a "low-maintenance battery". This is a sealed battery that lets you refill it with distilled water.
Cold:
Colder climates are not particularly ideal for car batteries as well. To overcome this problem, you have to understand the concept of Amp-hours and Cold-cranking amps (CCA). An amp-hour is the duration your battery will last without being recharged. CCA is the power the battery has to start the engine (along with other mechanisms: lights, windshield wiper, etc) in 0 degrees Celsius. The CCA is shown how much lead a battery has when it is built; as the load increases, so does the CCA. Also, note that the cost of a battery increases as the CCA increases
Before you pick out any car battery, be sure to refer to your car owner's manual to identify the size of the battery it is compatible with. Getting a battery that is too small may get some work done, but it will not fit into space perfectly and wobble and get pushed around as the car drives. Therefore, consider the group size before getting one. Group size refers to the battery size and dimensions that perfectly fits a specific type of vehicle. For example, the best group 35 battery from Optima is the top spiral wound AGM battery. Along with this one, all the other group 35 batteries will share the same size and dimensions:  9.31 inches in length, 6.82 inches in width and 7.82 inches in height.
If you are not one of those people to take warranties seriously, then it is time you do. You are readily entitled to a replacement or reimbursement in case you detect any false claims or manufacture defects with a car battery within its warranty period. However, signs of neglect such us low electrolyte solution, bad installation, and damages from the buyer's part or misuse of the battery can void that warranty instantly.
If you follow through with these small steps before buying any car battery, you can rest assured that you will be guaranteeing yourself one of the best car batteries that is going to last you a long time without any problems.
More Tips for the Best Car Battery
How to Replace a Car Battery
More Automotive Buying Guides