Keeping tabs on the status of anything you own is the hallmark of a responsible owner, and the reward of that is the prolonged use of such an item. This extends to everything, including a car battery, an integral part of a vehicle that causes serious inconvenience when completely drained. With car battery testers, homeowners are relieved of the stress of not knowing the condition of their battery with a small and easy-to-use device, but that's not all there is to it.
The best of these devices test the overall status of the battery condition, they rate the load at the time used, as well as being able to give diagnoses on starter motor draw and complete charging. They should be easy to read and easy to handle, not to mention accurate as well, and the durability and safety of using them should also be expected from the best. The following are the best car battery testers that can handle well such expectations.
The Best Car Battery Testers
 [table id=96 /]
1. Schumacher BT-100 Battery Load Tester
Using an analog indicator, this battery load tester has a 100-amp load test capability that makes it suitable for 12V car batteries. This means that it is also suitable for batteries with a lesser voltage, such as 6V batteries, testing for up to 50 amps. Accurate measurement is assured with a needle that points to pre-indicated amperage points once the tester is connected to the battery with the two clamps fitted onto it. Apart from testing a battery's load, the Schumacher BT-100 also tests the battery's condition and starter motor draw. The tester can also be used to perform a complete charging system diagnosis. Its steel case, with a baked-enamel finish, is strong enough to protect the shock-resistant meter, all elements that serve as proof of the tester's overall quality and durability. The battery clamps firmly grip where they should, the handle is rubber insulated, and with a top-mounted rocker switch, using this handy device is also very easy.
Pros
Multiple testing capabilities
Complete diagnosis capability
Easy to use
Cons
Measurement accuracy not highest
Summary
Because of its mechanical reading method, measuring to a decimal point isn't possible, but there is plenty more to take from a device that excels in every other feature expected from a car battery tester. Suitable for most car batteries, its design also takes steps to make it easier for users with little to no experience.

2. Associated Equipment 6031 Battery Tester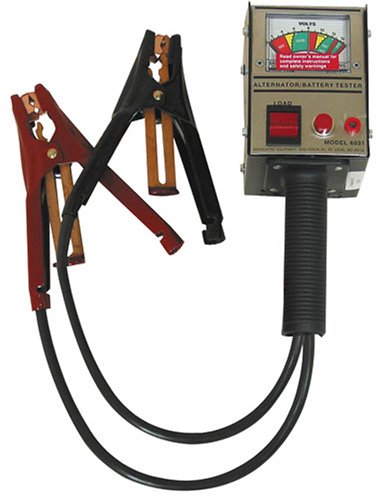 Measuring 6.3" x 6.4", this relatively compact battery tester comes in handy when needed, as is evidenced by its size and functions. Once its two battery clamps are fixed in place, this AC tester can check for defective alternator diodes, including taking a GM trio test, the results of which can easily be read on the analog display that can show up to 125 amps. This tester also checks starter current and AC/regulator output voltage, suitable for 6V and 12V car batteries. The recessed meter ensures accurate readings, as well as helping protect against damages that may be incurred when in use.
Pros
Compact
Strong clamps
Multi-functional
High amp testing capability
Cons
No handle and hard to stand alone
Summary
Giving just how small this device, its capability to handle high voltages and amperage is surprising, and it does this in a way that makes life easier for the user.

3. Pulse Tech Xtreme Charge Quick Battery Tester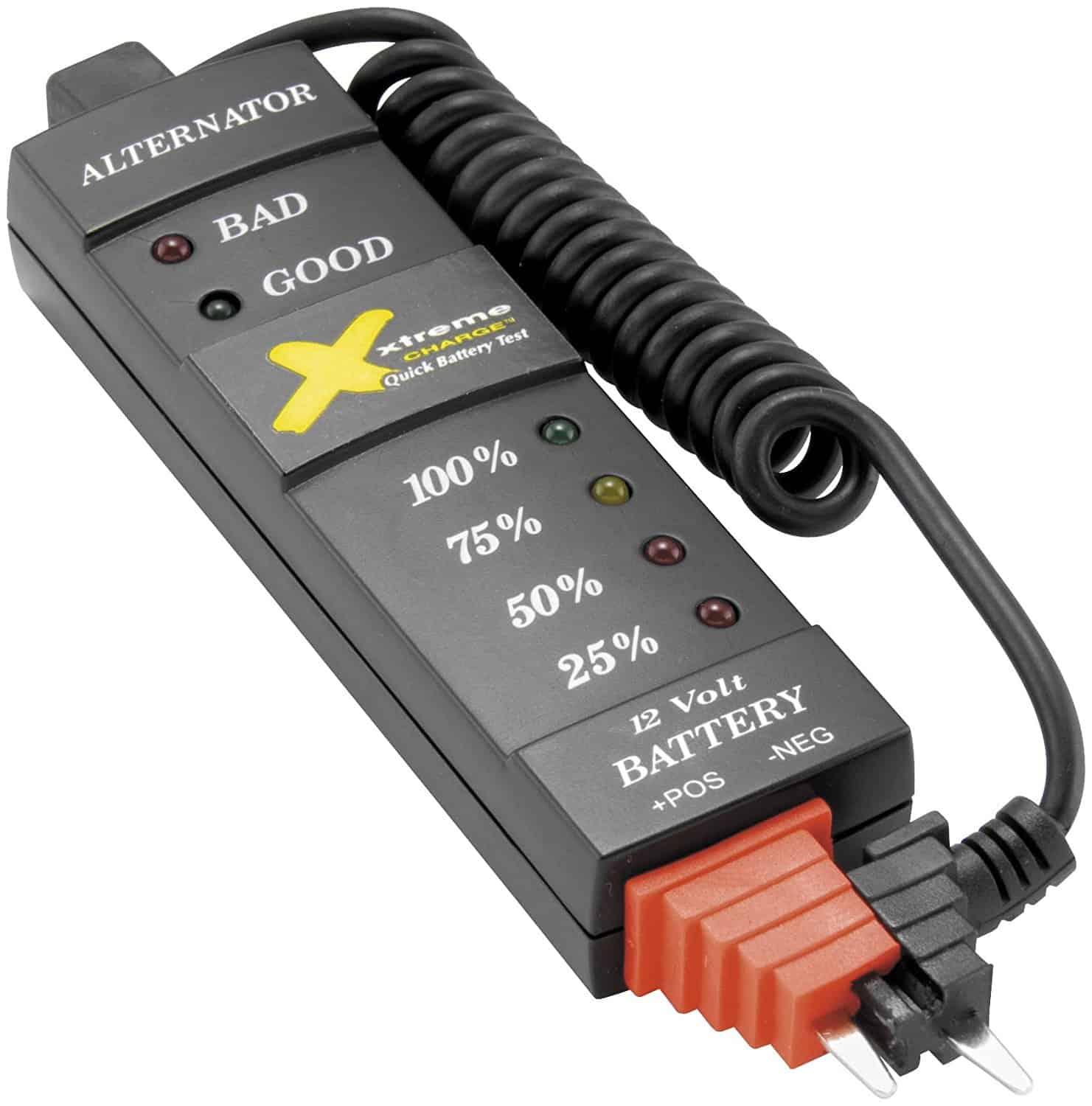 With indicator lights such as "good" and "bad," testing your car battery's condition could not be made easier, helped by the fact that the hand-held battery tester measures only 7.2" x 1.6" and weighs a mere 1.6 oz. It is made to test 12V batteries and alternators, the results of which are displayed in 4 stages along equally divided percentage lines, from 0% to 100%. A unique feature of the Pulse Tech battery tester is the leave-on charging cable set that allows for remote battery testing. Other than just how easy it is to use, the battery tester ensures that testing is done as quickly as possible, not to mention all the safety measures the design offers.
Pros
Small and light
Easy to use
Removable NEG probe tip
Good or bad alternator output LED indicators
Cons
Does not measure amp and voltage
Summary
Suited for a quick check of your battery's condition, this tester sacrifices precise numbers for a convenience that many will appreciate, especially those on the go or those who just need to keep a regular check on a battery they do not entirely trust.

4. Sunpro Actron CP7612 Battery Load Tester
The Sunpro Actron battery tester has a typical design, except that the analog display is fitted at the bottom of the chrome-plated steel piece, rather than the top. By connecting the two clamps it comes with, users are able to perform a voltage test on both 6V and 12V batteries, as well as a 15-second battery load testing. The color-coded scale has a voltage range from 0-16, and is clear enough to read properly when testing the 100-amp load-testing capability. Made from rather heavy-duty material, the tester is resistant to a lot of conditions that would otherwise wear it down, making it highly durable.
Pros
Chrome coating
Easy to read display
Large clips
Suitable for 6V and 12V batteries
Cons
Lacking safety measurements
Summary
Though not all it could be, the Sunpro Actron is definitely one of the better analog battery load testers available, and that evidence not just by what it can do, which is plenty, but how well it does it. A great pick for those who want to delve just past the "good" and "bad" in search of more precise numbers and a more specific overall reading of their battery's condition.

5. OTC Digital Battery Load Tester
When it comes to accuracy, no battery load tester can be more precise than a digital one, and that is exactly what the OTC battery load tester claims to be. This 130-amp device displays voltage readings of both 6V and 12V batteries with its digital display that is both accurate and easy to read. Its other functions include testing the state of charge, an alternator ripple test, and starting and charging system tests. Features such as an alternator test lead, ripple detection light, and its 0-16 volt range only add to what is an already multi-functional device. Other than its various functions, what makes this device special is in just how compact and easy to handle it is, fit with an easy-to-grip handle, and its lightweight also goes a long way in helping users.
Pros
Compact and light
Multi-functional
Large clamps
Cons
Heats up quickly
Summary
Just as long as you are sure to use this battery load tester safely, which should be easy to do considering all the different places its small dimensions allow it to fit, then this digital device works like a charm. It blends an appeal for both the technician and the untrained eye looking to get accurate readings on their battery's condition, among other things.

6. Midtronics PBT300 Battery Charging Starting System Tester
For a state-of-the-art battery tester, they rarely come better than the Midtronics PBT300, an instrument that is useful both in its functions and in how it performs these functions. Its digital display allows users to test for voltage and receive results that are not only precise but very easy to read, once connected to the 12V batteries it is made suitable for. The tester is also able to determine, in just a matter of seconds, the amount of power left in the cells, including bad cell detection. An expanded measurement range, starting from 100 CCA all the way to 1,400 CCA, makes this tester one of a kind. Among this plethora of functions, the capability to test both the starter and charging system is not forgotten, and this is done with as much efficiency as the rest of the functions. Below the digital display, on the surface of the tester, a number of indicator lights work to aid the user in quickly and accurately reading the results of their tests.
Pros
100-1,400 CCA measurement range
Accurate digital readings
Suitable for a wide range of tests
Bad cell detection
Cons
Does not do an individual load test
Summary
Though it is a little pricey, the overall quality offered here makes it worth every cent, and that justification is only amplified by just how much it can do. For those looking for accuracy and convenience, all packed in a lightweight and easy to use a battery tester, they will find that in the PBT-300.

7. Cen-Tech Digital Automotive Battery Analyzer
Boasting a large LCD screen, with a backlight that makes it readable both in the light and in the dark, the Cen-tech's battery tester is a complete package that delivers the most accurate results. Once its two clamps are connected to a car battery, the device is able to perform a number of tests, including checking the voltage of the battery, cold cranking amps (CCA), suitable for up to 1000 CCA, as well as checking for the resistance and the condition of the battery. Soft buttons fitted below the display allow for easy use as one adjusts the functions, and coupled with the soft case surrounding the rigid structure, it turns out to be also easy to handle. The device gets its power from the car's battery, so that it is not dependent on secondary power sources, also allowing for synchronized power flow that does not damage the battery over time.
Pros
Bright display
Multiple functions
Light and easy to handle
Accurate amperage readings
Cons
Cheap material
Summary
Other than its build, it is hard to find anything wrong with such a humble piece that works so well, not to mention its sophisticated and bright look. It is a great solution for anyone having doubts about the overall condition of their battery, or for those looking for more precise measurements for certain aspects, all of which can be easily done by those both experienced and inexperienced in the field.

8. Cartman 12V Car Battery & Alternator Tester
With 6 indicator lights, including a fault light, a good light, a full light, a medium-light, a low light, and right at the bottom, an OK light, the Carman battery tester is a simple, yet a quick solution to checking the status of a car's battery. Suitable for 12V batteries, all of these indicators imply that the device can check for the state of the alternator, enabling users to accelerate their engines to 2,000 RPMs when the "good" light is lit, as well checking for the charging circuit with the last "OK" indicator light. When it comes to checking the battery load, users are shown the state of that in three stages, as indicated by the full, medium, and low indicator lights. The tester is easy to handle, helped by the fact that it measures a mere 8" in length, 2" in width, and 1" in thickness, not to mention its 1.6 oz. in weight.
Pros
Easy to use
Small and easy to handle
Strong clamps
Cons
Does not read percentages
Summary
For a simple checkup on the condition of a battery, including a basic summary of where it is when charging, this battery tester works great. It is an ideal pick for those in a hurry or for those who do not care much for specific readings, and given its overall quality and the affordable price tag, it just as easily makes it onto the list of the best battery testers.

Conclusion for Best Car Battery Testers
Car battery testers and analyzers come in different shapes and sizes, and their suitability can vary, depending on what exactly a buyer is looking for. They all share one thing in common, however, and that is serving as convenient solutions to those looking to evaluate the state of their battery so as to avoid great inconvenience. All 8 products listed above do just that.
More Review and Guide: Best Car Batteries
More Tips for Best Car Battery Testers
How to Test a Car Battery
More Automotive Buying Guides