A minor fault in a car such as worn spark plugs may trigger misbalanced vehicle functionality, which may in turn cause problems that can at times become fatal for the vehicle. Fortunately, modern cars have a mind of their own and can determine what each component is doing and consequentially when a component has malfunctioned. They do this through a system known as the OBD2 unit which holds a car's full operations log, including temperature and fuel readings, speed, direction and location records, as well as testing for emission leaks and levels. If you are looking for one, below is our list of the best OBD2 scanner which you can consider buying.
The Best OBD2 Scanner
[table id=17 /]
6) Autel MaxiScan MS300 Diagnostic Scanner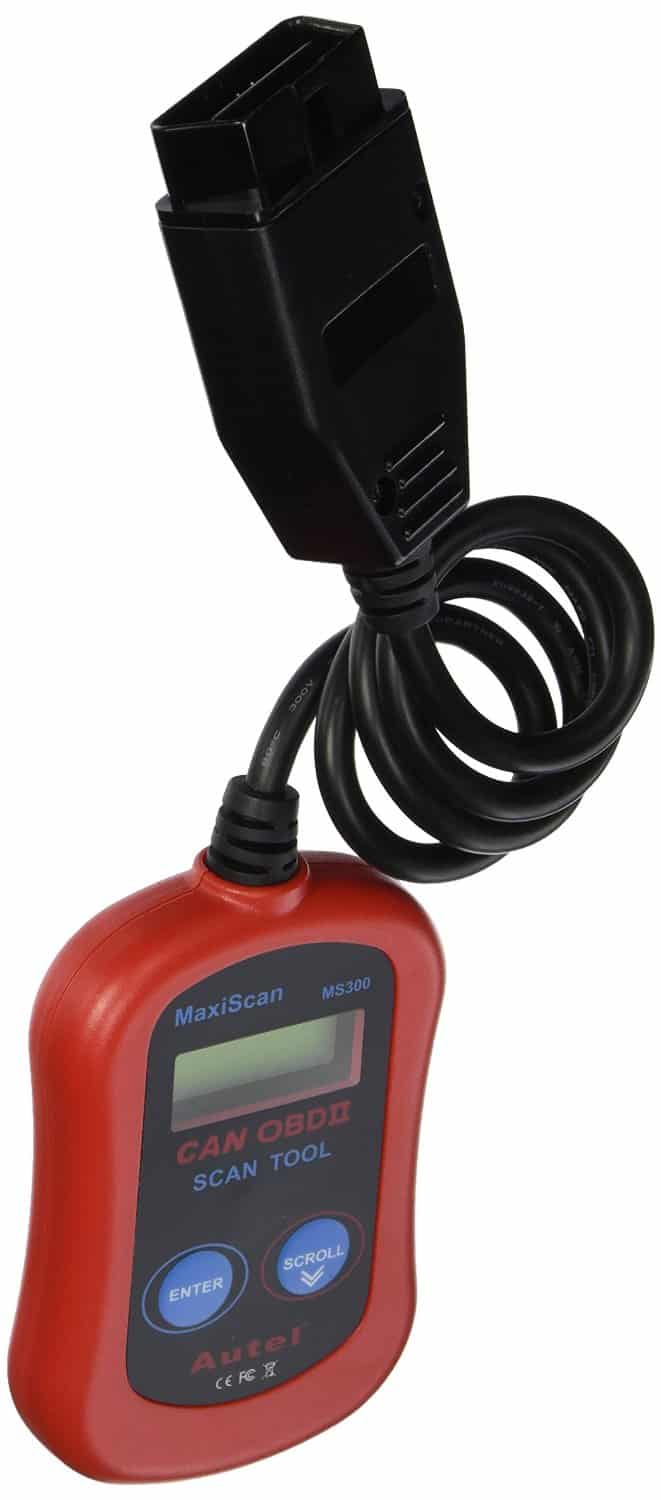 The Autel MaxiScan MS300 is the simplest and least expensive OBD2 scanner tool that actually functions. If you consider all of its features and user interfaces, its 17 dollar price tag is an unbelievable bargain. It offers a two-button control system to ease use and can handle basic tasks for American, European, and Asian vehicles.
The Autel MaxiScan MS300 is self-sufficient as it does not depend on other electronic devices such as laptops and smartphones. It can retrieve the Vehicle Identification Numbers for all Mode 9-enabled vehicles manufactured in 2002 and later. Additionally, this scanner does not require a backup battery as it draws power from the OBD2 plug-in cable.
Pros
It is little and light and can be attached to the keychain or carried in the pocket.
Being a standalone device, it gives independence to the user.
It has a high affinity for most cars and is compatible with most protocols.
It is very cost-effective.
Cons
It is not possible to update or "flash" the firmware on a computer.
Using the included CD-ROM is more cumbersome than a standard online search.
The firmware cannot be updated or "flashed" from a computer.


5) INNOVA 3100 Diagnostic ScanTool/Code Reader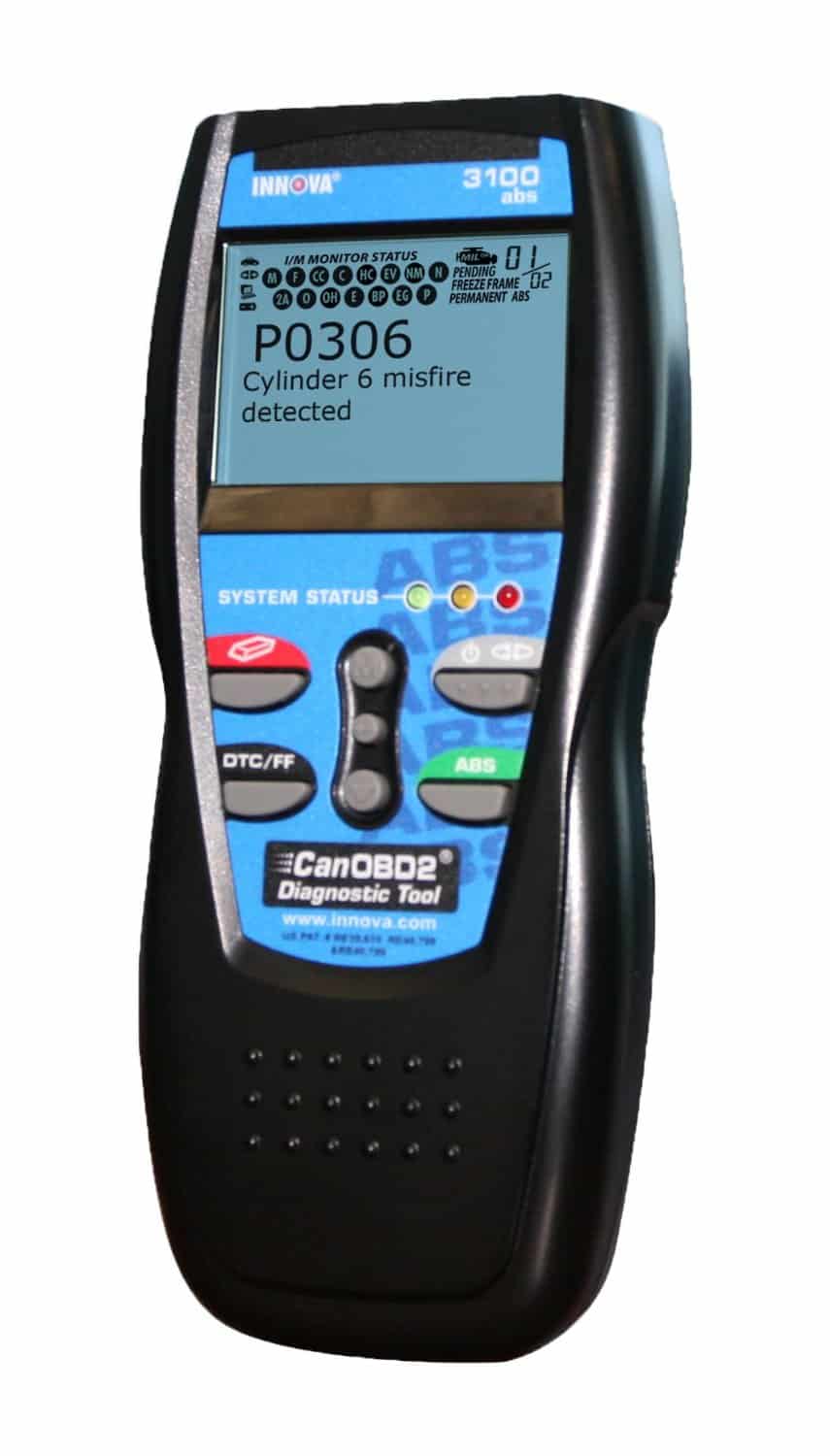 The INNOVA 3100 has sold over 900,000 units since it was first launched and for good reason. It is one of the most user-friendly OBD2 tools in the market and does not require any specialized knowledge to operate. It is compatible with vehicles manufactured later than 1996 and can be used on cars, SUVs, trucks, and hybrids, both foreign and domestic. It has a multilingual screen interface with options for English, French and Spanish speakers.
The INNOVA 3100 runs a quick scan in seconds and instantly downloads and displays emissions and other vital diagnostic data. It is furnished with a battery back-up, that enables it to be transported and connected to a computer for further analysis of the downloaded data. It also refreshes its software every 30 seconds, giving more dynamic aspects of a vehicle's performance. Additionally, the INNOVA 3100 reads and erases ABS light codes for most vehicles from Ford, GM, Chrysler, and Toyotas. It also features a patented all-in-one screen and LED display that aids in performing a State Emissions readiness check and drive cycle verification.
Pros
INNOVA 3100's LCD screen and intuitive controls make it a pleasure to use.
It shows both current and pending issues.
It is capable of monitoring running tasks.
It gives precise and concise information.
It is relatively cheap compared to other scanners with similar specs.
Cons
The tool does not work on Apple and several other operating systems.
It only provides basic information forcing consumers to pay for more detailed interpretations and solutions for downloaded DTC codes.


4) Actron CP9580A Enhanced AutoScanner Plus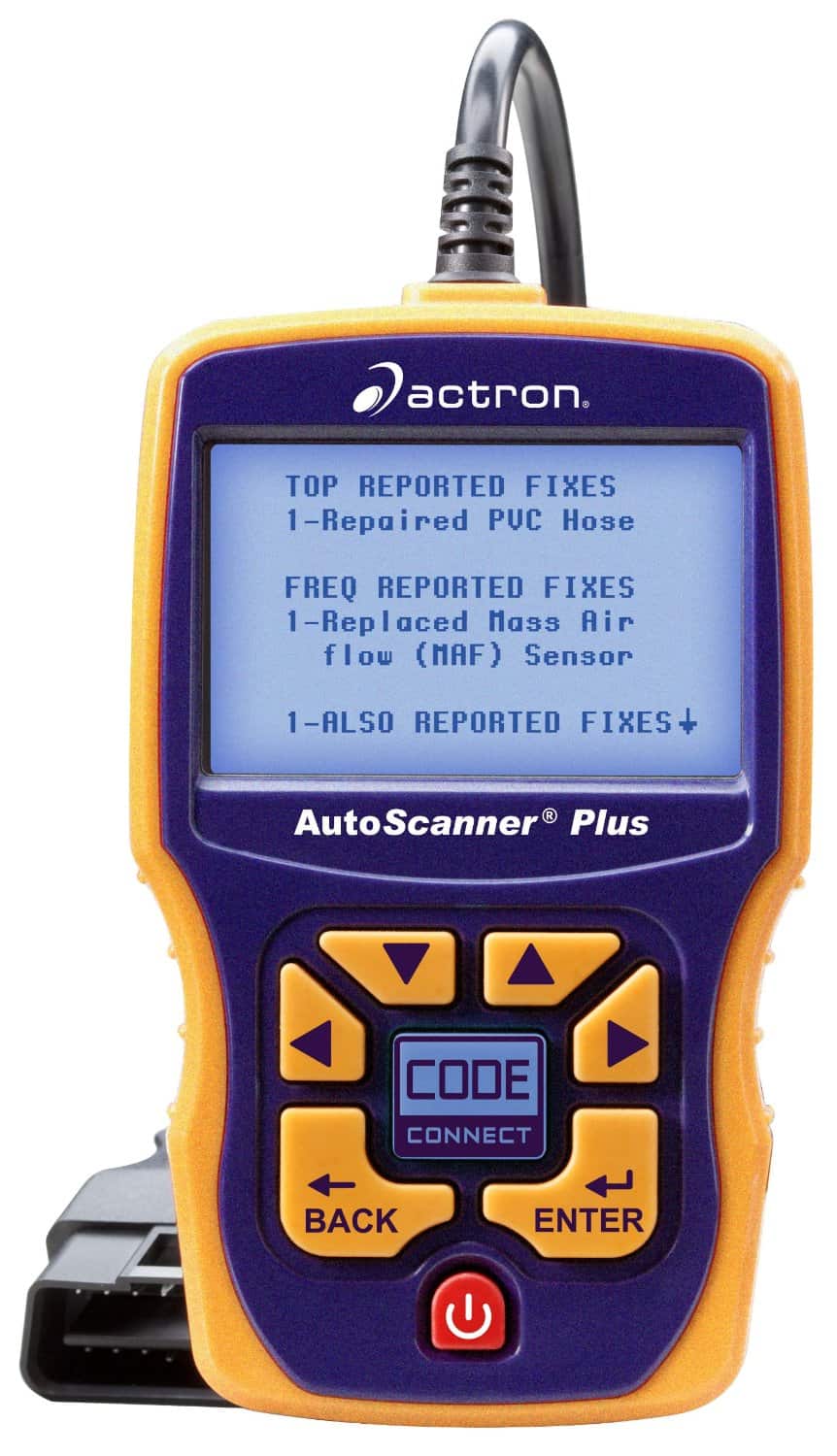 The Actron CP9580A fondly referred to as a "mechanic in a box," is one of the most sophisticated home OBD2 scanners available today. It easily connects to the OBD2 unit of any vehicle manufactured after 1996 and downloads and displays live information. Because of its onscreen graphing technology, it is capable of displaying generic and manufacturer specific codes. If that is not enough, it is capable of checking error codes when the ABS (Anti-Lock Brake System) light comes on.
The Actron CP9580A sorts through DTC codes to prioritize problems while generating solutions. That can save you a lot of money especially if your mechanic charges per hour. Advanced features include print data support, trilingual support, Drive Cycle Mode, State OBD Check, and freeze frame data.
Unlike most scanners that only work on American and European cars, the Actron CP9580A is compatible with Asian vehicles thanks to its expanded ABS code coverage record and playback data stream.
Pros
Its size allows it to fit in one to facilitate easy plugging and operation.
It can be connected to a computer for further diagnostic functions. Connecting to a computer enables the user to acquire more information about error codes and their respective solutions.
The manufacturer's PC software allows you to update firmware and gives you greater control and flexibility.
It is reasonably easy to use.
Cons
At prices close to 200 dollars it is quite a bank breaker.
The PC software is not yet compatible with Windows 8 and several other operating systems.


3) INNOVA 3160 Diagnostic Scan Tool
The INNOVA 3160 is an advanced scanner tool that can perform a high number of functions; some of them unique to it. It may not be the most economical model on the market, but it offers a wider user scope than its counterparts. It is compatible with both newer version OBD2 vehicles and older model OBD1 vehicles and can read "Check Engine" light warnings from even the C.A.N. or Controller Area Network. The scanner device can produce SAE enhanced Live Data including views and graphs and document and playback live PCM data streams on screen. With the INNOVA 3160, you can access over 25 real-time car information at the same time.
The unit can be updated with a standard Windows® PC using a USB flash drive. Diagnostics for ABS and SRS issues can be viewed on live stream or printed from your PC. It is provided together with an extensive list of accessories that includes a soft pouch, an OBD2 cable, a USB cable, and a quick reference guide. The INNOVA 3160 does what it is expected to do with very few hitches.
Pros
It is an efficient scanning device that eliminates the need for other devices.
It is designed for inexperienced users but enhanced with professional capabilities.
It is among the few modern devices that read data from OBD1 units.
It can read ABS and SRS data from many vehicle models including Honda and Toyota.
Cons
At a price ranging between $200 to $250, the INNOVA 3160 is too expensive for most motorists.
It is comparably larger and heavier than most of its close competitors.
Similar to the Innova 3100, you may have to pay extra for advanced data reports.

2) BAFX Products® – 34t5 Bluetooth OBD2 Scan Tool for Android Devices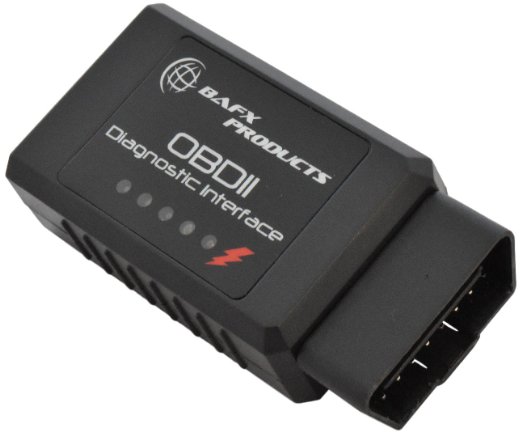 Despite not being a household name in the world of car diagnostic tools, BAFX Products 34t5 is featured on our list because it is reliable and practical. It is also surprisingly cheap especially because it is better than most of its competitors. It is very easy to set up and can be linked to Android and iOS smartphones in addition to other devices.
It is compatible with all third-party OBD2 applications including Torque and is availed with DEMO software for Windows computers and 1 Year Manufacturer's Warranty. It can pick up readings from fuel sensors, oxygen sensors, balance sensors, and throttle sensors to provide comprehensive statistics at 1/8, 1/4, 1/2 and 1 Mile intervals. The device reads and clears trouble codes as well as turns off the MILs. It also runs preliminary emission tests to determine whether or not your car will pass. Although it comes with a one-year limited warranty, the producers give their word that it will last as long as your vehicle will.
Pros
It is easy to set up and use.
It is widely compatible with a huge variety of cars.
It is very cost-effective.
No-fuss or gimmicks because it works exactly as it is advertised.
It can reach over 3000 codes, both manufacturer-specific and generic.
Conveniently compatible with Android which is the most widely used operating system in the world.
It guarantees compatibility with all US manufactured vehicles.
Cons
It does not read information other than that from the OBD2 unit.
It is not iOS compliant and hence not accessible to Apple users.

1) BlueDriver – Bluetooth Professional OBDII Scan Tool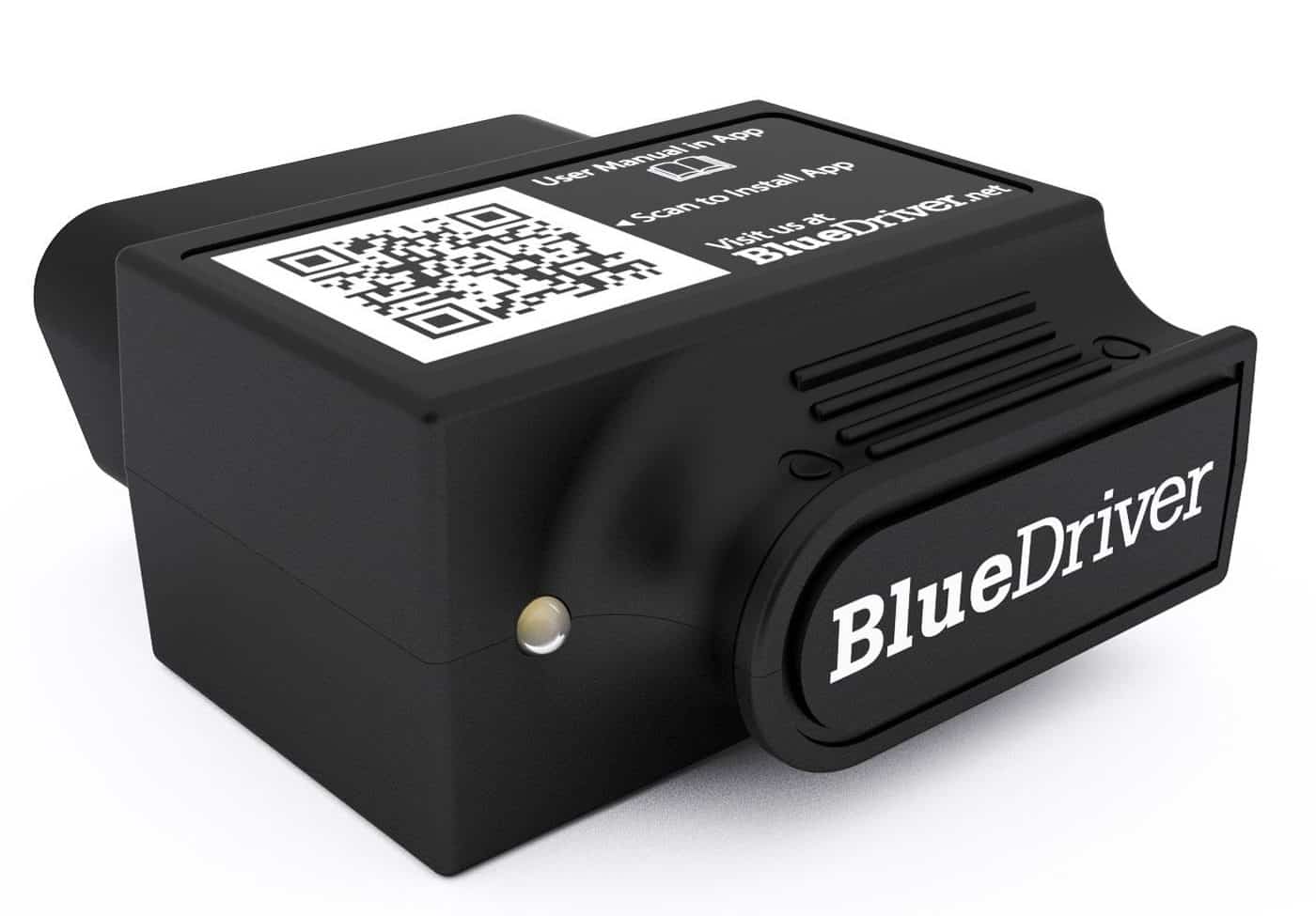 The BlueDriver tool is as professional as OBD2 scanner tools come. It offers an impressive scope of data reading and analysis. It is a professional level scanner that has earned the trust of most automotive repair experts. Developed by top engineers in North America, it is equipped with vehicle-specific repair reports acquired from a database of about 4.3 million fixes, verified and approved by certified auto mechanics.
The BlueDriver scanner is certified and licensed for use with Apple and Android devices and comes with a BlueDriver App and Sensor to promote simple connection and operation. It assesses and clears trouble codes on top of turning off MILs. Downloaded data and reports can be emailed to the user in PDF format for further evaluation. Apart from diagnosing and solving engine problems, it is also able to read enhanced codes such as Airbag and ABS transmission codes for GM, Chrysler, Ford, and Toyota vehicles.
Pros
Easy to set up and operate.
It eliminates the need for cables because of Bluetooth connectivity.
The reports provided are comprehensive enough to eliminate the need for diagnosis by a mechanic.
It can display and work on several selected metrics at the same time.
Cons
It is comparably expensive.
Some features such as TPMS diagnosis are considered prime and have to be paid for.


Best OBD2 Scanner FAQs and Guide
Why is the OBD2 Scanner Tool Essential?
An OBD2 Scanner is a portable device that is plugged into a vehicle's diagnostic connector – commonly known as the OBD2 unit – to test the car's systems and identify its faults. Advanced as they may be, today's vehicles' sensors are often restricted to little more than illuminating a "Check Engine" light on the dashboard. Although the light indicates that something is wrong, more often than not it is impossible to discern the severity of the problem. Owning an OBD2 saves you money because you can identify the problem yourself without having to pay exorbitant 'diagnosis' fees to dealerships and service stations. With the acquired information, you can make an informed decision on whether or not you can tackle the problem.
What to Consider when Buying an OBD2 Scanner?
Subject to your requirements and skill level, you may opt for either a feature-packed or minimalistic OBD 2 scanning tool. While all scanners can download the standard set of data, only particular devices can show the real-time functioning of the vehicle to allow for necessary adjustments during operations. Cost is also an important factor to consider. Some OBD2 Scanners will set you back a few thousands of dollars, yet they feature limited functionalities. It is not smart to acquire an expensive 'PRO' scan tool if all you need is a 'DIY' OBD2 scanner.
The Best OBD2 Scanners on the Market and our Reviews
Recently, there has been an influx of advanced diagnostic tools from companies such as Actron (OTC), Autologic, Auterra, Bluedriver, Baum Tools, AutoXray (OTC), and Delphi among others. Consequentially, the manufacturers' struggle to outdo each other has led to a decrease in price and a simultaneous increase in quality. However, it may be difficult to figure out which car scanner to get especially because all of them promise to deliver the best user experience. So, we ran tests and from the results compiled a list of six of the best OBD2 Scanners in the market today.
Conclusion
As much as factors such as cost and technology should influence your decision, it is prudent that you ensure that an OBD2 Scanner Tool is compatible not only with your vehicle but with your devices too. We recommend that you acquire a low-cost dedicated device if you only need to troubleshoot one vehicle. You should only get the more expensive, sophisticated tools if you plan on using it on multiple cars. Therefore, you should read the reviews carefully before purchasing a car diagnostic device.
After careful consideration, we believe that the BlueDriver is the most well-rounded device in the market. BAFX's 34t5 tool is one of the most "human" devices while Actron's CP9580A holds a reputation for being efficient and easy to use. The INNOVA 3160 and INNOVA 3100 are excellent tools and would have done better on our list if they did not charge for advanced diagnostic reports. We included the Autel MaxiScan MS300 because of its large sales volume and excellent consumer reviews which show that it must be doing something right.
Having your car break down is both inconveniencing and frustrating. With the above tools, you will be able to make timely evaluations and, if necessary, repairs before you hit the road.
More Tips for the Best OBD2 Scanner
How to Use an OBD Scan Tool
More Automotive Buying Guides