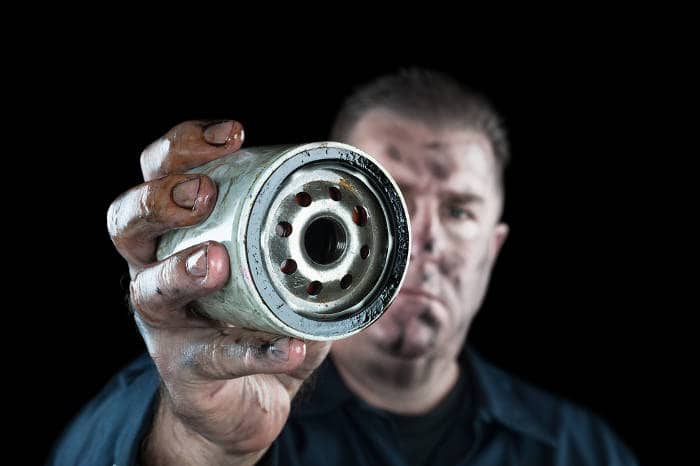 A good oil filter should have strong steel to help it withstand increased oil pressure, a good drain-back valve and a functional pressure relief valve. Additionally, the membrane material used should be able to filter small oil impurities, but not clog easily as this can restrict oil flow. Currently, there are numerous oil filter brands available to choose from. As such, you may have a hard time determining the top quality filters for your engine. Included below are some of the best oil filter you can consider buying.
The Best Oil Filter
[table id=16 /]
6. MANN-FILTER Oil Filters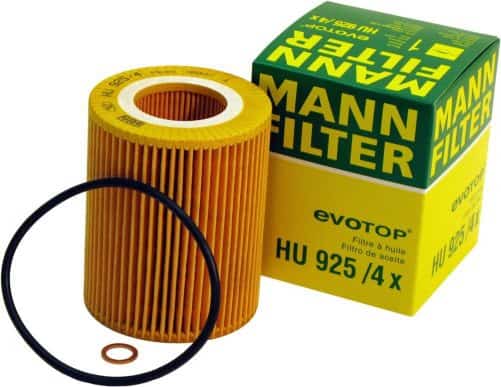 With regards to removing dust, water, and other harmful substances from engine oil, Mann-Filter oil filters are some of the best in the market today. Owing to the unique separation technology used by these membranes, they offer exceptional protection and care for your engine. Additionally, filters by this manufacturer have a high holding capacity. As such, they can screen oil impurities for an extended period without getting clogged or restricting the flow of engine oil in any way. The filter is easy to install and eco-friendly. The innovative filters by this manufacturer are easily disposable and feature a new technology that allows for a better and faster oil circulation whenever you are starting the engine.
Pros
– Impressive engine performance
– Comparatively good filtration efficiency as a result of the quality surface area offered by the filter.
– Very durable
– Convenient and easy filter replacement
Cons
– The efficiency in Mann-Filter oil filters if reoccurring, which impairs the separation capabilities of the filters.
– There have been complaints about mechanical system failures associated with lubrication issues in the Mann-Filter oil filters.

5. AMSOIL Ea Oil Filters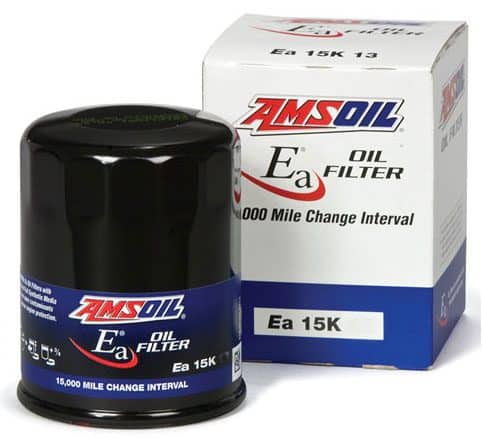 One of the aspects that make this oil filter brand one of the best today is its innovative synthetic fiber membranes. The membrane is designed to allow for maximum oil flow while trapping almost all the impurities in the oil. This makes it easy for you to start your engine, even during cold weather conditions. In this regard, these filters have been rated the most efficient oil filters on various platforms. The manufacturer of these filters guarantees clean oil for your engine, which preserves the engine and extends its life. Depending on the AMSOIL Ea oil filter you have chosen, you can enjoy extended service intervals of between 15, 000 and 25, 000 miles. There are various features used in these filters that make them some of the best, including:
Pros
– Advanced Media Technology
The blended and cellulose media used in these filters have comparatively shorter fibers. Additionally, the filters have smaller spaces in between the fibers—the size and shape of the spaces is controlled. This enhances the capacity, efficiency, and durability of the filters. Again, this technology allows for the extended service intervals offered by these filters.
– Improved Oil Flow
To ensure that the moving parts in the engine are properly lubricated at all times, these filters are designed to allow a sufficient oil flow rate. In this regard, the AMSOIL Ea Oil Filters deliver impressive performance without restricting the flow of oil in the engine. This also enhances the cold-start performance of your engine.
– A Durable Construction
Oil filters by this manufacturer are made of high-quality full-synthetic media, constructed through controlled pressing. This leads to accurate fiber construction and enhances the durability of the filters. To further enhance its durability, the media used in these filters if resin-resistant. As a result, its efficiency and performance are not affected by an increase in the temperature of the oil.
Cons
– While these filters are easy to change, more efficient and offer extended servicing intervals, they are comparatively costly to acquire. If you are working on a limited budget, you may find this option too expensive.
4. Purolator Classic Oil Filters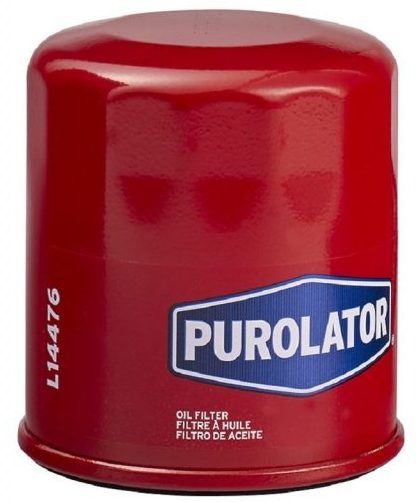 Being one of the very first manufacturers of engine oil filters in the USA, the Purolator filter manufacturer produces high quality, efficient and durable engine oil filters. With regard to their efficiency, the filters by this manufacturer can eliminate about 97.5 percent of contaminants from engine oil. Additionally, they are comparatively affordable and proven to extend the performance and life of engines. Some of the best filters by this manufacturer include the Synthetic Filter, the PureOne Oil Filter, and Purolator Classic. In this regard, the Purolator Classic oil filter is among the best filters today, with a filtration efficiency of 97.5 percent. This makes the choice perfect for engine protection.
Pros
– The synthetic filters by the manufacturer are 100 percent synthetic, allowing for ultimate engine protection.
– The filters comprise a backed media, which enhances their durability.
– This features a non-slip texture for a better grip. As such, they are easy to remove and install on the engine.
– Very durable, allowing users to cover about 10,000 miles before changing the oil filters.
– Some filters by the manufacturer have Silicone anti-drain back valves, which enhances protection against dry-start.
Cons
– You may need to select a filter type that is ideal for your engine—for instance, engines that use synthetic oil should be fitted with Purolator Synthetic filters or PureOne filters.

3. K&N Oil Filters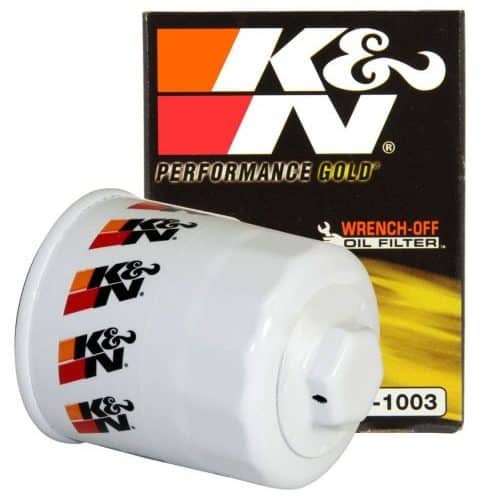 The K&N is one of the best oil filter brands you should consider when shopping for the best filters in the market. The HP-1003 performance Wrench-Off filter is one of the best products of the manufacturer. This oil filter was initially designed for racing applications, which tend to be more demanding. Ever since they have become some of the most preferred filters for many drivers and mechanics today. This may be attributed to the many beneficial features offered by these filters. The filters by this manufacturer are specifically designed to work well with either conventional or systemic oil. Regardless of their affordability, these filters are of exceptional quality—capable of filtering up to 99 percent of impurities in engine oil. The filter traps almost all the impurities contained in oil while maintaining a spectacular engine oil flow rate. The impregnated media used in these filters make them very durable and strong enough for more demanding oil filtration applications.
Pros
– Features strong impregnated walls for enhanced durability.
– Their design allows for easy installation and removal when replacing
– These filters are compatible with most car, SUV and ATV engines.
– Features an anti-drain back valve that plays a significant role in preventing dry starts.
Cons
– These filters are easy and more convenient to install and remove using a torque wrench. However, excessive tightening of the filter may result in compression, rearing or even wrinkling of the rubber gasket used in the filters.  This, in turn, will lead to oil leaks from the filter.

2. Bosch Premium Oil Filters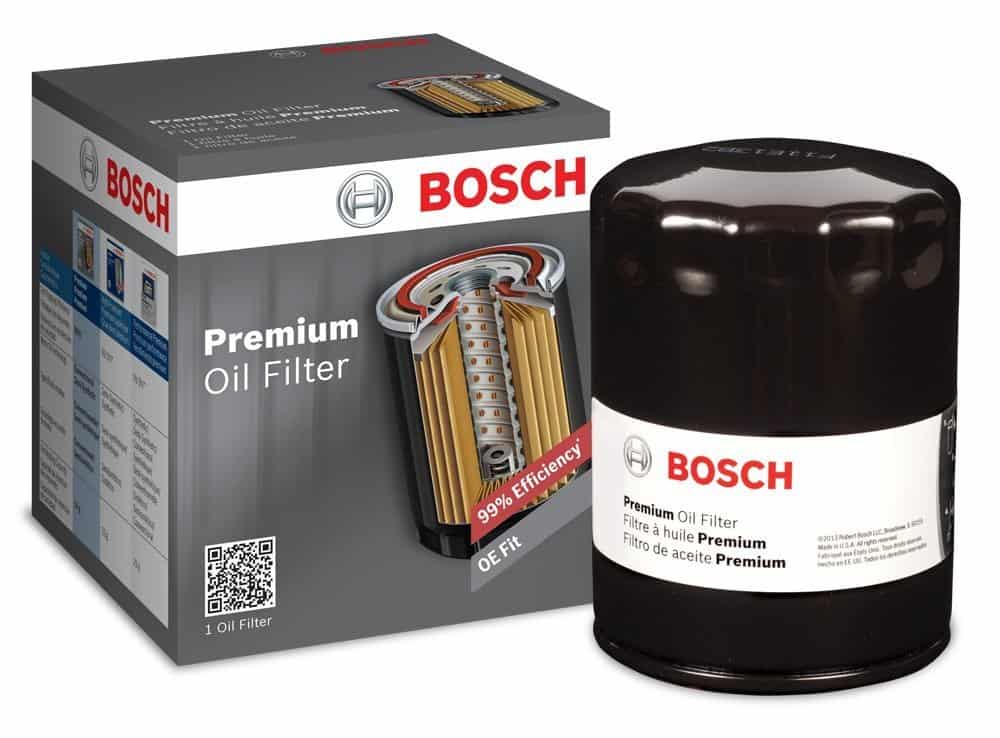 The Bosch oil filter manufacturer is among the reputable manufacturers today; well renowned for producing highly efficient, comparatively affordable and durable engine oil filters. The manufacturer uses a unique blend of synthetic and natural materials in its filters. As such, oil filters by the manufacturer are capable of removing microscopic oil contaminants and allow for a high oil flow rate at the same time. The durability associated with Bosch oil filters may be attributed to their outstanding membrane strength. In this regard, the filter walls comprise of strong steel to prevent damage and warpage leaks to the filter. Additionally, this feature makes the filter fit perfectly; hence preventing leakages.
These filters also come with a well-lubricated gasket, which offers a tight seal and allows for easy removal of the filter from the engine. The Silicone anti-drain back valve technology used in Bosch oil filters is also very effective when it comes to supplying clean oil whenever you are starting the engine. This Bosch oil filter review lists some of the pros and cons associated with Bosch oil filters below.
Pros
– The Bosch oil filter canisters feature a double-lock system in their rolled seam. This feature ensures that the canisters are leak-free.
– The various filters by this manufacturer apply the FILTECH membrane technology by the company. This technology is reputed across the globe for its effectiveness in screening engine oil for various impurities.
Cons
– Some users are concerned with the quality of these products. This is because the oil filters are produced by a third-party contractor.

1. Mobil 1 Oil Filter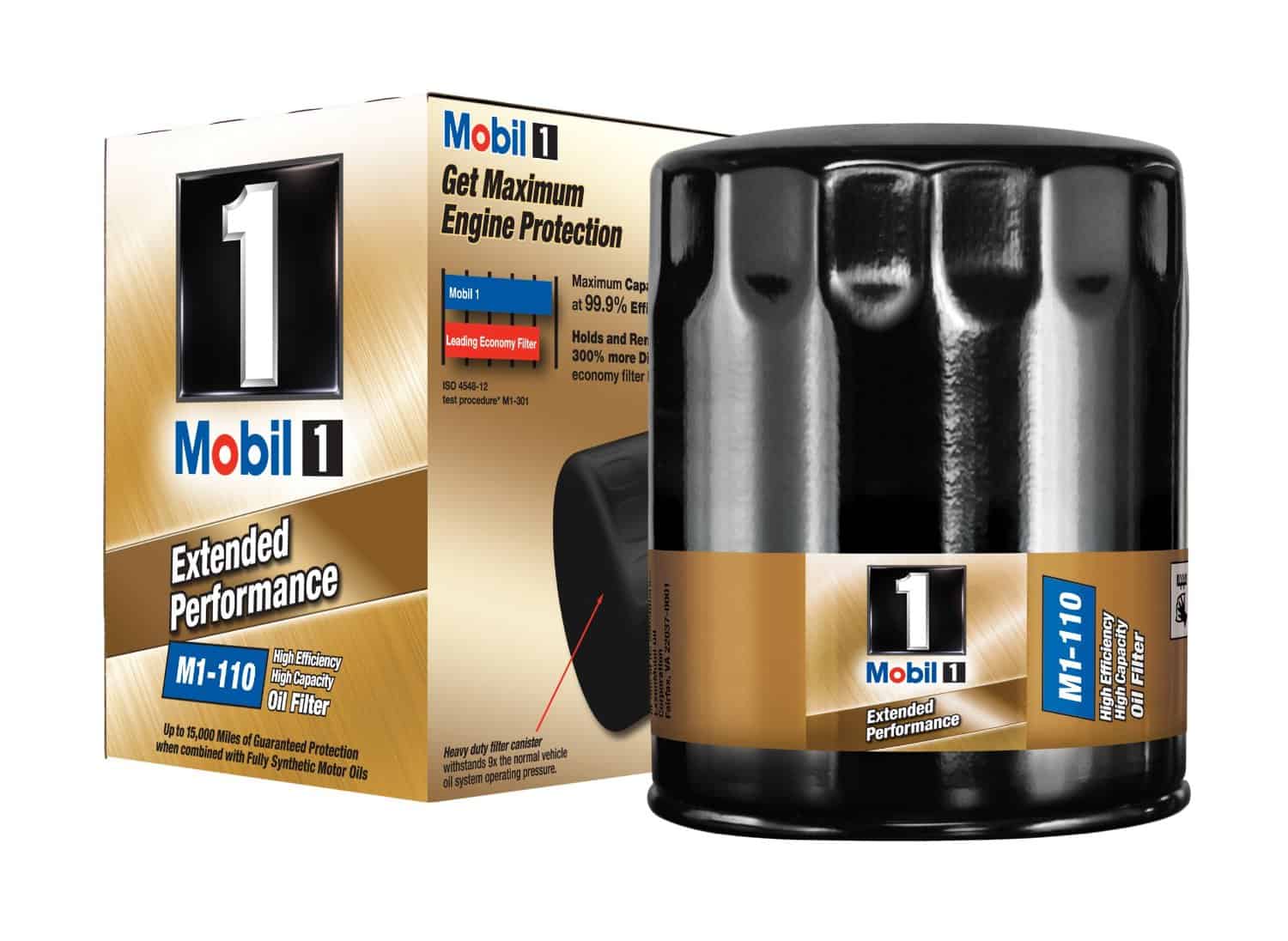 The various Mobil 1 oil filters are of high quality and comparatively affordable to buy. This Mobil 1 oil filter review highlights the reasons why these filters are some of the best today. Among the best performing filters by this manufacturer is the M1-103 Extended Performance filter. If you are looking for an oil filter that will increase your service intervals and is lowly priced, this is the filter to buy. As a matter of fact, this filter is considered to be the best synthetic oil filter today by many experts. The filter is designed to trap up to 99.6 percent of oil contaminants while enhancing the rate of flow of oil to the various moving engine parts.
Pros
– It is ideal for synthetic oil engines as it allows for extended service intervals
– It is very efficient at removing oil contaminants—this may be attributed to its advanced synthetic fiber blend membrane.
– It eliminates dry starts—this is achieved by preventing internal leakage while shutting the engine down.
– The filter media is comparatively strong—it can withstand up to 9 times the normal operating pressure. As such, it can offer reliable protection under high pressure (up to 615 psi).
Cons
– Using this filter in your synthetic oil engine prolongs the servicing intervals, hence may not open the hood for a long period. As such, you may fail to notice other engine problems early enough because of failing to open the hood.

Best Oil Filter FAQs and Buying Guide
Technological advancements have allowed for the production of engines and vehicles that can withstand harsh road and weather conditions. As compared to a few decades ago, vehicles now have more efficient engines that are more powerful and consume less fuel. However, regular maintenance services are required to keep the engine in a proper working condition and efficient. One of the important engine components that are replaced during such maintenance services is the engine oil filter. To enhance the performance and durability of your engine, you should replace its parts, especially the oil filter, with genuine and high-quality parts.
Why Use High-Quality Filters on Your Engine?
With time, the internal combustion engine in your vehicle is bound to attract contaminants like dirt and water. Such oil contaminants can damage various engine components, if not removed in time. With the best oil filters today, you can screen such contaminants from the engine oil and keep it running smoothly for a longer period. The engine, along with hydraulic systems in your vehicle is valuable and expensive pieces of equipment that need to be well taken care of. To improve the performance, efficiency and prolong the life of your engine, you must always use high-quality oil filters.
The Different Engine Oil Filter Types
Different engine oil filters comprise of different membranes/media to help them filter oil impurities before it is circulated through the moving parts of the engine. Some of the commonly used filter membranes today include:
– Synthetic filter membranes – This type of membrane is ideal for removing about 50 percent of the oil impurities with a size of between 20 and 40 microns. Filters with this type of membrane should be replaced after about 6,000 miles.
– Cellulose filter membranes – Filters with this membrane type can remove contaminants sized between 8 and 10 microns and should be replaced after about 3,000 miles.
– Microglass filter membranes – The fibers used to make this type of membranes are about 10 times better than those used in a cellulose membrane. This makes the micro-glass membrane filters some of the best in the industry. They are also very durable and may be used for two to five years or 10, 000 miles before they are replaced.
Various engines today have varying requirements, with regards to the ideal engine oil filters they use. Some of the commonly used filter types today include primary filters, secondary filters, conventional filters, magnetic oil filters, thermal chamber filters, and spinner oil filters.
Conclusion for the Best Oil Filter
Various engine oil manufacturers today use different filter media to screen engine oil. The type of filter media material and technology used on a filter can affect its filtration efficiency as well as its effect on oil flow. Most drivers and car owners are looking for ways to prolong the service life of their vehicles. The recommended oil and oil filter change interval for most vehicles today is about 3,000 miles. However, a high-quality oil filter, such as the ones discussed above, can extend your service intervals drastically.  If you need an oil filter that will offer high filtration rates, is more durable and will not clog easily, you should buy any of the above-mentioned engine oil filters.
More Tips for the Best Oil Filter
How to Change Your Oil
More Automotive Buying Guides