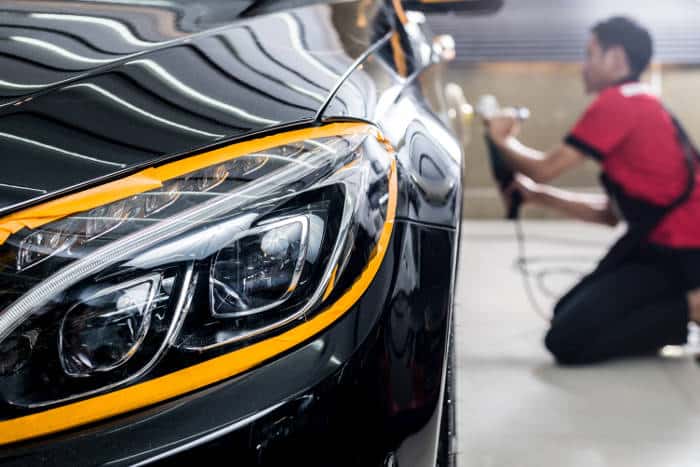 If you are handy with electric equipment and love your car, the best car buffer is worth adding to your arsenal. It is not necessary to visit a professional mechanic every time you need to apply a new coat of protective wax. It is possible to get the same quality results with a suitable buffer or polisher. Additionally, you can get rid of those little unsightly scratches and dings without stepping foot in an auto shop.
Most people think of mechanics and auto shops every time someone mentions a power buffer. The truth is these tools are now open to anyone with basic car DIY skills. Just choose a buffer that matches your skillset, and you are ready to go. Our priority is to ensure that you buy the best car polisher and car buffer. Note that these products do both polishing and buffing.
The Best Car Buffer
[table id=82 /]
1. PORTER CABLE 6-Inch Variable Speed Car Buffer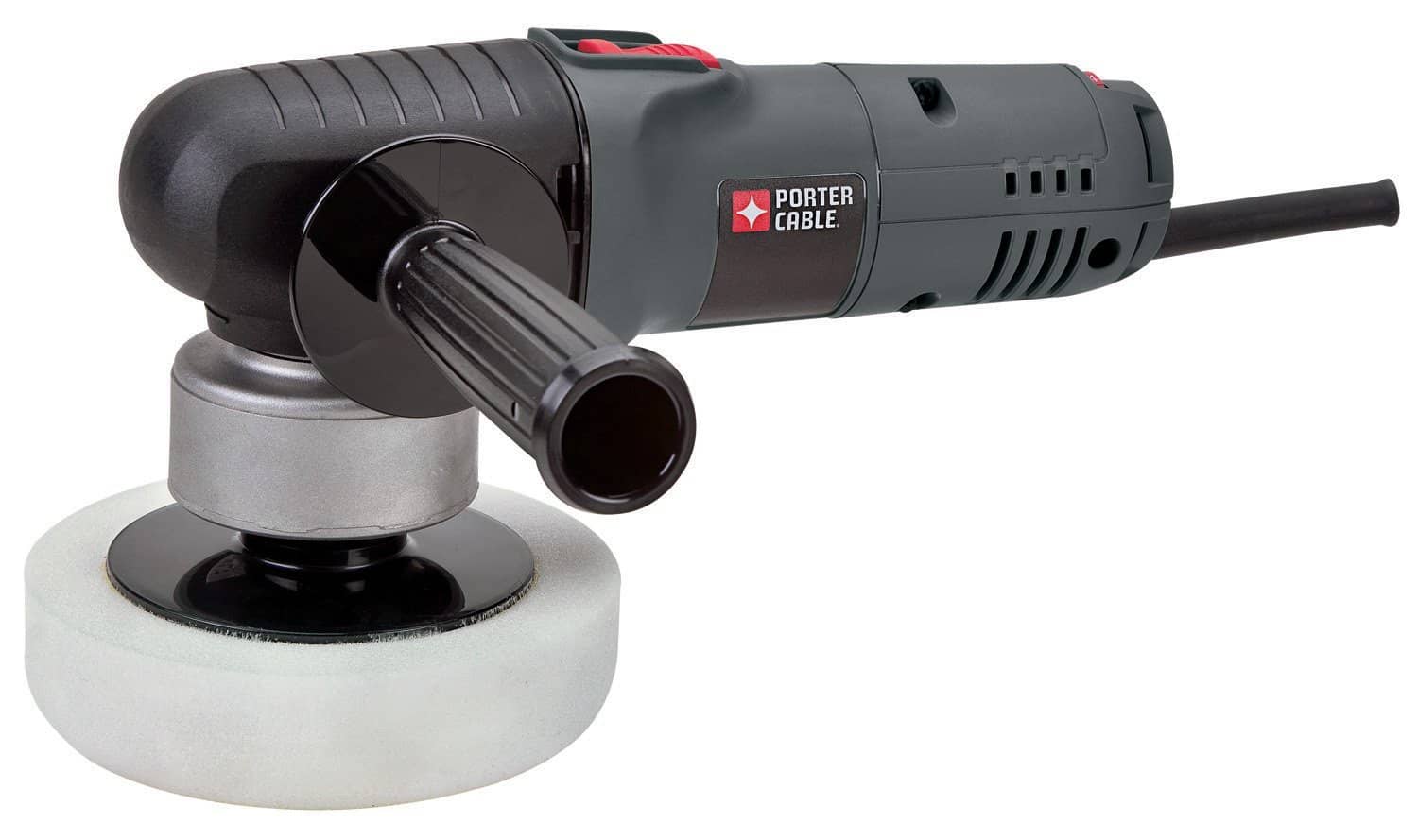 Porter Cable is a household name in automotive circles, so it is no surprise that the Porter Cable 7424XP is our number one pick for the best car polisher on the market. It is a very user-friendly model with a thoughtfully placed trigger so that it's easy to handle and move around while removing oxidation or swirls from your paint job. The buffer's design is so that it doesn't overheat meaning that there is no risk of burning your paint.
Some of the specs we like include a 4.5 amp which is sufficient to get most of your minor detailing jobs done. The machine weighs 5.8 pounds and coupled with its orbital design, makes it incredibly easy and comfortable to handle. Portable Cable has done a good job with the 10 ft power cable that makes it easy to work on your car.
It is however not all roses and bubbles as there are a few downsides to this PC 7424XP. For one, the buffer vibrates more than we'd like. Your equipment can also get noisy especially if you are working in an enclosed space.
Conclusion
If you are just getting into detailing on your own, this is the best buffer that you can buy. If you want to move up from your old buffer or you are a professional mechanic, you ought to read on for more options.
Pros:
Easy to use, best buffer for beginners
No-load speed. Variable speed to choose your ideal speed
Includes in-built protection to prevent from burning paint
Random orbit construction is easy to use and control
Compatible with a wide variety of spindle thread accessories
Removable side handle can be positioned on the right or left for maximum maneuverability and control
Cons:
Does not handle heavy-duty detailing; not a good choice for professionals
Requires new additional pads relatively quickly
Significant vibration
Significant noise particularly in enclosed spaces

 2. GRITO'S GARAGE 6-Inch Random Orbital Car Buffer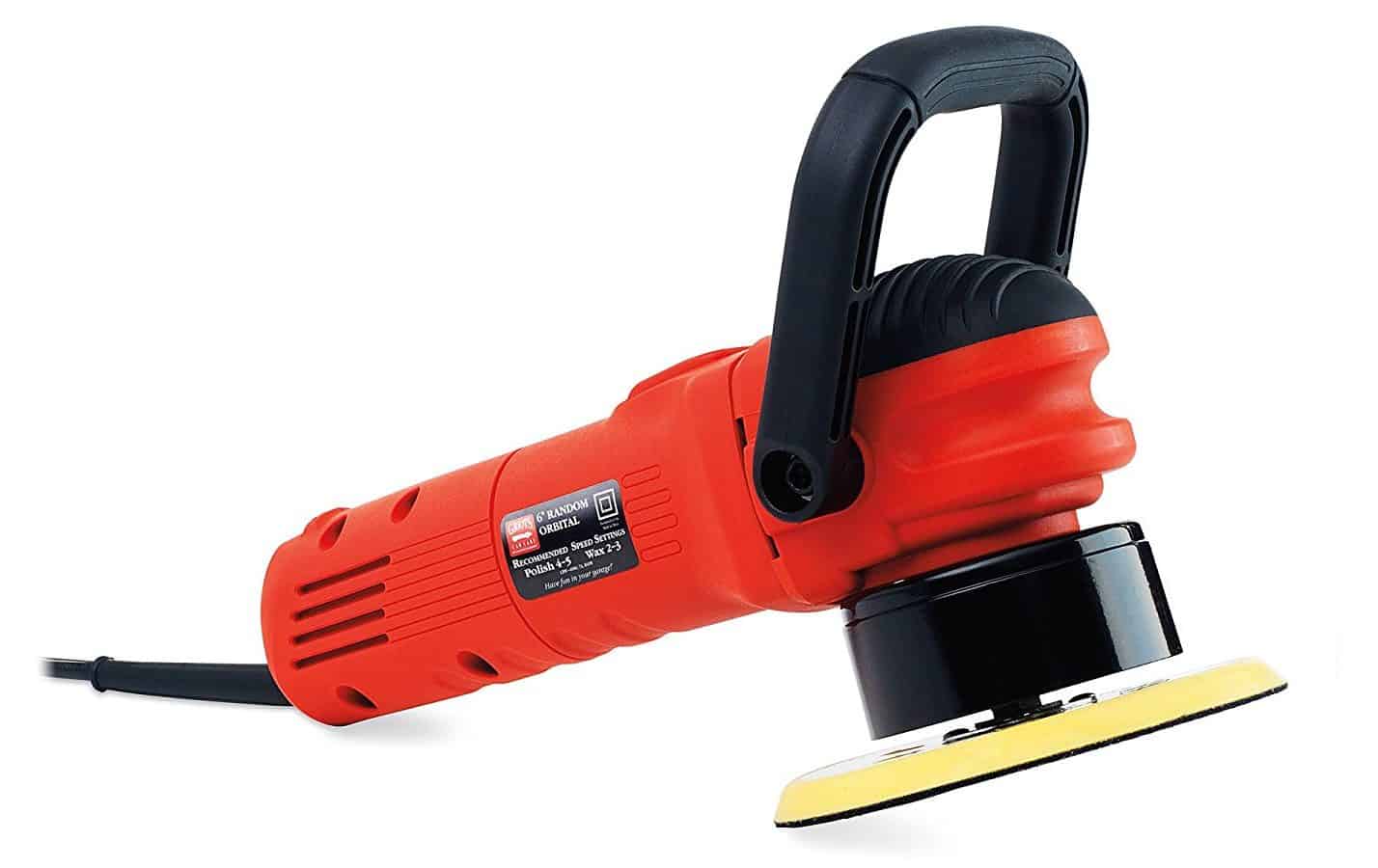 The Grito's Garage 10813STDCDR 6-Inch, Random Orbital Polisher with 10″ Cord, is designed with the detailer transitioning to his first electric buffer in mind. The rubber grip on its handle coupled with the random orbital design makes this particular model easy to handle and maneuver. The knobs, switches and power strips are placed out of your way so you can work efficiently and enjoy putting in the work.
Specs wise; the equipment weighs 7 pounds, so you won't struggle to control it. This version has 7 amp power and 2500-6800 OPM speed so you can easily get through the oxidation, water spots, and swirl marks.
We have to take away points somewhere, and performance is a good place to start. This option is not a tool for a professional detailer, but it doesn't pretend to be. If you own a detailing business, you might need to look at other options.
Conclusion
The Grito's Garage 10813STDCRD is the closest you can get to a professional buffing job without the risk of ruining your car. However, it still doesn't make the cut for someone who owns an auto-detailing business, but it's a good choice for the car owner who wants to polish his car every month. It's also a good starting point if you eventually want to get into professional detailing.
Pros:
Easy to use, perfect for someone with basic detailing knowledge or experience
Adjustable loop handle with rubber grip for comfort
The ergonomic design makes it easy to maneuver
Good torque to remove most oxidation, water spots, and swirl marks
Cons:
May need an extension depending on the location of your power source
Not the best choice for a professional detailer

 3. DEWALT D7-Inch/9-Inch Variable Speed Car Buffer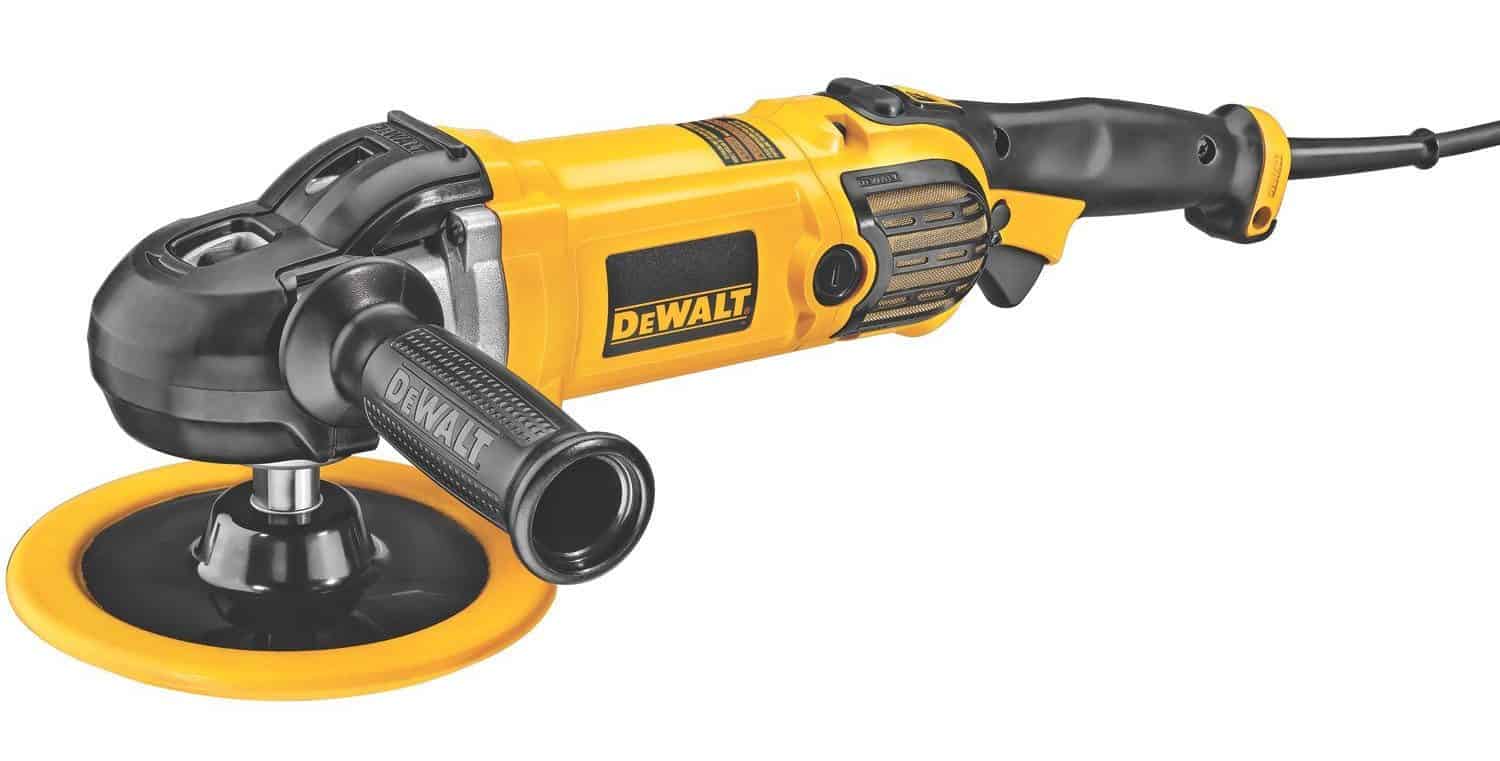 We like the DEWALT DWP849X 7-Inch/9-Inch Variable Speed Polisher with Soft Start right off the bat because it works just as well on boats and virtually any metal finish. This option is for the hard-core DIY car enthusiast and professional.
The specifications are quite impressive. The machine runs on 12 amps at a speed of 600-3500 rpm so suffice to say this is a monster. The speed and power won't faze the seasoned detailer, but anyone else may be a little intimidated. The best part is the machine has a top or side handle option to help you manage all that power. This thoughtful design also helps during long jobs. The DEWALT DWP849X has no load speed so you can get to work right away.
As usual, we have to mention some of the downsides. You need to read the user manual regardless of whether you are an amateur or a seasoned detailer. Some overheating and trigger issues are present and can only be resolved by reading the manual. The equipment is also quite powerful and may burn your plastic parts. Be careful when detailing around these parts.
Conclusion
This model is an all-around good car buffer for both professionals and detailing enthusiasts. It will last many years if you use it occasionally to keep your vehicle in optimum shape. You may need to change your brushes and pads often if you are a professional detailer but the equipment itself will outlast most other models on the market.
Pros:
Precision-cut and heat-treated gears make the machine smooth to operate
Versatile; can also be used on boats and metal finishes
Ball-bearing structure optimizes it's performance and makes it durable
No-load speed
Cons
May burn plastic parts
Overheating and trigger issues if used incorrectly
You may need to replace brushes fairly often
Heavier than many other options weighing 10.2 pounds

4. MEGUIAR'S MT300 Pro Power DA Car Buffer
The Meguiar's MT300 Pro Power DA Polisher works just as well for the amateur detailer and professional alike. If you are looking for a personal dual action polisher at an auto repair shop, this is it.
Some of the specs we like include the handy thumb adjustable speed dial which lets you adjust the rate while you work. The equipment has a speed range of 3000-7500 OPM which is pretty much what you should expect from a professional grade buffer. MT300 is a powerful machine, with a slow start feature that prevents it from jumping out of your hand. The power output is also commendable since it quickly removes water spots, scratches, and swirl marks without ruining your paint job.
We had a few issues with the power cord as it would stop working unexpectedly and we finally had to replace it. We also think it could vibrate less because we have seen the same in other equipment of this kind. The trigger button also sticks every once in a while, but this is more of an inconvenience than a real concern.
Conclusion
If you have experience with power buffers and looking for a professional-grade tool for home use, the Meguiar's M7300 is as good as you can hope. The equipment is also a good choice for a professional detailer and is the best dual action buffer on the market. It performs exceptionally for both buffing and polishing jobs.
Pros:
Thumb adjustable speed dial for efficient speed control
The powerful machine works well on difficult or deep scratches and blemishes
Slow start feature helps you to maintain equipment control at all times
Professional-grade equipment for the experienced DIY enthusiast
Cons:
Not recommended for amateurs
Vibrates more than many other similar buffers
Trigger button may occasionally stick

 5. FLEX XC3401 VRG Positive-Drive Rotary-Orbital Car Buffer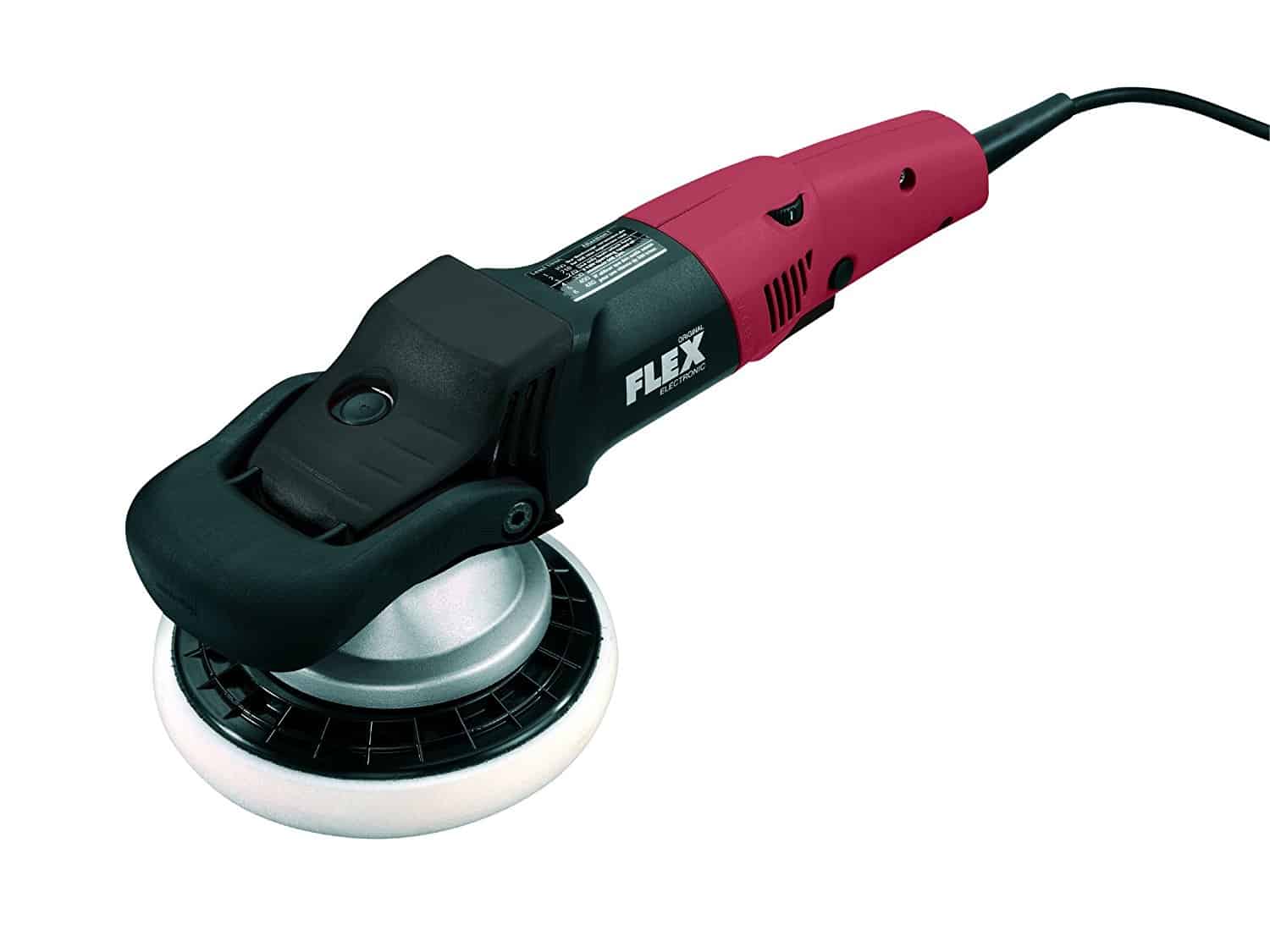 If you are looking for a comfortable car buffer for large or extended detailing jobs, the FLEX XC3401 VRG Positive-Drive Rotary Orbit Polisher is the best choice you can make. The equipment's orbital rotation (simulates your hand movements) and convenient handle location make this the Rolls Royce of car buffers. Don't let the smooth handling fool you; this is a monster running on 7.5 amps and speed range of 3200-9600 OPM.
The model weighs 5.7 pounds which is considerably light for such a powerful tool. The forced rotation operation allows you to use pressure minus the risk of stalling the buffer.
The major downside to this model is its considerable learning curve. In short, you need to have used a power buffer before to be able to use this one safely and efficiently. We do not recommend you buying the FLEX XC3401VRG if you have never used a buffer before.
Conclusion
This model is a professional-grade buffer for a seasoned detailer or someone who knows his way around cars. It scores high marks in durability, ease of use, comfort, and results. It's the best upgrade money can buy if you want something a little more powerful or easier on the hands than what you already have.
Pros:
Very comfortable to use, works well for large or long jobs
Good results for removing oxidation, swirls, and scratches
Does not stall during prolonged use
Has a variable speed trigger to choose the most comfortable or practical speed
Ergonomic design
Faster than most other models
Cons
Not recommended for beginners, it has a learning curve
One size backing plate can be a problem if it is not to your liking

6. MAKITA 7-Inch Hook and Loop Electronic Car Buffer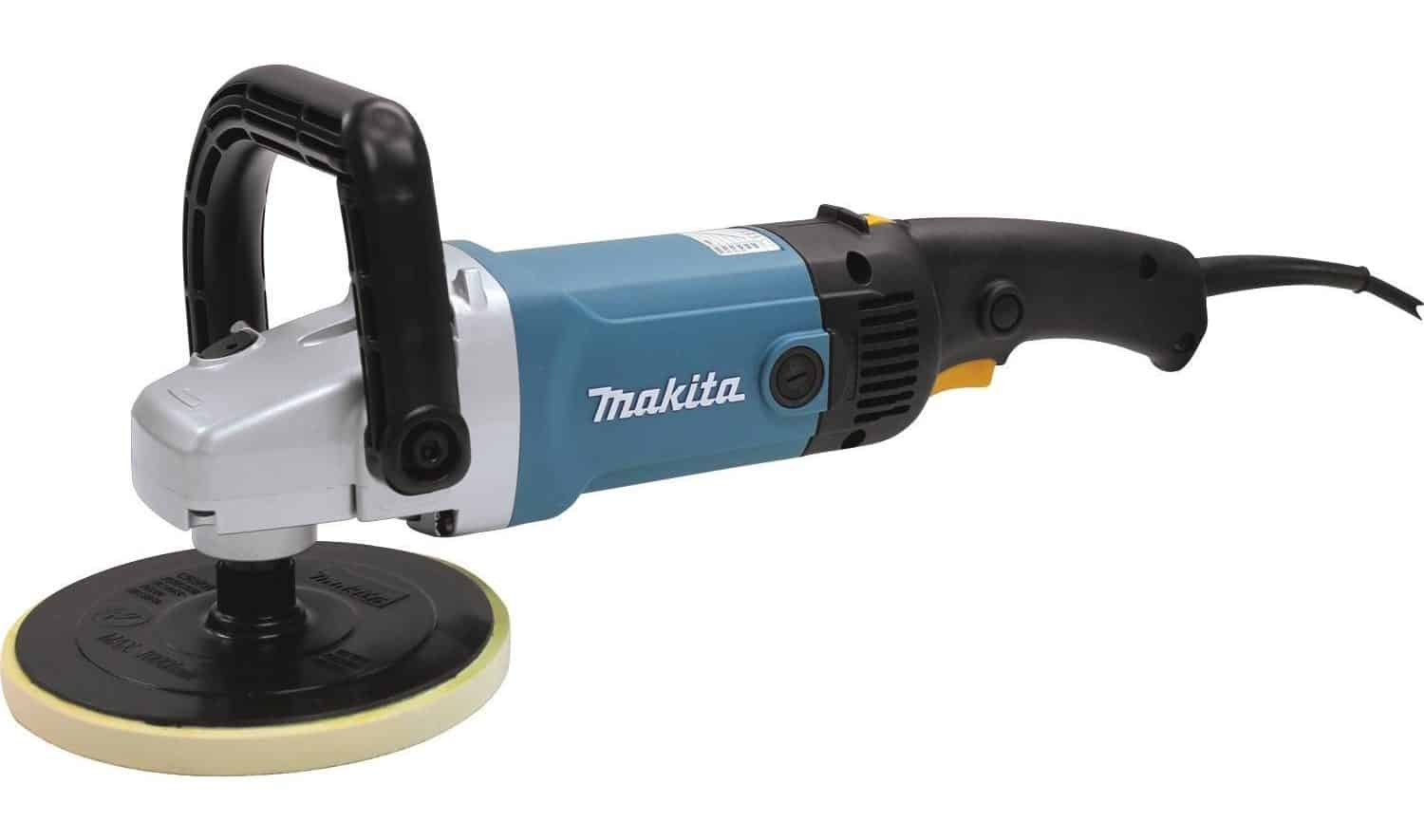 The MAKITA 92227C 7-Inch Hook and Loop Electronic Polisher/Sander is yet another professional-grade car polisher. It is can also polish your boat, metal finishing, and even marble. This model is an excellent choice for a detailing professional or an enthusiast looking forward to heavy-duty buffing and polishing.
The specs are also quite impressive: the machine runs on 10 AMP motor with a speed of 600-3,000. Thus performance is guaranteed. This choice is one of the best dual action polishers on the market and has a handy lock-on button to use the machine continuously. Its ergonomic handle also makes it comfortable to hold for extended periods of time.
We had a few issues including the weight of the equipment. It weighs 9.1 pounds. This factor might be okay for a professional, but an amateur will find it difficult to use especially for extended periods of time.
Conclusion
The MAKITA 92272C is for the professionals. If you are an amateur enthusiast and aren't confident around power tools, this one is not for you. Overall, this is one of the best polishers to have in an auto shop. It has a considerable learning curve and requires keen attention when using, but this shouldn't be an issue for a seasoned detailer.
Pros:
Quiet
Variable speed so you can choose the best speed for the job
Lock-on button allows you to use the equipment continuously
Powerful works quickly on most detailing jobs
Soft start feature gives you more control over the tool when starting
Versatile converts quickly into a sander
Cons
It has a relatively steep learning curve, not recommended for beginners
Heavier than most other options on the market

7. BOSCH 120-Volt Large Angle Car Buffer
The BOSCH GP712VS 120-Volt Large Angle Polisher is a sound investment if you are serious about DIY and looking for something that a professional might use. This selection is a high-performance tool that we expect from anything bearing the name Bosch; it does a spectacular job at removing stubborn watermarks and oxidation and at getting rid of deep scratches.
The specifications are where all the fun is; it weighs 6 pounds which is very hard to find in a car polisher that runs on a 12 Amp motor. It has a speed of 750-3,000 RPM, and a lock speed dial if you want to use your equipment for a prolonged period.
Our main complaint is that the Bosch GP712VS does not have a soft start which is curious for such a powerful machine. This omission is a problem if you are absent-minded or not used to working with buffers; you are bound to make a mess. The model is also louder than many other options on this list.
Conclusion
If you are looking for something to get you started with your car detailing, this Bosch model isn't for you. If, however, you are a professional detailer or have good experience working with power tools, this is a perfect choice. You will find it especially useful for removing suborn marks and deep scratches. With excellent DIY skills paired with this machine, no one will ever know you detailed the car yourself.
Pros:
D-handle allows for various hand positions
Powerful motor removes deep scratches and stubborn stains and marks
Lightweight, easy to use for prolonged periods of time
Variable speed, choose the best speed for your application
Lock-on switch for continuous use
Cons:
Louder than many other options
Does not have a soft-start feature

8. TORQ 10FX Random-Orbital Car Buffer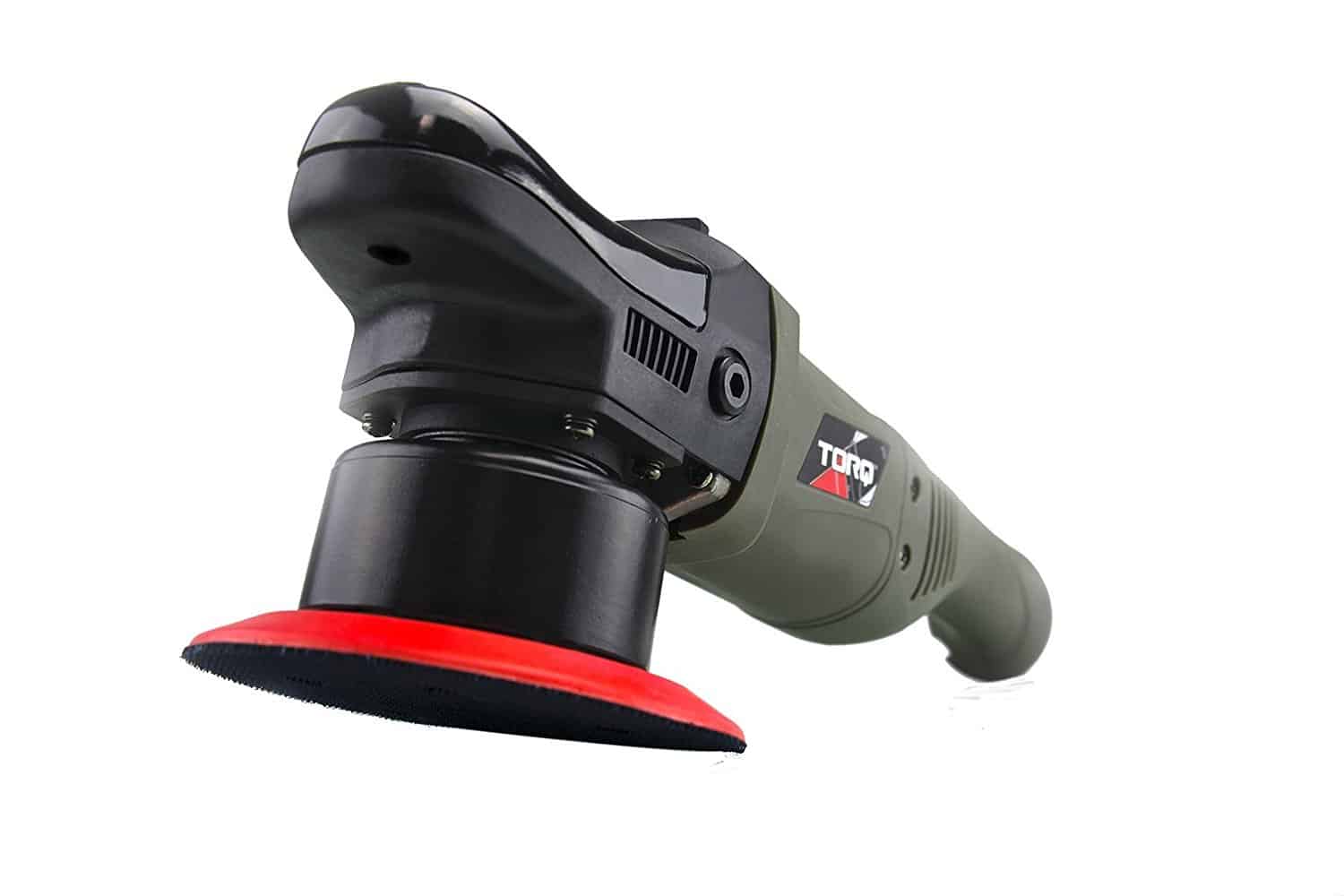 If you own a vintage car, the TORQ Buff501X 10FX Random-Orbital Polisher Kit is the right choice. This model is an orbital polisher meaning it is perfect for a beginner or intermediate user. The machine runs on a 700 Watt motor, providing just enough power to polish your classic and remove watermarks and shallow scratches without you losing control. TORQ included a digital display on this model so you can easily see what speed you are running.
The machine has little vibration and is flexible enough to work well on a car with many contours and curves. Opt for this model if you want to revive your classic paint job.
The downside of this product is that it is not for professional use. If you own a detailing shop or are looking to do heavy-duty detailing, you may want to consider other options on this list.
Conclusion
This choice is the perfect car polisher for an amateur restorer or if you want to maintain your classic car paint job. It a good tool to use once in a while but you will need something more powerful if you want to do serious buffing and polishing.
Pros
Flexible works for classic cars with multiple contours and curves
Little vibration
Easy to use, perfect for a beginner
The random orbital polisher does not burn the paint
The powerful motor does a great job polishing your car
Digital dial is easy to read
Cons
Not a professional-grade tool
Does not work well on deep scratches

9. MILWAUKEE 7-Inch/9-Inch Car Buffer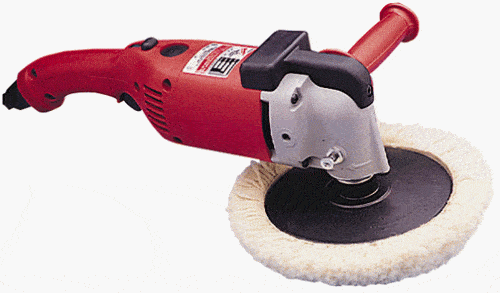 The MILWAUKEE 5460-6 7-Inch Polisher with Electronic Speed Control is a solidly built machine with an adjustable backing pad. This feature offers more coverage which is useful when working on SUVs and other big vehicles.
The machine speed reaches 1750 RPM, so this is a powerful tool to take care of stubborn watermarks and deep scratches. The handle is for both right-handed and left-handed use which appeals to ambidextrous people or left-handers. This selection is a basic, no-nonsense machine for a serious detailer who isn't concerned about bells and whistles.
We would have wanted more variety in features such as a slow-start feature, especially on an 11-Amp motor. A lock-on feature would also be helpful for continuous use, but ultimately we realize that the equipment isn't primarily about practicality.
Conclusion
This option is a great polisher if you are just getting into professional detailing and you don't have much use for fancy features. It works well for deep scratches and intensive detailing jobs despite its dull appearance. This one is however not recommended for beginners as it needs some level of skill and precision to use effectively.
Pros
Few parts, fewer chances of breaking down
Ambidextrous handle works for both right-handed and left-handed people
Powerful polisher takes care of deep scratches and stubborn stains
The variable-speed trigger means you don't have to wait for the machine to pick up speed
Cons
Not friendly for use by beginners
Plain looking design and basic features
The massive machine weighs 11.8 pounds

10. NEIKO Pro Grade Variable Speed Car Buffer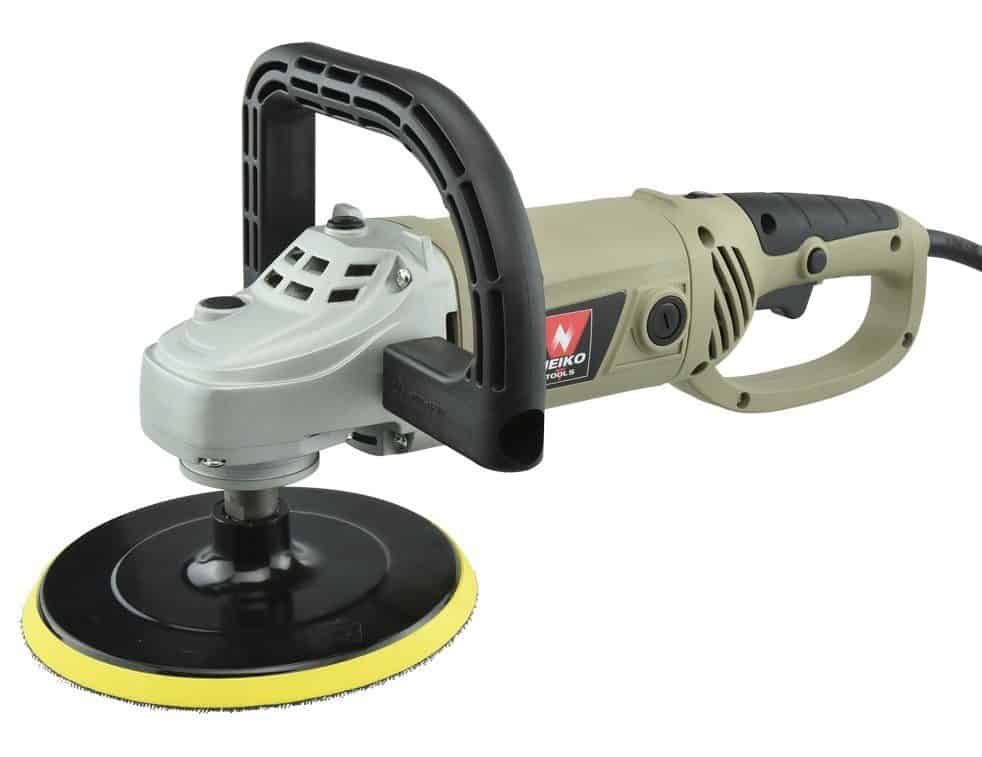 The NEIKO 10671A Pro Grade Variable Speed Polisher is as professional as it can get if you want to upgrade your tools. This model requires you to have good experience with buffers and DIY projects to get the best value out of your purchase. Speed ranges from 1,000 – 3,000 RPM. With this variable speed feature, it can suit whatever you are working on. Its Velcro backing pad gives you the flexibility to work with a variety of polishing and buffing pads.
We noticed that the gearbox tends to leak so your workstation can get a little messy. If you are fine with an oily workspace, this shouldn't be such a big problem. Again, this is not a tool to be used by amateurs, or you risk ruining your paint job.
Conclusion
This model is the best option you can go for if you want to make the transition into professional buffing. It has a steep learning curve, but this won't be a problem if you have substantial DIY experience and know your way around power tools.
Pros:
Powerful 11 Amp motor for heavy-duty buffing
The ergonomic handle is good for big or long jobs
Six variable speeds make it versatile for polishing and buffing
The sturdy construction is durable and suitable for a rough automotive environment
All ball bearing and die-cast aluminum offer professional-grade results
Cons
Not recommended for beginners
A little heavy weighing in at 9.3 pounds
Gearbox prone to leakage creating a messy work environment

Guide for Buying the Best Car Buffer
Earlier we discussed some of the particulars of choosing the best car buffer namely; type and weight. There are a few more considerations when going out shopping for your new equipment;
Vibration
Electrical car buffers are prone to vibration caused by the electrical current used to run the motor. Vibration is not only uncomfortable, but it is also likely to result in uneven application resulting in a less-than-perfect polishing or buffing job.
Speed
Speed plays a part in the breadth of coverage, heat, and friction so keep these in mind when choosing the best dual action polisher or similar equipment. You need to be more careful with higher speeds as these can cause heat-related damage such as swirls. This reason is why we do not recommend beginners to use high-speed car buffers. Professionals understand these principles and can handle the equipment accordingly.
Hand Control
Pay attention to ergonomics especially if you expect to use your dual action polisher for extended or large jobs. Most buffers need you to use both hands. Keep in mind which hand is more powerful as most equipment tends to favor the right-handed. Ambidextrous options are available for left-handed people.
Maneuverability
A few sections may be hard to access such as rear and front quarter panels which are difficult to access. Classic cars also have more than the typical curves, so maneuverability is even more important in this case. Consider, if budget allows, adding a small buffer specifically for the hard to reach areas.
Pads
Consider reserving a pad for each type of job such as a separate one for sealant wax, gloss, and polish. You may have to spend more on pads in this case.
Buying Your Personal Car Buffer
If you are still not sure you need your car buffer, here we have a few points that will assist in making a decision. You don't have to spend unnecessary time and money taking the vehicle for professional buffing every month. You can do a professional job quickly and with basic DIY skills if you have your equipment. Be advised that it is better to take your car to a professional detailer if you have deep scratches or dents. Here are pointers on how you can benefit from a personal buffing machine;
The finish lasts longer: the only way to make sure that your paint job looks new and lasts for the long-term is to polish and buff frequently.
Reveal a fresh layer: buffing your car removes the thin top layer. This is the layer that is often exposed to the elements and begins to fade or discolor. Only using a suitable buffer and quality compound can have dramatic results.
Get rid of minor scratches: scratches are inevitable regardless of your driving abilities. These tend to occupy the visible coat and are removed simply in one buffing session. Again, have your car detailed by a professional if you have deep scratches.
Best Car Buffer FAQs
What We Look for In a Car Buffer?
We shall discuss further on in this review the most important points to keep in mind when buying a power buffer. For now, we will focus on type and weight as these are arguably the most important.
Type can be summed up as rotary or orbital. The electric motor directly drives the auger on the rotary buffer (auger is the threaded part attached to the backing plate). This setup results in more power and is primarily used for buffing (read removing paint). This equipment requires special training or skill to handle and is therefore exclusively used by auto mechanics or people with advanced DIY skills.
The motor on orbital polishers oscillates rather than rotate and move in random circular motions. This type of movement makes it virtually impossible to remove paint, making this equipment ideal for polishing and light buffing to remove small dents and scratches. Orbital buffers are most suitable for the average DIY enthusiast. Orbital polishers are also sometimes referred to as dual action polishers.
Weight has a significant impact on the equipment's control, directionality, and the final result. Lightweight buffers are easier for the average DIY enthusiasts to use. Heavier equipment requires more precise movement especially on flexible surfaces such as the hood of the car. Heavy buffers provide better results when used to remove deep scratches and dents or to remove paint.
Can I use dishwashing detergent to wash my car?
Although dishwashing detergent does a good job to remove grease, oils, and food, it is not as good on your vehicle. The soap removes silicone, polymers, and waxes and is counterproductive to maintaining your paint job. Instead, use the recommended car body wash for your vehicle.
Can I use detailing clay without professional help?
A commonly propagated myth is that only professionals can use detailing clay. If you have basic detailing skills or knowledge, all you need to do is follow the instructions on the product.
Does waxing remove swirl marks?
Unfortunately no, waxing does not remove swirl marks. These marks appear as paint damage that can only resolve by polishing your car with a good car polisher.
Is an electronic car polisher or buffer safe for my paint job?
A good car polisher is completely safe for your paint job as long as it is in the right hands. Opt for a dual-action car polisher or orbit car polisher if you are just discovering detailing. This type will not burn your paint. Refer to our car buffer review section to find out which one you should buy.
How often should I wax my car?
If you want to maintain a new look for the long term, consider polishing every month or so. You can get away with polishing every season and still have your car looking new. How often you buff and polish your vehicle also depends on the type of environment you live.
Conclusion for the Best Car Buffer
We worked tirelessly to find the best car buffers on the market so all you have to do is read the review and choose the one that makes the most sense to you. Do not get distracted by the buffer's position on our list. The fact that it made it here means that it is worth buying. We took variable user skills and main buffer features into consideration to come up with this list.
Owning your first electric buffer is a point of pride for many DIY enthusiasts and we are happy to offer all the information you might need to make a good selection. Remember to read your manufacturer's instructions even if you have experience working with car buffers. This suggestion is for your safety and that of your equipment. Finally, enjoy the exclusive best car buffer club and marinade in the satisfaction of taking a weekend afternoon off to give your car the tender loving care it deserves
More Tips for the Best Car Buffer
Buffing Car DIY Buff Cars Detailing How To Auto Detail Before & After Video
More Automotive Buying Guides