LEDs have been described as the future of lighting and there are a good number of reasons for that. Apart from being energy efficient, they provide lighting in a way simple light bulbs could never do, such as in the case of light strips. Resembling tape, these LED lights are on a reel that can be stretched out to run along pretty much any surface you want them to fit, whether along the corners of a ceiling, across a wall, or even around the edges of the floor and in decorating cars. With all that in mind, we have come up with a list of the best LED strip lights for cars that you can buy.
The Best LED Strip Lights for Cars
[table id=92 /]
1. Lighting EVER Light Strips
With over 16' of continuous LED lights along a strip, this reel is ideal for a number of purposes, especially when you consider their flexibility and your ability to cut and link up at will so that different paths can be followed, as well as to create different shapes at will. These intervals are separated by 3 of the 300 LED lights on the strip, allowing for up to 100 different places to cut the tape and the same number for places where they can be joined together again. The 12V lights themselves are bright thanks to advanced optical technology, and at the same time, they produce low amounts of heat so that there is no harm done when coming directly into contact with them.
With the adhesive on the other side of the tape, installing them on any surface is as easy as taping something to a wall, aided by how slim and light the tape is. With a lifespan of over 50,000 hours, the longevity of the lights is unquestionable, and their energy-efficient use will only help you appreciate how long they will have them.
Pros
Easy to install
Bright lighting
Flexible with intervals to trim
Long lifespan
Cons
Power adapter not included
Not waterproof
Summary
As a DIY solution to lighting any part of the house for any event, it does not come simpler than this strip of LED lights. Able to be cut and linked in a hundred different ways, flexibility isn't lacking either, and neither is its main purpose in lighting up what would otherwise be a dark and/or gloomy room. The quality of these lights means that their purpose extends beyond decorative purposes, and once installed where desired, they can work as a main lighting source in a home or office.

 2. Tingkam LED Lighting Kit
With a 44-key remote included in this lighting kit, you can expect the Tingkam strip to be able to perform a number of different functions, and rightly so. The 5-meter strip of lights can change into 20 different colors, divided into different shades of red, green, blue, and white, all of which have a separate button for a quick and easy change. The other 24 keys on the IR remote control enable anything from the most basic functions, such as switching on the power, to more sophisticated functions that make this lighting reel ideal for decoration.
The high intensity 5050 SMD led lighting is also environment-friendly as it is also low on energy consumption, aided even more by the ability to dim its intensity through its remote control. The strip is fitted with regular points that allow it to be cut after every 3 LED lights, and the same features also allow cut pieces to be joined together at will to allow for different routes to be taken. The adhesive end of the tape comes into play in a handy way that makes it easy for anyone to install in any location.
Unlike most other strips, these are waterproof, so they are just as suitable for outside use as they are for indoors. Completing the kit is an IR-control box and an adapter to supply the 12V needed.
Pros
Multiple functions
Both bright and energy-efficient
Easy to install
Waterproof
Complete kit
Cons
Short power cord
Summary
Ideal for parties, weddings and other events that need decorative lighting, this reel of LED lights will unfailingly come in handy, and you can imagine the only regret of having one of these is that there is no more to extend the spectacle as much as possible.

3. Boomile Flexible LED Light Strip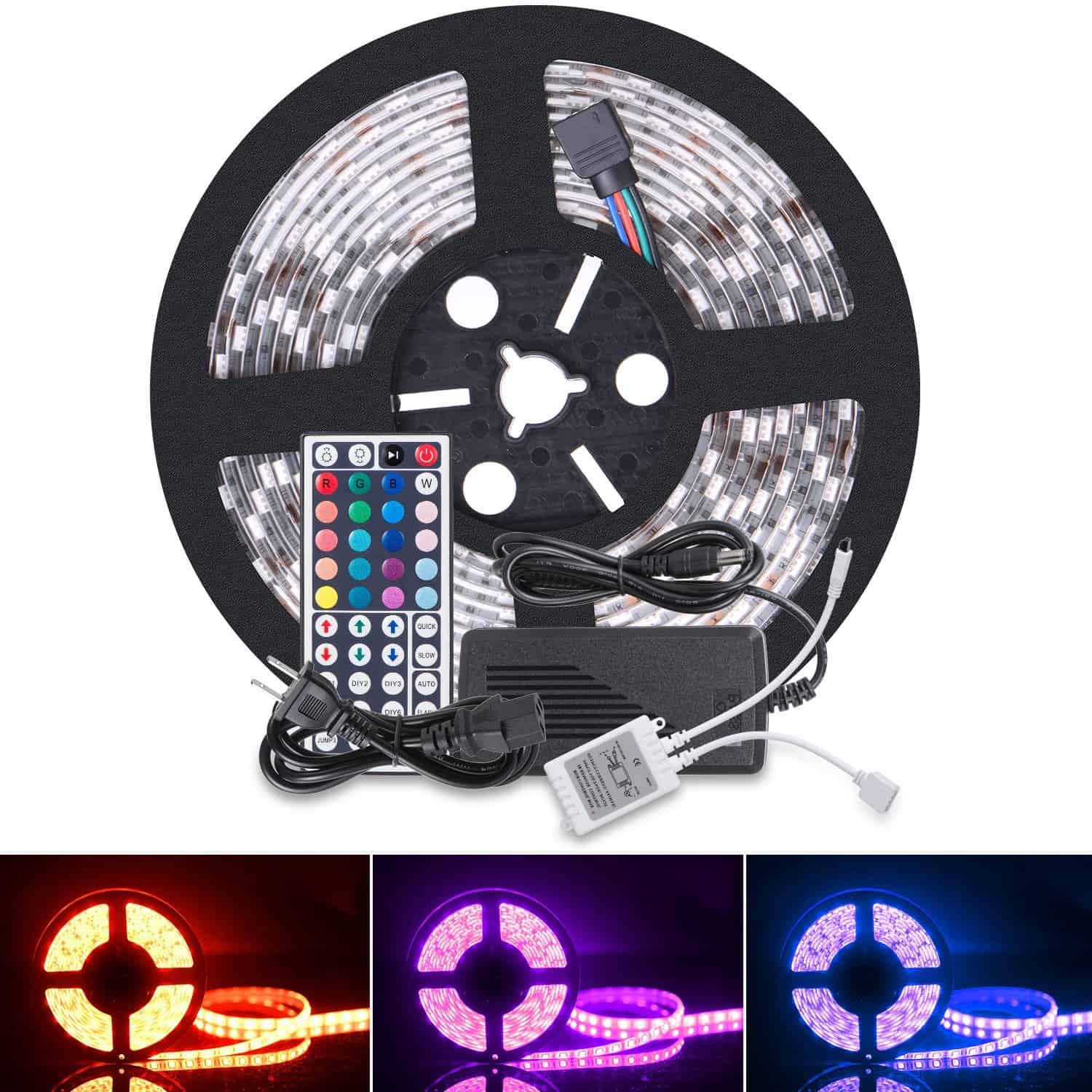 For a high-quality LED light strip that boasts a blend of the right specs, this reel does a good job of making itself one of the more shining examples of just how much a 5-meter LED strip can pack in without compromising on the essentials. With exactly 300 LEDs aligned along the entire strip, these lights are bright enough to light up any room, with each LED producing 0.2W of power.
It has the standard 3-based color system, involving red, blue, green, and white lighting displays, all of which can be changed to 4 different tones with the 44-key remote controller included in the pack. Other than the 20 colors that can be changed at will, the remote offers control to other functions that add effect to the lighting, such as the ability to make the lights flash, increase and decrease the speed of those flashes, and dim or brighten the intensity of the lights, among many other things.
The strip can be trimmed in 100 different places, after every 3 individual LEDs, and these cut locations can also be easily put back together.
Pros
Multiple display functions
Complete set with 12V/5A adapter
Coated with waterproof silicon
Able to be trimmed
Cons
Adhesive is not great
Summary
As a complete reel of LED that is both easy to use as well as diverse in what you can do, the Boomile strip is great. With an over 50,000-hour lifespan, these LEDs are bound to last a while, allowing you to explore the many possibilities for many events.

4. WenTop Waterproof Led Strip Lights
These LED lights have all the standard features you would expect to find, offering flexibility and utility, right down to the 5-meter-long strip that matches the measurements of just about any other reel available. Perhaps what makes this particular reel special is its suitability for more formal or prolonged use. In the case of the former, the white lighting that is offered is both as bright as it can be and as easy on the eyes, not to mention low on heat production.
Producing this is 300 LEDs separated in sets of 3, with locations on the strip that can be easily trimmed and connected, allowing the already light and flexible tape more versatility in use. As they are waterproof, use can be extended to the outdoors, which makes them perfect for events such as weddings. For those considering the latter, or prolonged use as the main permanent light source for a room, then the 50,000-hour lifespan is a figure sure to catch the eye.
Its low 12V energy consumption also means that it is as much a practical option as it is an efficient one. The strip is also CCC, CE, and RoHS certified.
Pros
Suitable for different locations and conditions
Waterproof
With bright and energy-efficient lighting effect
Long lifespan
Cons
Does not include an adapter
Does not include a remote controller
Summary
With the adhesive on the side of the tape, the LEDs aren't on, it is fairly easy to install these wherever needed, and in any way or shape needed. For decoration, these lights are great, and if you are looking for something to light up your living room's every need, the same guarantee of satisfaction is offered.

5. LEDJump Ribbon Flexible Strip Lights
Ending the list is a unique piece that is not wound around a reel, nor does it have the same electrical design, as is made immediately obvious by the fact that there are no wires involved. Instead, the strip has a DC jack input from which it obtains the 12V needed to operate. Apart from the lack of a wheel, or electrical cord, the rest of the design is what you would expect—a flat and flexible 5-meter strip with the adhesive that allows it to stick in various locations.
The 2A current makes for a bright but gentle lighting effect that all 300 LEDs work together to produce. With a 50,000-hour lifespan capacity, any with doubts about its quality will be assured, leaving them to fully appreciate the number of different uses the strip can be used for.
Pros
Good length
Energy efficient
Long lifespan
Easy to install
Cons
Limited functions
Summary
Great for decorating events, weddings, functions, or even cars, these bright lights are effective in transforming the environment around them. Although it does not boast as many features as they could, the LEDJump lighting strip is unique in its own right, something anyone with different needs is bound to appreciate.

Conclusion for Best LED Strip Lights for Cars
As is evidenced by a great many features the LED light strips above have to offer, they can clearly do more than just light a room, and considering that they are often used to liven up special events, that is an observation not to be underappreciated. Instead of having different lights performing different functions, these all pack it into one simple solution that anyone can operate, to the same or greater effects.
The best of these attempts to juggle between their attractive features and their practicality, and as evidenced by the examples given above, there are some that do this quite well. Whatever the needs are, whether formal or casual, there is something here for everyone, and they are all of the highest quality make that are sure to light as many special events as needed.
More Tips for Best LED Strip Lights for Cars
How to cut, connect & power LED Strip Lighting
More Automotive Buying Guides