Whether you like to go off-road at night or need something that can slice through the dark in every sort of weather, it is nice to have headlights that will show you the way. It takes the guesswork out of what lies ahead. Some of us just like to pay special attention to every part of our vehicle and want a headlamp that complements our uniqueness. These are just some of the reasons discerning car owners are turning to the latest technology for their automobile and looking for the best led headlights in the market.
More and more vehicle owners are considering going with LED headlights as they shop around. Compared to the traditional halogen headlight bulbs, LED headlight bulbs burn differently. Though they do not contain a filament, they are more like the old filament bulbs. LED (light-emitting diode) headlight bulbs send electricity along a semiconductor to create their light. Electromagnetic radiation is created by this electrical movement which then produces visible light.
The Best LED Headlights and Bulb Kits for 2019
[table id=10 /]
There are a number of factors you should consider before buying LED headlight kits. What color LED headlights bulbs do you want? Are LED headlights for cars legal in your area? What size bulb does your car need? The 7 best LED headlights & bulb kits for 2017 that we review below work for just about any type of vehicle.
We've very meticulously constructed this list of LED headlights so that you can experience this new technology without having to purchase a new, high-end car.
Here are the best LED headlight bulbs reviews in order from the best to quite good:
[su_highlight background="#050700″ color="#ffffff"] 1 [/su_highlight]  OPT7 LED Headlight Bulbs – Best Overall LED Headlight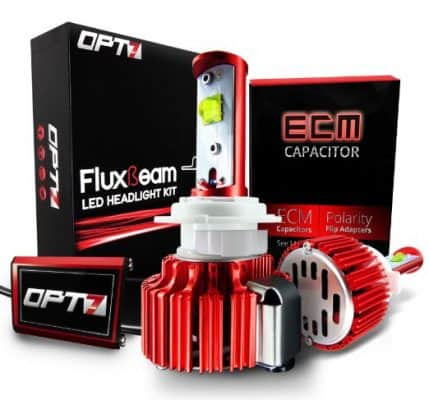 To ensure they got rid of the most serious and common flaws, OPT7 put a lot of time and research into the development of their FluxBeam LED headlight bulbs. These aftermarket LED headlights are considered one of the tops in the industry by experts across the board.
Motorists can experience foggy or scattered and undefined light when a bulb does not have the proper beam pattern. You will not experience any short beams, scattered beams, or dark spots with the Arc-Beam Lens technology. You will have a safer drive with better vision and light capabilities provided by the OPT7 bulbs.
The OPT7 bulbs also tend to stay cooler than other bulbs, and with the Modular Heat Protection feature, you can expect to get up to 50,000 hours of light at a 35 percent heat reduction. The reduction in heat comes with no loss of brightness thanks to the innovative Bright LED board design. You can also regulate the LED power usage with the compact Redline ASIC-X LED control driver, which has an efficient micro design that does not require mounts.
The lights are rated for use underwater due to the rainproof housing, fan, and driver. They will also plug right into your OEM sockets easily and are sized to fit your headlights. OPT7's customer support is superb, offering lifetime technical support from real technicians along with a two-year warranty.
We enjoyed using these lights, but we want to make sure we cover all sides of the story, so we took to the Internet for any negatives for the OPT7 LED headlight bulbs conversion kit. We found that there were some problems with the LED in projector-style headlights.
Conclusion:
We can highly recommend the OPT7 LED Headlight Bulbs after having had these lights for many months. They are particularly great if you are willing to spend a little more for uncompromising quality. This latest OPT7 bulb corrects all of the flaws of previous generations. They have brightness in an excellent beam pattern.
Pros:
Great Light Output – You know how bright LED light can be if you have ever seen an LED flashlight. This set will shoot 8,000 lumens of light down the road for you.
The Color Temperature Is Perfect – These bulbs supply a nice white light at 6000K. Human eyes are best trained to see lights between 5000K and 6000K, which is the closest you can get to the sun's light. They are white: not yellow or blue.
Long Service Life – The service life for these LED bulbs is 50,000 hours according to OPT7. This is much longer than anything else you will find.
Cons:
Directional Light Sources – You will see that the individual LEDs are mounted to the sides of the housing if you look closely at this product. Because of this, you will likely have some weak spots in the beam. You do not have this problem with the 360-degree light emitted from HID or halogen lights.
Hefty Price Tag – Compared to what you would pay for halogen or HID bulbs, this kit is about four times more expensive. But, they also last much longer and use less power. Plus, the price just continues to become more reasonable as time passes.

[su_divider top="no" style="dashed" divider_color="#b9b9b9″ size="1″]
[su_highlight background="#050700″ color="#ffffff"]2 [/su_highlight]  Kensun LED Headlight Conversion Kit with Cree Bulbs – Best Headlight Support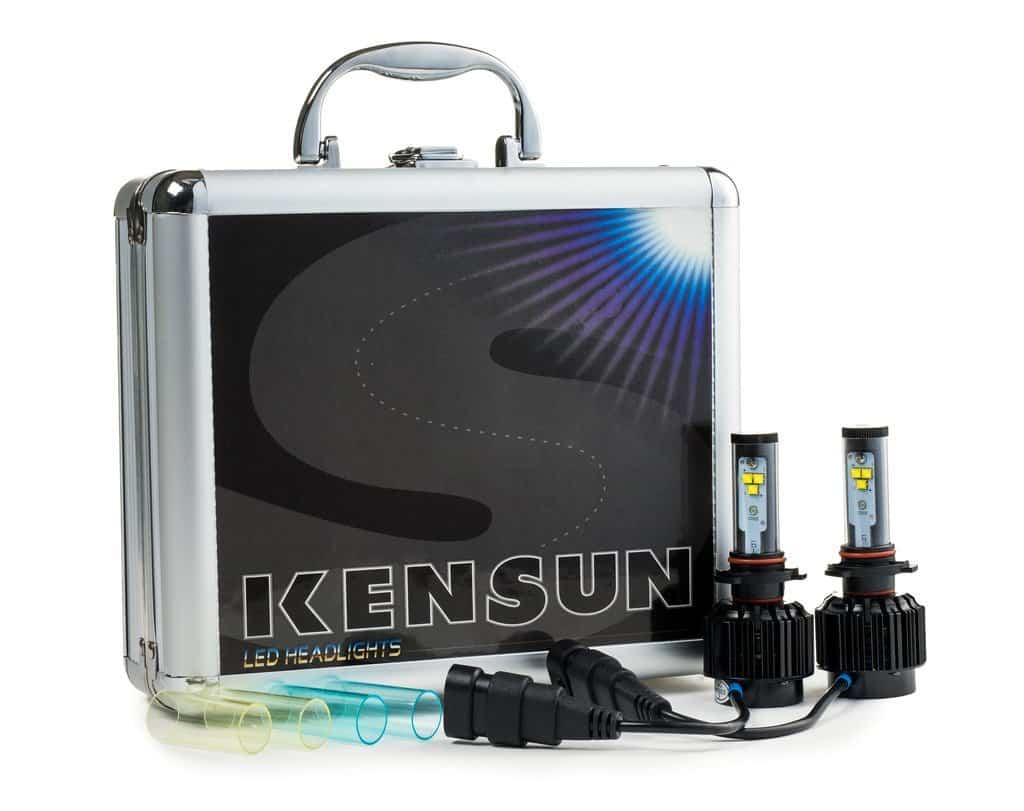 Kensun's All-In-One LED Headlight Bulb Kit ranks right up there with the OPT7 among the top LED headlight conversion kits in the industry. The kit comes in a slick aluminum case that will keep the bulbs safe from harm.
These bulbs have built-in cooling fans and heatsink. They have a lifespan of more than 30,000 hours and run on 30 watts. There is no internal wear from headlight heat since these lights produce almost no heat.
Once you install these headlights, the first thing you will notice right away is the crystal clear and clean-cut beam of 6000K ultra-bright white light they produce. In addition, the kit includes yellow and blue tint covers that will essentially give you yellow or blue LED headlight bulbs. The range for the lights is up to 500 meters, and they are IP68 waterproof.
As with the OPT7, you get manufacturer tech support. The Kensun LED Headlights come in the following sizes: H1, H10, H11, H13 (9008), H3, H3C, H4 (HB2) (9003), H7, H8, H9, D1, D2, D3, D4, 5202, 880, 881, 9004 (HB1), 9005 (HB3), 9006 (HB4), and 9007 LED headlights.
The only downfall we could find in our time testing these lamps out was that the beam pattern left a lot to be desired. Plus, when we would flip on our brights, the difference in brightness was barely perceptible. However, for many buyers, this may not be a concern.
Conclusion: Kensun's LED Headlights are great overall. They are unique in that you get the blue and yellow tint color filters along with the usual LED conversion kit. And, if you have any trouble, the product is backed up with a full tech support team available by telephone and email, and the kit has a two-year warranty.
Pros:
Excellent Customer Service – Kensun is known for going above and beyond to make sure their customers are satisfied.
Long Warranty – You can rest easy buying these LED headlamps since they come with a two-year warranty.
Far-Reaching – As you are driving around at night, these lamps will light up reflective signs from a quarter-mile away or more.
Cons:
The Beam Pattern Isn't for Everybody – As with most LED lights, the light emitted is not 360 degrees. Instead, most of the light is directed toward the road in front of you. This is not a problem for most purposes.
Little Difference between Normal and High Beams – When driving in inclement weather, it helps to turn on your brights. However, the visibility does not improve much with these high beams. Fortunately, these headlights are naturally bright.

[su_divider top="no" style="dashed" divider_color="#b9b9b9″ size="1″]
[su_highlight background="#050700″ color="#ffffff"]3[/su_highlight] ECCPP LED Headlight Bulbs Conversion Kit with Cree – Best in Warranty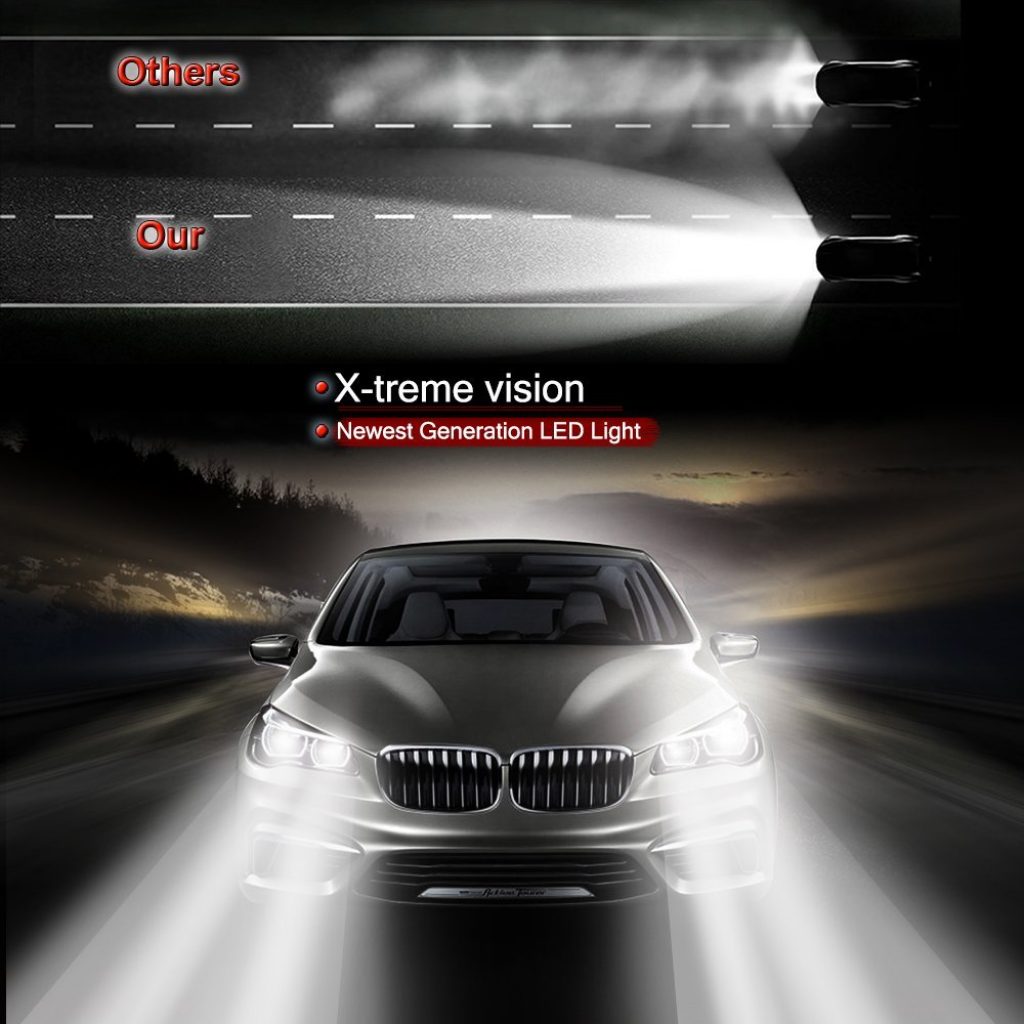 These LED headlight bulbs have a crystal clear 6,000K white light with 4,800 lumens per LED bulb. What this means for drivers is no dark spots and around 50,000 hours of life. The headlamp has a dual-beam and a headlight high-low beam and a 360-degree beam angle. The LED chips are manufactured in the United States and made by Cree, a company known for making products that are long-lasting, energy-efficient, and more environmentally friendly than halogen and HID lights.
The rainproof driver, housing, and fan ensure your lights will work during all weather conditions, including full submersion. Unlike HID or halogen lights, the ECCPP headlights shine the brightest, while also being cost and energy-efficient.
Like other top LED bulb manufacturers, there is no warm-up time needed for these LED bulbs. Each bulb contains a TurboCool fan for proper cooling with thermal conductivity. These kits have the plug-n-play feature, making them easy to install.
Different from many competitors who only offer a two-year warranty, the ECCPP LED Headlight Bulbs Conversion Kit is backed by a three-year warranty at no cost to the consumer.
Conclusion: Given the prices, quality, the variety of models, warranty deal, and unique features, the ECCPP LED Headlight Bulbs Conversion kits with Cree is a great option for buyers looking to replace their bulbs. The stock bulbs in most vehicles don't offer the range of features, or the brightness, of an LED headlight bulb. ECCPP is a leader in the automobile industry which makes them a great option for all of your LED headlight bulb conversion kit needs.
Pros:
Technology – All bulbs are CanBUS-Ready and compatible with any vehicle CPU which makes these brands very versatile.
Pricing – Price is very competitive which is mostly lower than other brands which have lesser features, and slightly less than other brands with very similar features, such as 50,000 hours of life.
Cons:
Plugs – A few numbers of consumers disclosed problems with the plugs with them not easily fitting.
Incompatibility with Diagnostic System – The lights have been rejected by a small number of vehicle diagnostic systems.

[su_divider top="no" style="dashed" divider_color="#b9b9b9″ size="1″]
[su_highlight background="#050700″ color="#ffffff"] 4 [/su_highlight]  Starnhill LED Headlight Conversion Kit – Best Beam Pattern Light Bulb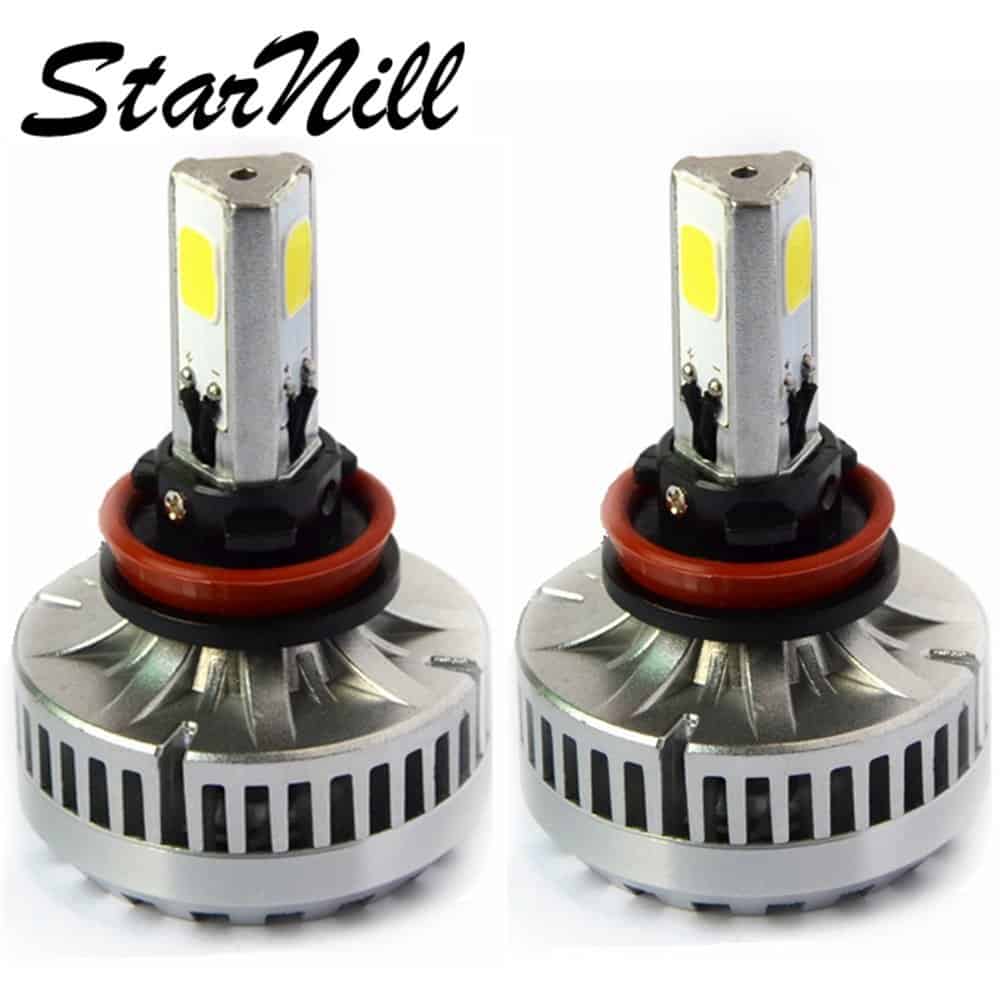 The Starnill car LED headlights supply even more lumens of light which means better visibility. It is an excellent replacement for the standard halogen headlights and fog lights. Installation is easy and there are no wires to cut with the plug and play design. These long-lasting bulbs are twice as bright as halogens while using much less power.
The LEDs are able to avoid damage from voltage spikes and variations thanks to the built-in IC Circuit. Starnill rates these white headlights for up to 30,000 hours of service life. These headlights are seemingly maintenance-free since they are shockproof, waterproof, and have slim ballasts that are high vibration resistant and feature overheating protection. There are no longer warm-up times to worry about thanks to the faster response time.
Overall, this is a great set of LED replacement headlight bulbs. They have a long service life and are quite bright with 360-degree light emission.
There have been some reports of reliability issues, though. That is why we rated the Starnill LED Headlight Conversion Kit number four. In fact, some users said they have had to replace their bulbs every few months or so. This may be a bit much for some.
Conclusion: Yes, the Starnill LED Conversion Kit does have its issues. However, for many, the benefits may outweigh the negatives. For instance, the easy plug and play installation and great visibility make it easy to ignore overheating or other negative issues you may have. Plus, these bulbs are relatively affordable. If quality beam patterns are important to you, we recommend you check this kit out.
Pros:
Excellent Beam Pattern – A full 360 degrees of light output is produced by the three-sided "chips on board" LED design of each bulb.
Perfect White Light – These headlamps are not only super bright, but the light is also a very clear white with maybe only a slight hint of blue.
Better than HID – If you are used to high-intensity discharge lights, you will be pleasantly surprised by the brightness of this kit.
Cons:
Need to be Replaced Frequently – Users have reported that the Starnill LED headlights need to be replaced often and that it can be time-consuming finding and ordering replacements.
Potential Overheating – When the weather heats up and if the fans are not working properly, the assembly could overheat and cause malfunctioning. Fortunately, Starnill has done a good job of addressing this issue.

[su_divider top="no" style="dashed" divider_color="#b9b9b9″ size="1″]
[su_highlight background="#050700″ color="#ffffff"]5[/su_highlight]  SNGL Super Bright LED Headlight Kit 6000K – Best Worry-Free Headlight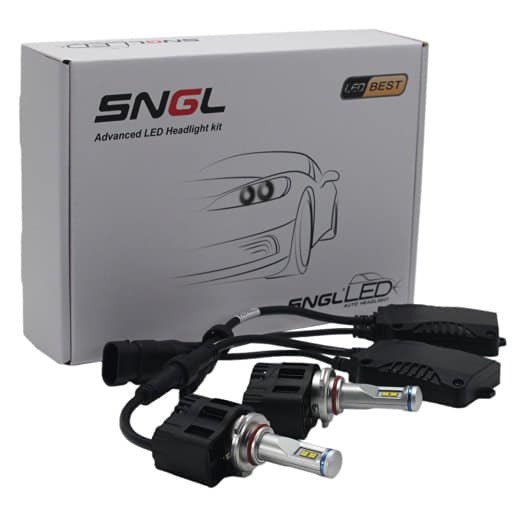 The SNGL Super Bright LED Headlight Bulb set is one of the more expensive LED headlight sets on the market. However, you do appear to get what you pay for. The build quality is superior. As a matter of fact, you can actually submerge the electronics for this kit in water, and it will run just fine. So, they are essentially 100 percent water and weatherproof.
The SNGL LED Headlights will not get hot at all at the headlight level despite producing about 6000K of pure white light. They are capable of running nonstop without any problems thanks to the heatsinks and cooling fans. They are rated for more than 50,000 hours of constant running time.
Anyone can install these in a broad range of vehicles in as little as twenty minutes. Here are some of the options: H13 LED headlight bulbs, 9004 (HB1), 9006 LED bulb for 45 and 55W, H11 LED headlight, D1/D2/D3/D4 (for 45 and 55W), H4 (9003, HB2) for 45 and 55W, H7 LED bulb, H11/H8/H9 for 45 and 55W, H13 (9008) for 45 and 55W, H15, 9005 LED headlight bulb for 45 and 55W, and 9007 LED headlight.
The LED headlights are designed to last you for many years to come since the external case of the bulbs is made completely of aluminum.
There are several complaints that the manufacturer was not upfront about what is needed for an easy plug and play installation. So, we are here to remove any confusion. These headlights will not work for you if your car lacks projector housing. Otherwise, it is actually dangerous to install these lights.
Conclusion: If you do have projector housing and you want an LED headlight free of fuss, then the SNGL Super Bright LED Headlight Kit is the way to go. You can install it without the help of a professional within fifteen minutes of opening the box, and you can count on many miles of use without any need for maintenance.
Pros:
Low Maintenance – One of the main benefits of LEDs is that they are low maintenance, and these headlights last without any need for replacing bulbs or other components.
Wide Beam Pattern – In certain parts of the country, it is important to be able to see the sides of the road to avoid bolting animals. These lamps have a wide enough beam to give you a good view.
Easy to Install – A lot of LED headlight kits say that they are easy to install, but the SNGL Super Bright delivers. It's a simple plug-and-play setup.
Cons:
Needs Projector Housing – If your car does not have projector housing, then these headlights will not work well for you. Instead, the light beam will be scattered everywhere and get in other drivers' eyes.
Noise Issues – With the LED headlamps there have been reports of loud fan noise, which can be annoying if you like silence while you are driving!

[su_divider top="no" style="dashed" divider_color="#b9b9b9″ size="1″][su_highlight background="#050700″ color="#ffffff"]6[/su_highlight]  JLM LED Headlight Conversion Kit – Best LED Headlight for Cold Climates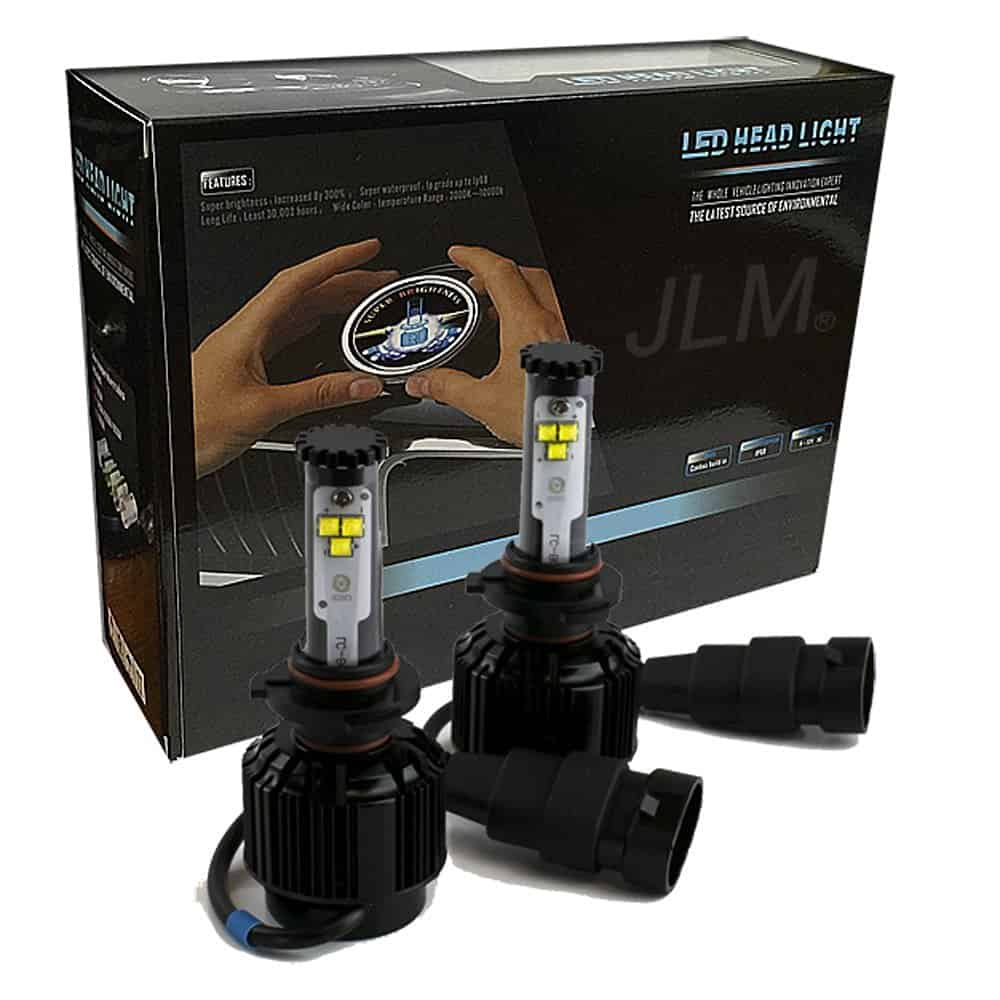 The JLM LED Headlight Conversion Kit is designed to fit all sizes of vehicles for all sorts of uses, including street bikes, scooters, touring, adventure, UTVs, snowmobiles, dirt bikes, cruisers, ATVs, and, of course, your daily driver.
There are five different light options: 6000K daylight, 10,000K ocean blue, 8000K iceberg blue, 5000K ivory white, and 3000K golden yellow. Yet, it only puts a 30W power drain on your battery thanks to the luminescence efficiency of more than 85 percent. The JLM headlight is rated for a bulb life of 50,000 hours of continuous use.
Thanks to the durable design, these LED headlights are the weather, shock, and waterproof. And, installation is a snap with the plug and play setup. It also comes with a handy carrying case, mounting brackets, and ballasts.
We like that you can buy this item without much risk since it comes with a two-year warranty. There is also telephone and email support available if you should have any issues. There have been some users who have reported having problems with installing the unit. JLM tends to be responsive when you contact them for help.
We had an excellent experience using this kit. Installation was as easy as it gets. However, the beam is not precise, is not focused, and is not easy to aim. These are not the best for street use, but they are ideal for off-road applications.
Conclusion: If you want a bright, crystal clear white light, the JLM LED Headlight Conversion Kit is for you. This is another kit that you can install during halftime of a football game without missing a snap, and you will be able to see everything. If the above options do not appeal to you, we recommend these lamps for those of you who like to leave the beaten path.
Pros:
Highly Reflective – The JLM LED Headlight reflects off of objects really well whether it is the eyes of an animal or a road sign.
Reliable – When you start your car, these lights come on instantly no matter how hot or cold it is outside. They also stand up to the shock of regularly driving on unpaved roads.
Simple to Install – These LEDs come with clear, easy to understand directions that allow you to plug and play.
Cons:
May Be Adversely Affected by Heat – Some buyers have reported that their JLM LED lights did not work and in fact fell apart after limited usage. This is by no means the standard, though.
Little Difference between High Beam and Low Beam – The low beam lights are quite bright, but when you flip on the high beams, it does not get much brighter and you do not see much further.

[su_divider top="no" style="dashed" divider_color="#b9b9b9″ size="1″]
[su_highlight background="#050700″ color="#ffffff"]7[/su_highlight]  IDEAPRO LED Headlight Bulbs – Best LED Headlight for Night Driving
One of the most affordable kits on our list, the IDEAPRO LED Headlight Bulbs are ideal for whatever your needs may be. They use 40W of power to produce 8000 lumens for incredible energy efficiency. The light color is a bright xenon white, and the HID bulbs have an expected lifespan of 30,000 hours of continuous use.
The IP68 waterproof grade guarantees weatherproof driving. In fact, these LED bulbs will work for you when submerged in water. They are also shockproof. A carrying case, mounting brackets, and ballasts all come with the kit, and installation is simple with the plug and play instructions. They claim that the installation can be done in twenty minutes, but you should plan on taking a little longer.
The IDEAPRO LED Headlight Bulbs come with a two-year warranty, so if you have any functional issues, they will be glad to replace or fix your headlights. They are also quite responsive when it comes to customer support.
These LED headlight bulbs are not available in all sizes. This is what they have: 9004, 9005, 9006, 9007, H1, H3, H4, H7, H11, H13, 5202, and 880/881.
There are inconsistencies in how the headlights distribute the light. We had no issue with it, but there are many reports of users having other drivers flash their lights at them because of how bright it was shining in their eyes. One buyer even reported getting a ticket for having an illegal beam pattern.
Conclusion: We had a great time testing out the IDEAPRO LED Headlight Bulbs. They are able to stand up to the elements and guide you as you travel through all sorts of weather. There appear to be some problems with the manufacturing since others have report issues. Fortunately, the manufacturer has excellent customer support and offers a two-year warranty.
Pros:
Great for Poor Night Vision – If you have poor night vision, this is the LED headlight for you. It is bright enough for just about anyone to see their way after dark.
Pure White Color – The bulbs produce a pure white color that does not have any hints of blue or yellow, and the lens is optically clear and free from imperfections.
Runs Cool – There are rarely any issues with these lights failing since the fans do an excellent job of keeping the LEDs cool.
Cons:
Installation Issues – We did not have any trouble installing the IDEAPRO LED Headlights, but on the headlight forums, there is a discussion that installation can sometimes take up to an hour. This seems like a fairly minor complaint.
Light May Grow Dim – In some instances, these LED headlights grow dim after a relatively short period of usage.

Best LED Headlights & Bulb Kits Buying Guide
LED stands for "light-emitting diode." In recent years, LED technology has been put to use in car taillights and headlights to supply a more energy-efficient, brighter light than what has been used traditionally. Though LEDs have been around for decades, they were first used on cars in 2004. Today, they are available for driving lights, off-road lights, and much more.
LED headlights have a longer lifespan because they use approximately 75 percent less energy than the halogen lights found on most vehicles. Also, halogen bulbs are rated for 6,000 hours of useful life. On the other hand, LEDs will last you for 30,000 hours or more. Plus, halogen bulbs tend to heat up, while LEDs remain cool to the touch. They are not completely without heat, though. Some heat may collect at the bottom of the emitter.
All of these benefits to LEDs usually come with a cost. LED headlights tend to be more expensive initially, but they pay for themselves in the long run.
Why Choose LED Headlights?
There are many reasons why people choose L.E.D. headlight bulbs, but one of the major advantages is that the bulbs typically last much longer than standard halogen headlights. They are also more energy-efficient. Most manufacturers claim a life of between 10,000 to 100,000 hours, though it is hard to determine their exact lifespan since this technology is relatively new.
Another advantage of LED headlights for cars is that they have a snappy response time. This allows you to switch the lights on and off quickly. They also produce a very clean light that allows you to see the road (or trail) better. The best LED headlights are also unaffected by cold temperatures, so there is no issue with your lights dimming in winter weather.
Why LED Headlights Are All the Rage?
There are too many reasons to switch to LED headlights to cover them all here, so we will focus on the two main reasons. In addition to the many practical reasons, many convert to LED for stylish reasons since they add a more modern, much sharper look to any car.
Depending on the current that is run through them and the material that is used to fabricate them, the small semiconductor diodes in LED headlights can create light in any color you want. This included infrared and ultraviolet. LEDs create light by moving electricity along the path of the semiconductor, which means they do not have a filament and can be much smaller than traditional bulbs.
LED lighting is now a standard design element for many of the new, high-end cars on the market. But, you do not need a new car to take advantage of this technology. With a few easy steps, you can convert halogen setups to LED.
As mentioned above, the heat buildup in the emitter of LEDs is a bit of a concern. This can create potential problems for connectivity cables and adjacent assemblies. For this reason, automakers used to avoid using LEDs for headlights. Instead, they would just turn to LEDs for brake lamps, daytime running lights, and turn signals since these parts are less of an engineering challenge than headlights.
Fortunately, advances in LED technology have removed the heat risks and made it possible for headlights to use LEDs.
What Types of LED Lights Are There for Cars?
In addition to headlights, you can convert other vehicle lights to LED lights. This will give you overall savings on energy consumption and also give your car a more uniform appearance. Here are some car lights that you may want to retrofit with LEDs:
Bumper Lights – Situated near the headlights, bumper lights differ from headlights in that they are much brighter and larger.
Headlights – The headlights are the main lights of the car and are in the front. They are used to guide the car in less than ideal driving conditions, including after dark. There are brighter high beams along with the standard driving lights.
Top Lights – Most commonly found on police cars and other service vehicles, top lights are dome-shaped lights that are placed on top of the car.
Fog Lights – By boosting the visibility of the road, fog lights help drivers in foggy conditions. They may ultimately prevent car accidents because they are easily seen by vehicles driving in the opposite direction.
Tail Lights – Located in the back of the car, tail lights are used for brake and turn signals as well as to serve as a warning to other cars behind you to stay far enough away.
LED Headlights versus Xenon Headlights
The most commonly used type of illumination for headlights is halogen lights. LEDs are gaining in popularity, but there are still other kinds of lights that share space with LED technology in the market. Chief among them is xenon.
Luxury vehicles often use xenon bulbs because of their cost of installation and production. The illumination comes from the burning of xenon gas trapped inside of the casing. There is less wasted heat energy than halogen bulbs, and they last twice as long as the industry standard lighting. They are also an eco-friendly solution compared to halogen. However, when it comes to lifespan, LEDs are still better than xenon.
Other than their higher cost, another drawback of xenon bulbs is the intensity of the light they produce. Most motorists are distracted by the bright blue light xenon products. These lights are also known as high-intensity discharge (HID) lights.
What Are the Heat Problems with LED Lights?
The performance of LEDs is dependent on their temperature since they are semiconductors. By its design, a diode will produce less light at a higher temperature than it would at a lower temperature. Therefore, the temperature of the LED headlight must remain relatively stable in order to maintain the constant light output needed for headlamps.
LEDs were first used for applications that only need small amounts of light for indicators, such as on control panels. The lights worked great for these low-heat devices. Unlike other illumination sources, heat does not radiate from LEDs. Instead, it settles in the emitter.
The light keeps burning brightly in low temperatures, and they can even increase beyond the maximum regulated. There is a downside to the headlights not producing heat, though. For instance, there must be some heat applied to thaw snow and ice from the front lenses since LEDs do not produce enough heat to do it.
How to Convert to LED Headlights?
Make sure the LED headlights you are buying are compatible with the model of your vehicle. The socket fittings can be different from model to model, though there are some standard fittings. There are three easy steps for converting halogen bulbs to LED technology.
First, you need to remove the lens cover and the headlight that you want to replace. You can access the headlights by going under the hood inside the mount for the headlight. Next, based on how your car is designed, you will unplug the existing bulb by taking it out of the socket from either under the hood or the front of the car. Lastly, plug the new LED bulb into the socket, and put the lens cover back on.
Before you convert your headlights to LED, you should consider how your vehicle will look with the updated appearance. This is particularly true if you are going to be using lights of different colors. Make certain the lights will not conflict with the color scheme of your car and that they will make your ride appear stylish.
Guidelines and Safety Tips for Installing Your New LED Headlights
There are safety precautions you need to pay attention to and follow when working with your vehicle's electrical system. You will increase your safety and reduce the chance of accidents, damage to your car's headlight system, and injuries by adhering to the following guidelines.
For the most part, none of the LED headlight components get exceptionally hot, but you should still never attach them to rubber, painted surfaces, wires, or plastic parts to avoid the potential for melting, burning, or scorching in the event of a malfunction.
None of the wire harnesses or ballasts should be disassembled. They are manufactured to be installed as is, and if you need any other hardware, the kit will usually provide it or recommend parts. You could experience electrical shock if you alter the harnesses or ballasts.
Before changing out the old bulbs and doing the upgrade, you must wait until the bulbs have completely cooled down. When they are first turned off, halogen lights are typically still very hot. And, this can cause serious burns.
Before turning on the headlamps to check for proper installation and alignment, start up your engine. Otherwise, you may end up draining your battery when you leave lights on without the engine running.
LED lights can be extremely bright and can cause damage to your eyes if you look directly at the light they produce. For this reason, you do not want them pointed in an upward direction where they will blind other drivers.
Before installation, be certain you disconnect the battery to avoid any type of serious injury. This can protect you from high voltage electric shock. Consult a professional technician if you do not have any experience doing this kind of work. We know it feels good to be manly and do it yourself, but hospitals and morgues are full of people "trying to be manly."
Where Are the Best Places to Buy Headlights?
LED headlights are available for purchase at some general retailer stores, brick and mortar automotive parts stores, in stores that specialize in all kinds of lighting, and car dealerships with larger parts departments. LED headlights are also available for sale online through the websites of manufacturers, lighting retailers, automotive parts dealers, and other sites that specialize in car lighting.
What to Consider when Buying LED Lights?
There are four basic considerations you should make before you buy a light conversion kit. Some are crucial from the standpoint of getting the right LED kit for your car so you do not waste your money, while others are simply based on preferences. Each of these points is highlighted in detail below:
Get a Proper Fit – You need to be sure of the fit of the bulbs you have. Standard LED conversion kits may work just fine with older cars. Yet, you may need to buy additional parts if you have a high-priced or new vehicle. There are advanced LED conversation kits that typically have extra hardware and other materials that make the headlights compatible with fancy cars.
Choose the Color You Want – You can choose what colors you want with many LED headlights out there. The temperature rating, or Kelvin (K) rating, determines the color of the bulb. Here are the Kelvin ratings for different colors to give you an idea of what these numbers mean:
12000K – Purple
10000K – Green
8000K – Blue
6000K – Blue-Grey
5000K – Grey or White
3000K – Yellow
Not all of the above colors are legal for use on streets and highways. You can get a ticket if you are caught with a light color that is not legal in your city or state. Before picking a color, make a point of learning about the laws in your area.
Kit Quality – If you are interested in a conversion kit, make certain that you check into its quality before taking the plunge and buying it. The higher cost of a kit almost always corresponds with increased quality and is worth spending the extra money. For instance, in our experience, high-quality lights utilize materials that are less likely to crack or turn yellow.
Type of Bulb – When you are upgrading from HID or halogen lights to LEDs, the type of bulb you purchase is important for ensuring that it will fit your car, van, or truck. You want to be sure that the LED bulbs are the same size and shape that your make and model of vehicle requires. Are you unsure about what bulb your car takes? There are a few ways to find out:
Take out your current light and read the label
Check your owner manual
Perform an internet search using your car's make and model
Best LED Headlights and Bulb Kits FAQs
How do LED headlights compare to HID?
Light is produced by means of an electric arc in high-intensity discharge lamps. The problem with these lights is that the arc is hard to control. Due to the glare, this typically results in a light that is offensive to oncoming motorists. You do not have this problem with LED beams since they are controlled.
Will LED lenses yellow?
Most LED lenses are made from high-grade polycarbonate that contains an ultraviolet additive that resists the harmful effects of the sun's rays. The lens also has a hard coat that adds extra protection, including abrasion resistance.
Do LED headlamps blind other drivers?
Most of the headlights reviewed above have very bright beam patterns, but the low beam cutoff is very sharp. This means that very little light is directed into the eyes of oncoming motorists.
How much power do LED headlights use?
LEDs are incredibly energy-efficient. Most of the best LED headlights on the market are between 30 and 60 Watts.
Final Words
With LED headlights growing in popularity, both individual car owners and auto manufacturers are beginning to replace their xenon and halogen headlights. This is great news for the consumer because more money is going into finding more affordable ways to bring LEDs to you.
Since LED headlights are more energy-efficient and longer-lasting than traditional headlight bulbs, they are a great choice for most vehicle owners. At one time, there was a concern about LEDs not shining as bright because of their long lifespan and better energy efficiency. However, the newer headlight bulbs address these problems and allow for clearer light.
You need to take various factors into consideration before you buy any headlights. This includes the size of the headlights you want since not all brands are available in all sizes. Also, think about what style and color you want.
Professionals can install your headlights for you in no time, or you might consider doing it yourself. Each of the kits above makes it easy for even novices to install. They also come with excellent customer support.
Good luck as you shop for the LED headlight bulb for your purposes. When you do your research, you are sure to love your car's new look.
More Tips for Best LED Headlights
How to Install LED headlight Kit LED Headlight Bulbs Conversion Kit
More Automotive Buying Guides