Whether for safety or a chic, sophisticated look, HID headlight kits offer something for everyone. Going off-road, out for a night on the town, or to brag at a car show, this incredibly bright halogen bulb replacement can find use in a variety of settings.
However, figuring out which kit is right for you can be difficult. Sifting through specs without explanation and a propensity for unscrupulous marketing only make matters worse. That is why we have put together a list of the best HID conversion kits and a comprehensive buyer's guide to help you find the one that best suits your needs.
The Best HID Conversion Kits
[table id=81 /]
1. Kensun HID Xenon Conversion Kit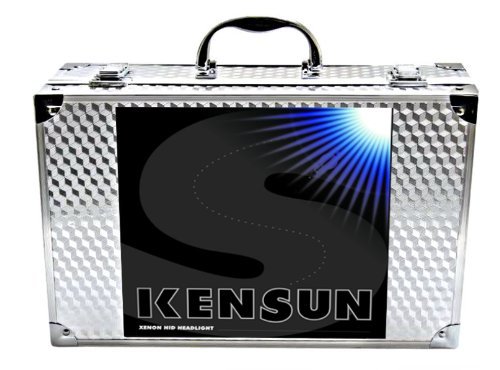 The Kensun tops our list because it does pretty much everything well without presenting too many of the issues the other options may have. Most of the issues with the Kensun involve convenience as opposed to reliability or durability of the product itself.
Whereas some of the other products that made it onto our list have issues with various components, whether it is the bulb, ballast, mounting, or wiring, the Kensun shows no such issues for the most part. However, should you receive a defective product, the Kensun customer service is extremely helpful and their resolution time is difficult to beat.
The bulbs are water and shockproof, and while this does not make them the most durable on our list, they do not suffer the same early failures that others occasionally do. Moreover, the ballast is rated as weatherproof which is not a claim too many manufacturers make. To top off the durability trifecta, the wiring does not melt unless exposed to extremely high temperatures.
Still, the Kensun does come with a caveat or two. First, this is one of the more expensive options on our list, though you are paying for quality. Considering that the additional investment is modest at best, it is worth the extra cost not to have to worry weeks down the line.
Also, this kit states it is plug-and-play. While that may be true, it bears no relevance on mounting the kit, which has been noted to take well over 20 minutes per bulb. Moreover, the ballasts will require additional mounting equipment or modification for some vehicles.
The only other gripe concerns the high beams. If you purchase a single low beam or an HID low with a halogen high beam, you will not notice a problem. However, if you purchase and HID hi-lo combo, the high beam is notably dimmer than the low beam. While this is not much of an issue in well-lit, urban settings, it is less than ideal for others.
Pros:
The wiring is incredibly durable and will not fray or melt
The bulbs are both water and shockproof
The ballasts are weatherproof which is quite rare
Cons:
A bit pricier than most of the other options on this list
The installation will take a bit more time compared to some of its competitors
The high beams are a bit substandard, though not egregiously so
Conclusion
While not the best suited for more specific niches, the Kensun HID kit provides the best value primarily through its quality of craft. With components that are notably more durable than most competitors and a customer service that makes resolving issues a breeze, the modest additional investment is well worth it.
However, if you rely on exceptional high beams or are not at all mechanically inclined, there may be one or two options on this list that better suit you. Still, they do not provide the value the Kensun does, so weigh carefully.

2. OPT7 Blitz Bullet HID Kit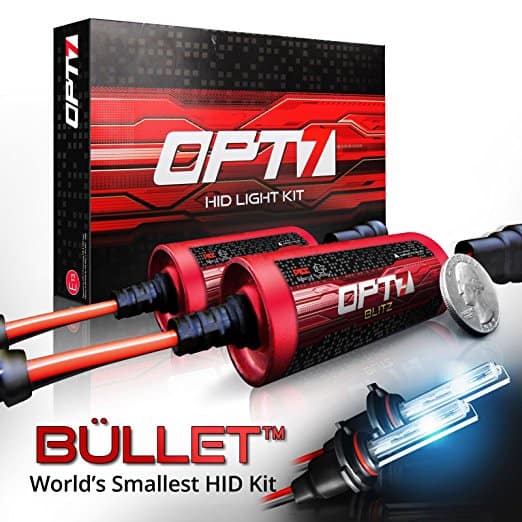 While the Kensun takes the number one spot by producing a number of options that all perform reasonably well, the OPT7 is not far behind and actually produces better results for hi-lo and bi-xenon kits. This is not to suggest the Kensun produces a low-quality hi-lo or bi-xenon kit, but the OPT7 is notably better.
One of the biggest advantages the OPT7 has in this regard involves its mounting. This kit, regardless of the configuration you order, is by far the easiest to mount, often requiring only 10 minutes to install from start to finish. Moreover, the OPT7 sports the smallest ballasts on our list which further makes mounting the kit that much simpler as it will fit any vehicle.
While this may seem little more than a convenience, this allows the hi-lo and bi-xenon kits to function without the issues that poor mounting causes with some of the other brands we reviewed. A nice addition is the included relay kit which prevents flickering and early bulb burnouts. Regardless, the high beams, assuming you bought the kit that uses HID high beams, are powerful enough to serve as fog lights.
Unfortunately, the OPT7 seems to pride itself more on ease of use than maximizing the reliability. While it does not perform poorly, the 4,000-hour continuous lifespan is a bit lower than one would expect. Still, it is not bad, and with the other protective features, at least ensures you will not have problems for the entire duration.
Still, even though the included relay was nice, the absence of a warning light preventative circuit is a bit odd and becomes downright insulting when you realize they sell it separately. And while the ballasts are excellent for positioning, you better make sure they are wired perfectly as shorts can cause them to fail.
Pros:
The easiest installation of any entry on our list
The smallest ballasts do not give up anything in power
The OPT7 uses an aluminum alloy shell casing and is filled with water-resistant silicone
Cons:
A 4,000-hour continuous lifespan is decent, but not even second place
Extra features require the purchase of additional equipment
The ballasts may suffer reliability issues if they are not wired properly
Conclusion
If you simply want a single low beam or a kit with a halogen high beam, you are probably better off sticking with the Kensun–even at the high price. However, if you want the brightest HID high beams, then the OPT7 is the kit for you.
The exceptionally bright high beams combined with the easiest installation and smallest profile ballasts make this a no-brainer. However, check and double-check and triple check the wiring or the ballasts may fail.

3. Apex HID Xenon Conversion Kit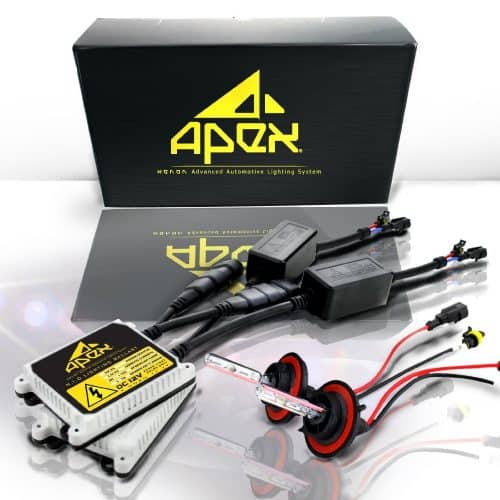 The Apex makes it onto the list because it provides a quality HID kit at a lower price than all but the bottom of the barrel. Keep in mind, the cheapest kit on our list is not reliable enough to be recommended for daily use. With just a smidgen more investment, the Apex provides an adequate HID kit with a couple of limitations.
First, this HID kit does not feature some of the more advanced features you will find on other brands. It does not connect to your CANBUS system, so you will forever have a "headlight out" warning light unless you turn it off manually. Moreover, the Apex also does not include radio interference protected circuitry, so expect to hear static from time to time when listening to the radio with these lights on.
The absent of these features is a bit odd though, considering that the Apex installs easiest in newer model vehicles. While you can still reliably install this kit in older vehicles, the fit will not feel as flush or snug. That being the case, you would expect Apex to provide newer features for a kit designed to fit newer model vehicles.
Still, the bulbs and ballasts are fairly reliable, especially at this price point. The bulbs are waterproof, dustproof, and shockproof, which makes them a bit more durable than some other, more expensive bulbs on the list. Unfortunately, the color temperature spectrum is a bit limited.
Pros:
An excellent price compared to others while still providing high quality
Fairly durable with water, dust, and shock proofing
Relatively easy to install if you have a newer model vehicle
Cons:
Not as broad of a color spectrum as some of the other brands on this list
A bit outdated and does not offer the same features as some other brands
Will interfere with the radio
Conclusion:
If you are still relatively new to the aftermarket game but feel more advanced than an absolute novice, the Apex is probably a good fit for you. While it does not offer some of the more advanced features found on more expensive kits, it does provide a reliable and durable kit at an incredibly modest price.
Keep in mind, this kit is best served on newer model vehicles, though your radio will see static on occasion. This also applies to any Bluetooth connected devices.

4. Innovited AC 35W HID Xenon Conversion Kit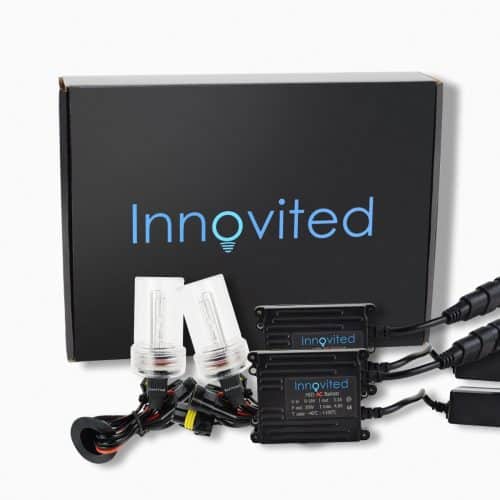 If you have a particular configuration of size, color, and beam arrangement, Innovited has you covered. That is how they made it on our list, despite having a so-so quality control reputation.
Still, whatever your needs, Innovited provides the options to accommodate them. With a color temperature spectrum that ranges from 3,000K to 30,000K, everything from street legal to showroom only is offered. However, Innovited goes the extra mile by also providing pink and green colored lights as well.
In terms of beam configuration, the Innovited performs above and beyond again. While they provide the standard low beam only option, they also sell hi-lo and bi-xenon beams. Moreover, they explicitly state if the high beam provided is halogen or HID–something other brands do not always do. When combined with the color options, this translates to over 36 different possible configurations–not including the different sizes.
However, all of this variety does not come without its own caveats. The Innovited kits are not known for their quality bulbs. Interestingly, this is not reflected in the bulb's lifespan, which offers the best in class 5,500 continuous hours, but in its color temperature stability. Quite simply, the bulbs have been known to shift in color temperature over time.
Another issue with the Innovited is that their mounting is designed more for modern vehicles, and older cars may require further equipment or modification to securely mount. In terms of sheer durability, the primary concern with the Innovited is its ballasts which do not support the same long lifespan as the bulbs.
Pros:
With color temperatures reaching 30,000K as well as numerous novelty colors, Innovited offers every color you could want
The Innovited also offers single, hi-lo, and bi-xenon models in all of their colors.
A bulb lifespan of 5,500 continuous hours is the most on our list
Cons:
The bulbs do not reliably retain the color temperature and may be different colors altogether
The Innovited do not easily mount to many older model vehicles
The ballasts are a bit poor-performing compared to the entries above it
Conclusion
If you have a newer model vehicle and require a specialized color temperature and beam configuration, Innovited will definitely have an option for you. Moreover, with a 5,500-hour continuous lifespan, you will not have to worry about replacing the bulbs any time soon.
Unfortunately, the same things cannot be said about the ballasts which have been known to give out earlier than anticipated. Also, while the bulbs may not go out, their color temperature may shift to a warmer color over time.

5. SDX HID Headlight DC Xenon "Premium" Conversion Kits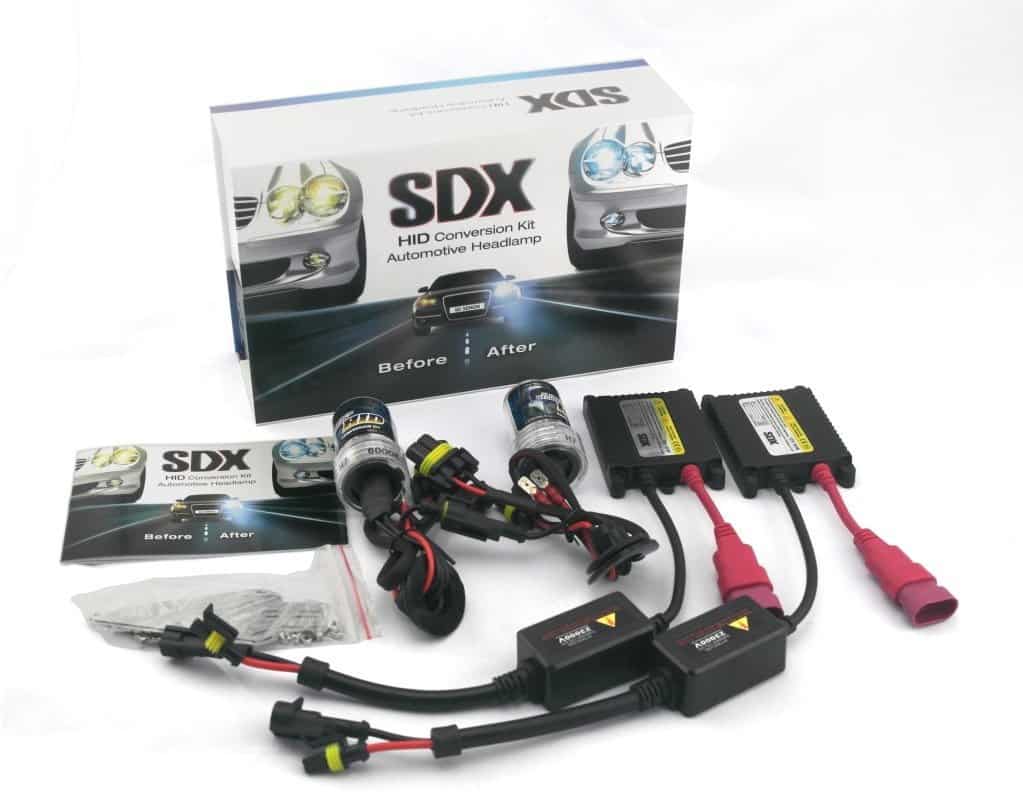 SDX makes it onto our list by providing the best ballasts available. In this regard, we do not mean that the ballasts are the easiest to install or that they are compatible with most vehicles. We are specifically referring to the ability of the ballast to perform its function and the lifespan of the ballast when doing so.
However, beyond the superior ballasts, the SDX is a fairly pedestrian product that does not really do anything better than its competitors but does not perform notably poorer either. This product does offer a color temperature spectrum upwards of up to 30,000K which is not a given–even among higher entries on this list.
However, that color temperature is not street legal, so you can only use that for car shows or on private property. One issue that seems to occur often enough has to do with the bulb's socket machining. Whether through poor molding or a substandard material, the bulb's socket is often irregular and will not cleanly screw in place.
This prevents the bulb from making a consistent connection with the ballast and will lead to the light flickering. However, should your SDX kit come with such a flaw, the customer service is responsive and helpful, quickly resolving your issue without having to convince them to do their jobs like with some other brands.
Further issues crop up is you purchase a hi-lo kit where the high beam will regularly be a different color temperature and produce less illumination than the low beams. Another thing to consider is whether or not your vehicle includes a relay harness. If not, you will have to purchase one separately.
Pros:
The ballast will provide a more reliable power supply than other brands
The ballast will also last longer than other brands, often well-beyond numerous bulb replacements
Excellent customer service quickly resolves any issues
Cons:
The Hi-Lo combination is a bit underwhelming with the high beams being subpar
Requires an additional relay harness that is not included–though may already be part of your stock setup
The bulb's screw is not always uniform and can lead to flickering
Conclusion
The SDX is an adequate if unspectacular entry on our list for most qualities. The range of color temperatures is nice, but the bulbs often have issues. High beams are somewhat dimmer than desired and often a different color. Moreover, their base will regularly to be found irregular.
However, SDX's customer service is a breeze to work with and will replace any irregular bulbs quickly. Still, the bread and butter of this kit fall on its ballasts which are regularly noted for being more reliable and durable than other brands.

6. 55w Kensun HID Xenon Conversion Kit
From this point on, all of the entries on this list will highlight the best HID kits for different niches. Case in point, the second Kensun product ranked provides the best 55w HID kit. As you will read once you get to the Buyer's Guide, the 55w HID kit market comes with numerous caveats.
First, not all, or even many, stock vehicles are suited for 55w kits. The main reason for this has to do with the additional heat a 55w kit produces. Stock headlight housings were designed to enclose bulbs and ballasts that utilize 35 watts. If you simply stick a 55w kit into such housing, the additional heat produced may damage the housing.
This unrated heat level can melt or crack the housing panel which will both decrease the amount of illumination provided by the kit as well as shift its color temperature to a warmer spectrum. If you purchased a cool color spectrum bulb for car shows, this completely negates the purpose of the HID kit altogether.
This would be an especial shame for the Kensun 55w kit as it offers color temperatures that few other brands can provide. While most brands have an upper limit of around 12,000K, the Kensun 55w kit can produce colors up to 30,000K. Keep in mind, 30,000K colored bulbs are not street legal and will produce the least amount of illumination. Still, for car shows, they make quite an impression.
Unfortunately, the ways in which a 55w bulb may cause damage is not limited exclusively to the headlight housing. Without proper protection, the Kensun 55w kit will actually damage itself. While 55w kits have inherently shorter lifespans than 35w kits, this kit can melt its wiring or the bulb's socket. Moreover, even if the kit doesn't melt anything, it will often cause a warmer color shift after extended use.
Still, if you are willing to pony up the additional cost for this unit, the Kensun 55w HID kit at least provides an accurate product that does not rely on deceptive advertising like some other 55w kit brands.
Pros:
A genuine 55w HID kit that does not make promises it cannot keep
The ballasts provide variable amounts of power depending on the bulb's needs
One of the largest ranges of colors available, offering up to 30,000K
Cons:
The most expensive option on our list by at least 50 percent
Not ideal for all headlight housings and may cause damage if placed in the wrong one
The heat may cause the bulb to shift color after extended use
Conclusion
If you absolutely must purchase a 55w HID kit, then Kensun is your best bet. With the widest range of colors available and a true 55w system, there is no false advertising here.
That being said, the issues that 55w kits produce are replicated in the Kensun as well. The heat produced is immense and will cause damage without special housing units. Moreover, the heat may actually damage the bulb, shifting the color warmer than initially purchased.

7. JLM Premium HID Conversion Kit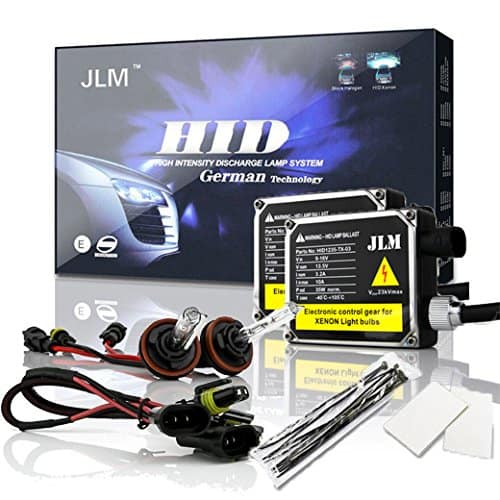 The JLM is so far down on our list because it is simply too niche to be appropriate for all consumers. That being said, if you find yourself looking for an HID kit within the JLM niche, then you will be hard-pressed to find one better. The JLM is best suited for off-road uses, though this has little to do with its illumination quality.
The primary reason that the JLM is best suited for off-road use concerns durability and mounting. First, the good, durability is a primary design specification for the JLM's. Aside from the fact that the bulbs are rated for 5,000 of continuous use, JLM has made it a point to provide a variety of internal protective features not found on other options. Keep in mind, this actually has nothing to do with the wiring or circuitry and is determined more by the bulb's architecture.
Now the bad, the JLM's are not designed to be mounted on every vehicle, despite the manufacturer's claims. That they would use deceptive marketing is a bit of a red flag which only gets worse if you happen to purchase these bulbs for the wrong vehicle. Their customer service is a nightmare and will regularly suggest that you purchase other products to further modify the kit's mounting just so it will fit and remain stable.
Perhaps it is due to outdated design, but the JLM kit actually mounts best on older vehicles. If your vehicle was manufactured more than 10 to 15 years ago, you will have a much better chance of mounting this kit without any issues. If your vehicle is more recent, you will either need to purchase extra mounting equipment or be able to modify it yourself.
Pros:
For vehicles that this product was designed to be mounted on, it is the most durable kit which makes it ideal for off-road use
Rated at 5,000 continuous hours puts the JLM as the second longest-lasting bulb entry
A relatively easy install when mounted to the right vehicles.
Cons:
A bit pricier than some of the other options on this list by an average of 33 percent
Poor customer service makes issues a headache to resolve
Mounting issues with new purchases is a recurring problem
Conclusion:
The JLM kit is not for everybody. If you have a newer vehicle, then this kit will give you difficulties during installation, requiring either additional mounting equipment or further modifications. If you purchase this product without knowing ahead of time whether it will fit or not, the customer service is also less than helpful.
However, if you make sure that the vehicle is appropriate–generally an older model–then this kit may be ideal. It provides a shock, water, and rumble proofing as well as a 5,000-hour continuous bulb lifespan.

8. Lumenon HID Xenon Conversion Headlight Kit – Cheapest HID Kit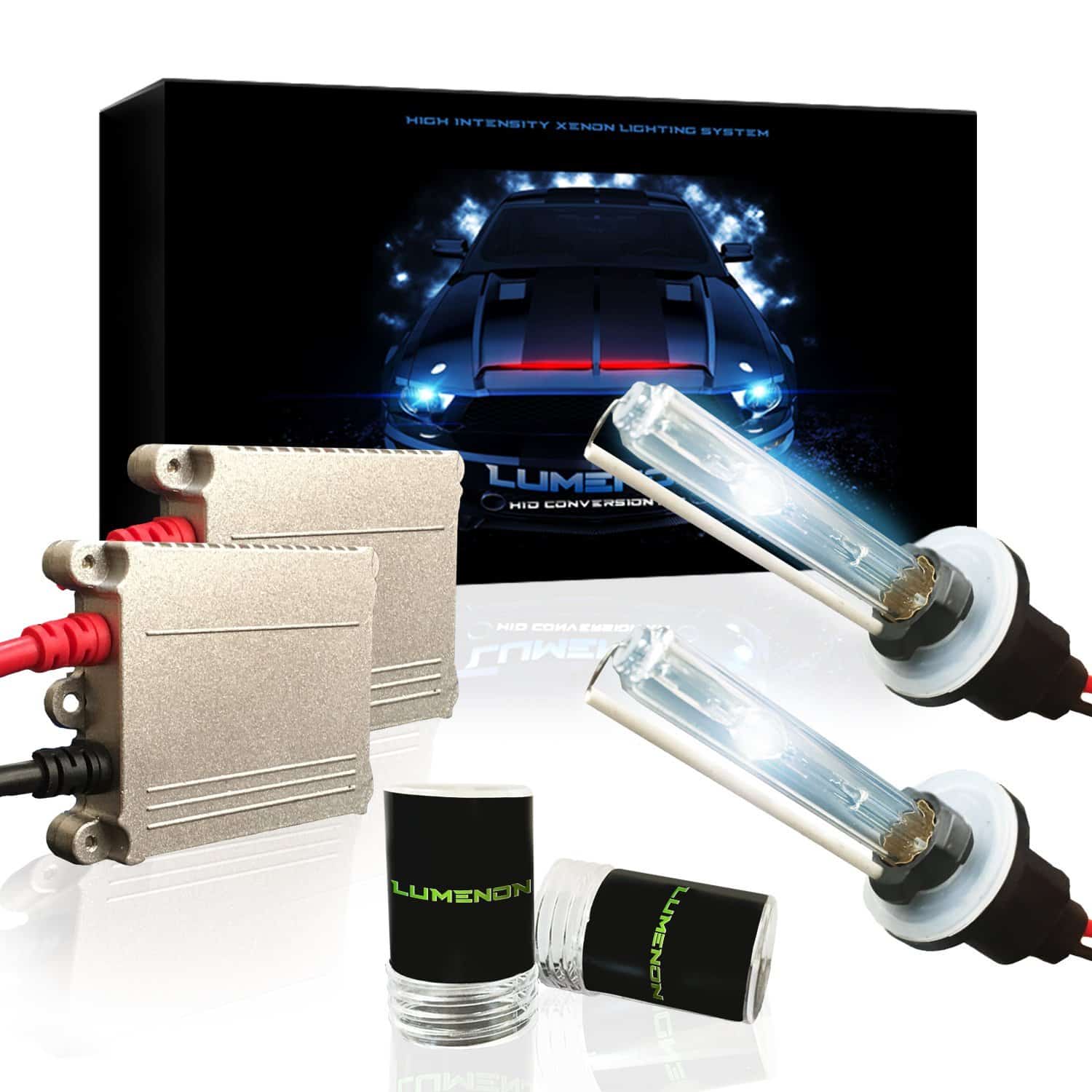 If you absolutely want to spend the least amount of money on your HID kit, the Lumenon is the kit for you. However, the aphorism "you get what you pay for" definitely applies here. Moreover, with an incredibly modest investment, the Apex provides a better budget option.
That being said, the Lumenon still provides plenty of value for a specific niche market. If you are purchasing an HID kit to replace your halogen bulbs for general driving purposes, this is not the kit for you. Likewise, off-road kit purchases should look elsewhere as should consumers purchasing an HID kit for car shows.
However, if you are new to the aftermarket modification game or are a younger consumer with extremely limited means, then this kit may be just right for you. That being said, this does not mean that Lumenon will produce an inadequate illumination experience. Simply, there are better options available.
With the Lumenon you will receive 2 bulbs, 2 ballasts, and 2 sets of mounting hardware. At this price, you should not expect any bells or whistles and the installation is not as easy or streamlined as with other HID kits. Moreover, the durability of the kit may be a concern.
This durability issue is especially relevant for the bulbs. At their best, the Lumenon bulbs are rated to provide 2,000 continuous hours of illumination–the least amount on our list. However, numerous consumers have noted that the bulbs purchased are often faulty and do not last nearly as long as advertised.
Another issue involves the high beam bulbs. First, they are halogen bulbs, but this is not actually that uncommon in single bulb kits. The issue comes with the fact that even for halogen bulbs, the high beam bulbs provided are exceptionally dim and shine a more amber than yellow color. This suggests the high beams produce light at a temperature lower than 2,300K and may potentially emit fewer than 1,200 lumens.
Pros:
Comes at a price that simply cannot be beat
Perfect for someone who is just starting to discover aftermarket modifications
Cons:
At only a 2,000 lifespan, you will have to replace these bulbs before any other entry on this list
The bulbs are not known for the dependability even in the best of conditions
Conclusion
The Lumenon is not an HID kit for serious buyers. However, one of the prerequisites of a "serious buyer" usually involves a more than passing familiarity with the market.
In that regard, the Lumenon can provide an excellent value in the niche of complete novices. At the lowest price, this HID kit lets you experiment without having to make a big investment.

Best HID Conversion Kits Buying Guide
While HID kits may provide a legitimate advantage illuminating your driving path, it is also a market fraught with companies that produce substandard products and use deceptive advertising tactics to sell said substandard kits. For the uninitiated, that can make identifying a legitimately good HID kit difficult.
When manufacturers are willing to toss out impressive-looking but misleading numbers, it is especially easy for a consumer not familiar with the product to get duped into a bad purchase. That is why we have put together this helpful Buyer's Guide. We will not only highlight what to look for when choosing a quality HID kit but warn you what to look out for from unscrupulous companies.
Lumens
The number of lumens produced determines the total amount of light–regardless of the other qualities. This does not necessarily relate to intensity, so a bulb that produces a large number of lumens at a low intensity still may ultimately perform poorer than a bulb that produces fewer lumens at a higher intensity. Still, when choosing an HID kit, the number of lumens the bulb produces can be helpful in figuring out how well the bulb will illuminate your path.
Be forewarned, many advertised lumen specs are not true to life in the field. Often, manufacturers will advertise a bulb's "benchmark." This rating is based on the bulb's lumen production from a factory setup. However, many aftermarket bulbs will generate far fewer lumens than the factory benchmark.
From the factory, an HID bulb will produce an average of 3,100 lumens. However, aftermarket kits generally produce only 2,500 lumens–a 25 percent difference. While this is still more than twice the number of lumens as the average halogen bulb at 1,200, it is still a deceptive sales tactic to sway you into purchasing a product that does not perform as reported in real life.
Color
This can be a sticky issue as the only legal HID light color is white. Anything other than white runs the risk of drawing the attention of your local law enforcement. That being said, many HID manufacturers will still produce lights of varying colors. However, this comes with concerns that extend beyond potential run-ins with the law.
The differing colors of HID correlate to the temperature of the light expressed in Kelvins. This can be somewhat confusing as the spectrum runs counter-intuitively. First, the temperature of the light is not a reflection of the temperature generated in your actual vehicle but reflects the temperature required for a star to produce that color of light. The sun, for example, produces a light color between 4,300K to 6,500K depending on other factors even though its temperature never changes.
Another counter-intuitive quality of light color relates to brightness and visibility. Despite the fact that cooler colors like blue and purple are rated as being produced by higher kelvin temperatures, these colors actually produce less visible light than warmer colors–though they still produce more light than 3,000K halogen bulbs. This is due to the fact that cool temperature bulbs are producing more ultraviolet light which is beyond human detection. Factory-installed HID lights will only produce white light, as is required by law, and generally shine between 4,300K to 5,000K.
Size
This factor has more to do with your vehicle's housing than anything else. However, it is possible to purchase a different sized headlight housing aftermarket, and HID kits will occasionally, though rarely, include a housing unit with the purchase.
Still, the size of the bulb and the housing unit can restrict your options–especially with the selection of HID kit beams. While there generally exists a single bulb kit for every bulb size, some of the more advanced beam configurations–like telescopic or bi-xenon bulbs–are not offered for every bulb size. As such, you will need to make sure what size bulb you require ahead of time or run the risk of purchasing a kit that you cannot use without further modification.
Setting
While it is more common for HID beams to find a home in vehicles that drive exclusively in urban settings, their superior light production, and reliable illumination makes HID headlights ideal for a wide range of applications. Whether for use on dark, winding, country roads, on a farm, or on a backwoods trail, HID kits can solve the issue of limited visibility once and for all. In fact, HID headlights are technically intended to be used for non-public street settings exclusively.
However, different settings will call for different types of HID headlights and local ordinances may also force your hand a bit. Due to their intensity and easy modification, HID bulbs can often fit in a stock halogen projector without further modification. However, this is actually illegal at the federal level and a non-moving traffic violation in different states and municipalities.
Beyond the legal concerns, different color temperatures will be more or less effective in different settings. In urban areas–which are usually well-lit themselves–purple HID lights a perfectly acceptable. However, the dimmer the general area you driving through, the "hotter" colored light you will want.
This has a lot to do with the fact that our eyes have evolved to see light through a yellow spectrum. While we are fully capable of seeing in the cooler colored spectrum, our recognition and attention to detail will not be as precise. If you are purchasing HID lights for an off-road vehicle, this will be especially important as you want to make sure you can recognize any obstacles or road hazards well before their approach.
Beams
Depending on what you intend to use your HID headlights for, the beams which they apply to will become an important factor. Headlights generally have two sets of beams: low and high. You are probably familiar with high beams being brighter, but that is actually not a reflection of the bulb or its illumination.
Instead, high beams are actually angled higher, so the beam illuminates more of the road. Of course, this translates to the beam being shot directly at eye-level, which is why it appears to be brighter. Regardless, there are a few different kinds of kits that relate to the dual-beam quality differently.
A single beam kit will ignore the second beam altogether. It comes with 2 bulbs and 2 ballasts. This will provide plenty of light for general purposes, but switching on your high beam will not provide much improvement to the base illumination as they will still be halogen bulbs.
A Hi-Lo Kit provides bulbs and ballasts for each beam housing. You will have to install 4 bulbs and 4 ballasts in total. Your high beams will produce significantly more light than the previous arrangement as your high beams will be installed with HID bulbs instead of halogen bulbs.
A telescopic kit provides the best of both of the previous entries. It will come with 2 bulbs and 2 ballasts, one for each side of your headlights. This kit allows you to switch between high and low beams with a single bulb but generally requires a more in-depth installation.
The final arrangement is the bi-xenon kit. This is another kit that provides both high and low beams from a single bulb; however, it accomplishes this task in a very different manner. Each bulb will actually sport two bulbs, one for the low beams and one for the high beams. It too will require a bit more installation, though not as drastic as the telescopic kits.
Power Requirements
This can be a bit of a tricky area as some less scrupulous companies will use deceptive marketing to convince you to purchase a bulb that does not actually function better despite providing a larger number in front of one of the specs. The general standard for HID bulbs is 12 volts at 35 watts. However, 55-watt bulbs are becoming more common.
Unfortunately, this is the point where buyer beware. First, 55 watts is not the power the bulb uses to generate its power, but instead reflects the maximum power delivered to the ballast. 55-watt bulbs still generally use between 35 watts to 40 watts–and that extra 5 watt does not translate to an appreciable difference in illumination.
The other issue with a 55-watt bulb involves durability. This sword cuts two ways as the more powerful bulb produces much more heat. This heat will decrease the lifespan of the bulb and force you to replace it more often. However, this additional heat can have consequences for the headlight housing as well.
The protective plastic in front of headlights is designed to withstand certain temperatures, and 55-watt bulbs often produce heat that exceeds those temperatures. This can cause the protective plastic to burn or melt, resulting in discoloration or an imperfect finish that obscures the light generated, reducing total illumination and negating the purpose of the HID bulb in the first place.
AC Ballasts
This is a pretty easy consideration. Make sure you use AC ballasts, period. Thankfully, most high qualities HID kits from reputable manufacturers include AC ballasts in the purchase.
The reason to opt for the AC ballast has to do with the way the ballast uses the energy delivered to it and how that use affects both your vehicle and the bulb itself. DC electric current is far less efficient than AC current. This will cause your battery to drain quicker and require more energy to accomplish the same lighting task as with an AC ballast.
Moreover, DC current is less consistent than AC, which will affect the bulb's ability to illuminate–potentially causing occasional flickers–while decreasing the bulb's lifespan. Ultimately, there is no reason to omit an AC ballast as one of the prerequisites of your HID kit. While they may be slightly cheaper in general, you will pay more in the long run with more frequent bulb and battery replacements.
Conclusion for the Best HID Conversion Kits
While there is no "best HID kit" for all situations, the Kensun definitely stands out above the rest for most consumers' needs. So long as you are not a novice or have a need for specialized high beams, the Kensun will pay back its additional cost, modest though it may be, many times over.
Still, for different purposes, the Kensun may not be your best bet. If high beams are your priority, then you should look at the OPT7's. Likewise, if off-road use is where you expect to get the most mileage out of your HID kit, the JLM is your best bet. And if you simply want the widest range of options, then look no further than the Innoviteds. Regardless, whatever your needs, there is an HID kit for you, and you can find it on this list.
More Tips for the Best HID Conversion Kits
How to Install HID Headlight Kit
More Automotive Buying Guides