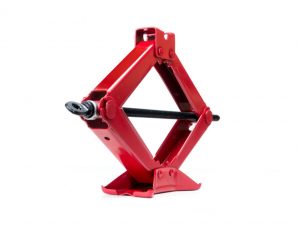 A car jack is a tool that every car owner needs to have in their cars. You might think that a flat tire may never happen to you, or that roadside assistance will always be at your disposal, but that is not always the case. Sometimes, you might be unfortunate enough to find yourself in an inaccessible area. So, if you have never required the use of a jack before, then you ought to consider some YouTube videos as using a jack can be a bit difficult, especially for the person who is unfamiliar with using it. You should also start familiarizing yourself with the tool.
Luckily, there are several jack options available for you to choose from. You can get yourself a manual jack, an electric or even a hydraulic jack. They vary in price and ease of use, but their general function is the same: to lift cars. If you don't anticipate that you will get a flat tire often, then you can consider getting yourself a manual car jack. Nevertheless, some car manufacturers tend to include these jacks in your vehicle purchase. However, over time, it may get misplaced, and you will need to replace it.
With that in mind, it is always best to have a spare. As such, in this article, we will look at one car jack that you might want to consider adding to your handy tools.
Torin Big Red Steel Scissor Jack
The Torin Big Red Steel Scissor Jack may be the replacement jack that you are searching for. The jack is so compact that it can be easily stored in the trunk of your car. The very last thing you will have to worry about is the jack's failure because it is factory tested and meets the ASME reliability standards.
Features:
It has a heavy-duty frame and saddle that are made of rugged alloyed steel.
The product has dimensions of 26.4 x 19.1 x 9.4 inches.
Listed Weight: 7.7 pounds
Maximum Holding Capacity: 1.5 tons or 3000 pounds
Base Width: 4.5 inches
The jack has a lift range between 4 1/8 inches and 15 1/8 inches.
This jack comes with a limited one-year manufacturer's warranty.
Comes with two handles and a product manual
Pros:
This product is durable and adjustable.
It is capable of lifting cars without worrying about stability.
It is sold as a complete set.
Easy to use and carry around
It is very responsive and can be set up quickly when the need arises.
Cons:
If you intend to buy this jack alone with the intention of changing your tire, you will be disappointed that you have to buy a wrench separately to remove your tires.
The jack is a manual one, so you will be required to crank and turn the handles using your muscle. This can put a lot of strain on you, especially if you fail to use it properly. Using the jack can sometimes be frustrating.
This product can break easily if you don't know what you're doing.
This car jack is known to contain DEHP and phthalate chemicals.
A Summary of What the Product is All About
The Torin T20252 Scissor Jack is compact enough to fit in the trunk of your vehicle, and it is designed to lift vehicles that have a low weight. Also, by having a base that is wide enough, the car lifted will be balanced well ensuring that you and your car will be safe. It comes with handles for convenience, and a product manual to give you guidance on how to use it best. What is impressive is that it comes with a warranty assuring you that you can get your money's worth.
To add more, the manufacturer ensured that this product had been constructed following strict standards and factory testing protocols. However, despite its functionality, the manufacturer has issued a warning that known cancer-causing materials were used to manufacture the jack. As such, you should always be mindful that you need to wash your hands after using it. Also, you must strictly follow the instructions written in the manual and keep in mind its limitations to prevent it from early damages.
Comparison with Another Brand
The Torin Jack can be compared with the Cynder 00672 Leveling Scissor Jack simply because they are both manual scissor jacks. Likewise, it is also heavy duty, lightweight, and adjustable, and a wrench is not included. However, the Cynder Jack can be purchased in a pack of one or a pack of two. It is also capable of holding loads of up to 2.5 tons or 5000 pounds. In addition, its lift range is also significantly higher, and it can extend from anywhere between four and 24 inches. Thus, with Cynder Jack, there is no need for you to use wood blocks.
A note to keep in mind though is that, while it does seem better than the Torin Jack, it is twice as expensive, and it does not include handles. It is also obviously larger, but quantity does not mean that it is a quality jack.
Final Verdict
When purchasing a jack for your car, there are tons of things that you need to consider and think about. For starters, not all jacks will come with wrenches unless it's a bundled set, but jacks should at least come with the handles. A product manual is also necessary not just for first-time users as experienced individuals might still need assistance in the future.
Manufacturers should also explicitly let potential customers know the fine details of their product, whether it might be something that can make buyers feel off. That is one of the things we loved about the Torin Jack. As mentioned earlier, the manufacturer gave a clear warning on its chemical composition.
Yes, it is just one of the many sturdy and easy-to-use jack options that are available for you, but it is reasonably priced with a one-year warranty. Also, apart from the wrench, you will benefit from not having to purchase add-ons separately. Therefore, we can say that the Torin Jack is a good purchase for individuals who need a reliable replacement car jack.