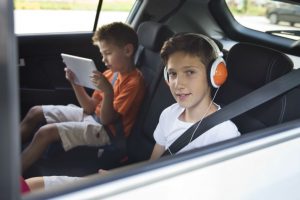 Traveling and driving to the supermarket, park, mall, and other places is a part of every person's life. What makes it different is when you have children during such time. That is because as a parent, you have to make sure that you drive with a bit more precaution than when you do not have a kid around. Also, one of the hardest things you might have to do when driving and traveling with your kids around is clean up after them.
In fact, it is easy to identify the cars of persons with kids because the back seats are usually in a disheveled state. At times, people might even find colorful drawings, writings, and other work of arts as well as liquid spills and dusty or muddy shoe prints. This is a situation that is understandable, but sometimes, it can also be a hassle.
Thus, if you have small kids and you want to keep your vehicle clean and in the best possible state, then you ought to consider getting your kids and car a back seat organizer. It can also help cover your back seat, has the potential to act as an entertainment center for them, and an item wherein they can quickly reach the things that they need. If you are about to buy one, then you must read the detailed review that we have made below.
Komake Back Seat Organizer or Protector
The Komake Back Seat Organizer or Protector has a lot of functionality and roles to fill in the backseat of your vehicle. The set comes with two in it, one for each seat back in the standard vehicle. Below, we have listed its important features and the pros and cons of using it.
Features:
Comes in black color
The product is made using two layers of waterproof and stain-resistant oxford cloth.
It has a length of 64 centimeters and width of 42 centimeters.
It weighs about 13.3 ounces.
This product has four pockets and a kick mat to protect your car seat from footprint marks.
It has a tablet holder with a PVC-made transparent viewer that can also be used for storing small reading books.
Equipped with two mesh pockets
Integrated with bottom and top buckle straps
This product comes with 90 Days of 100% satisfaction guarantee offer.
The manufacturer has a 24-hour customer support department that can be contacted by email.
Pros:
Protects your car from the messes that kids tend to make including but are not limited to footprints, scratches, scribbles, handprints, and liquid spills.
The tablet holder has a clear display, so your kids can be entertained for the duration of the journey without having to hold the tablet in their hands.
This product can be wiped easily and can be washed.
Effortless to install or attach to the back seat
It can hold water bottles steadily, food, and toys.
The buckle straps are adjustable and do not slide off.
This product can be used for small cars, SUVs, and cars as big as trucks.
Cons:
It can only hold tablets that have a size of up to 11.81 inches like iPad 9.7.
This organizer does not have cut out spaces in the tablet holder for headphone jacks or chargers. So, you will be forced to listen to whatever your kids are watching.
When using this, even if you position it properly, your kid can still readjust it.
A Better Understanding of What the Product Can Offer
The Komake Back Seat Organizer or Protector offers three types of functionality. First, it provides organization as it has several pockets that are designed to keep all your kid's travel items together when they are in the car. Second, it has been constructed and designed in a way that your seats are protected from dry and wet factors that can damage your back seat. Third, it can hold your children's tablet to keep them entertained for the duration of the journey.
However, it may not be something you would want to use for a long trip especially since no design feature allows you to plug in a charger. You might also not have a peaceful journey since you can clearly hear whatever your child is watching as it does not have a feature that will let you plug headphones conveniently. Also, even though the straps are anti-slip, you have to be mindful of your kids since they might play with the product and adjust it on their own. Nonetheless, it helps that the set comes in pair especially if you have two children.
A Helpful Comparison to See How It Fares against Another Brand
Surely, you will find other options in the market and one of which is the Lebogner Kick Mat Auto Seat Back Protectors. It is a good point of comparison since like the Komake, this is also equipped with multiple organizer pockets, and it is made of washable, easy-to-clean, and waterproof material. Likewise, installing it and keeping it in place will not be much of a hassle since it also has two adjustable straps. In addition, this also comes in a pair to ensure that both front seats can have an organizer for uniformity.
However, unlike the product from Komake, this item does not have a designated tablet holder. Although you can place the gadget in one of the mesh pockets, your child will not be kept entertained throughout the journey. Such will only be possible if they hold the gadget which might be dangerous and tedious for them. Nevertheless, this product also comes with a money-back guarantee offer from the manufacturer.
The Verdict
The Komake Seatback Organizer or Protector is one of the several options for you to keep your kids' stuff organized while keeping your car's backseat a bit cleaner and free from damages. Since kids can be easily distracted and have a short attention span, the manufacturer made sure that it will keep your kids occupied safely since it will allow them to have a hands-free tablet viewing experience while in your car. Although this product lacks features for easy and safe charging of gadgets and plugging of earphones, we still consider it as a good buy as it does the three functions well.