An exterior glance at the 2005 Subaru WRX STI reveals a carbon copy of the 2004 edition. However, a glance at the interior reveals otherwise. The interior has a new dashboard, new seats and a new audio system. The design of the new 'high friction' seats keeps the driver and the passenger in front rooted. The new standard 140 watt system has a six CD changer embedded in the dash. In the 2004 edition, enjoying sweet tunes in your car would cost you more.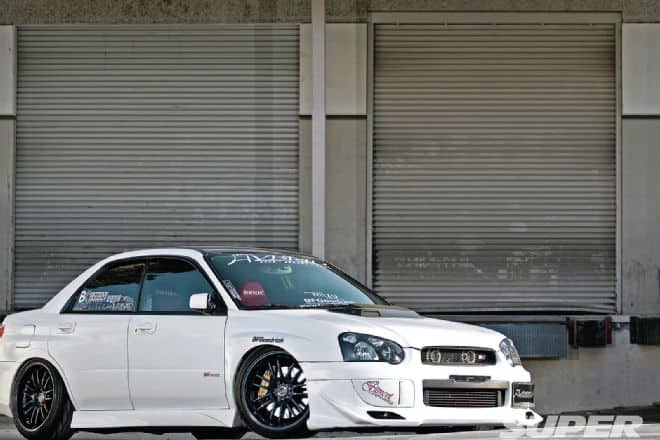 Apart from these upgrades, there are more subtle ones included in the 2005 edition. It comes with a faster steering ratio, a wider rear track (wider by 0.4 inches) and wider wheels. The wheels are wider by 8.0 inches, compared to the 7.5 inches of the 2004 edition. Other subtle adjustments include an up front limited slip up diff and a lateral aluminium suspension links at the rear. The new shrouding is meant to clean up the air under the car. These interior features, among others had already given the2005 Subaru WRX STI an edge over the Evo. They make it very distinctly, unlike the Evo, whose interior full of hard to scan instruments and low grade plastics make it quite inferior. Although both models don't come in leather (they come in cloth), the 2005 Subaru WRX STI looks like a car worth its price tag.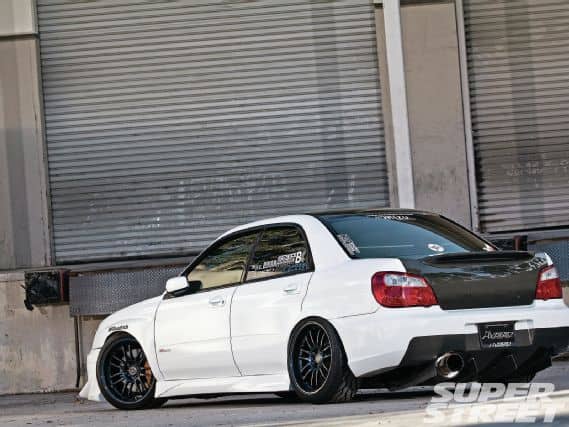 THE ENGINE AND PERFORMANCE
There is nothing very extra-ordinary about its engine, though. Its turbo-charged and inter-cooled 2.5 liter engine produces 300 Hp at 6000 rpm, and a torque of 300 pound feet at 4000. This torque is 500 rpm more than that of the Evo. Once pointed straight, the Subaru performs better at corners as compared to Evo. With its increased tractionand outstanding four wheel drive system, the improved performance over the past edition is expected. Generally, the 2005 Subaru WRX STI produces more speed with less change of gears, without waiting for long before the turbo boost asserts itself. When driving the car and you reach a place where you want immediate response, regardless of the difficult of rowing on the six speed manual gear box, positive engagement in the WRX produces faster response.
HOW DOES A STANCED 2005 SUBARU WRX STI MEASURE UP?
Slammed car have as many followers as they have haters. Nevertheless, every car culture attracts equal numbers on both sides of the divide. A stanced Subaru is no different. Enthusiasts are so much in love with it, while haters are besides themselves with criticism. Some of them don't see the reason why one should compromise safety at the expense of style. To them wheel fitment only causes people to take short cuts in building their cars for style and not for substance. Such cars, they say, are not well rounded, neither are they fully functional, since focus is only on fitment and ride height. However, the proponents of stance are grounded on the fact that it makes ordinary cars extra-ordinary.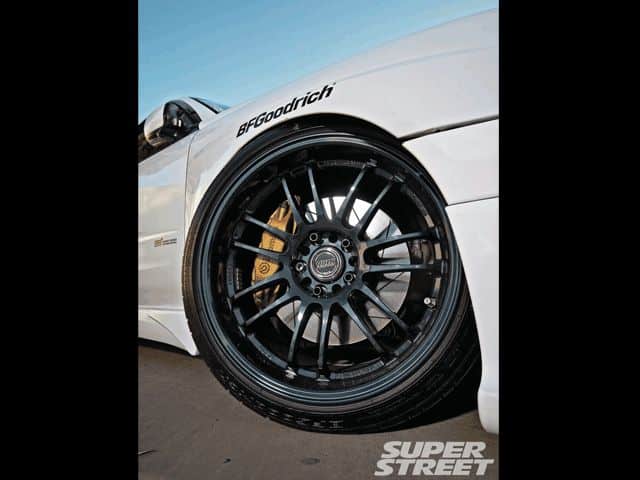 So, you can style up your Subaru aggressively without fear. If you want to know how to lower your car, just get in touch with experts of stanced cars and you will get the help you want.
Pictures from Superstreetonline