Stance is known as an aggressive fitment. When you want to learn how to lower your car, you are going to look at stance because it is going to impact the way a car sits.
HOW TO LOWER YOUR CAR
When you want enjoy aggressive fitment, it involves low offset, stretched tires, as well as wide wheels. A stretched tire is critical in slammed cars as it will allow the tires to fit inside the fender well while the wheels sit flush with your fender line. The stretched amount is entirely up to you. This is when you're going to hear words like "hellaflush," "flush," and "poke." They essentially mean the same thing. When you hear the words, it means that aggressive fitment is in play for the wheels and tires.
HOW TO PROVIDE A FINISHED LOOK
When you want to learn how to lower your car, it is not just about the stanced look. You will also want to adjust the suspension. This will allow the wheels and tires to sit out from the fender, or flush – your choice. The suspension tweak means dropping the height of the vehicle. There are two options available, and most people who enjoy stanced cars prefer one over the other.
OPTION 1: COILOVER SUSPENSION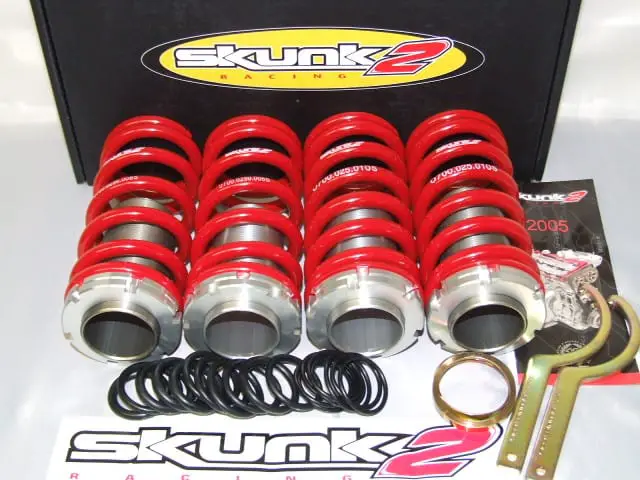 Coilover suspension provides a static vehicle. One the suspension is setup in this way, the particular ride height is set. If you want flush or hellaflush or a poke, it's going to be hard to get it using this method. However, you're going to earn more respect in the community if you choose this option, though it's difficult.
There's a downside, too. Coilovers will limit where you can drive your car. Speed bumps can be problematic, as well as other obstacles you will encounter daily, including driveways.
OPTION 2: AIR SUSPENSION
Your other option is that of air suspension when you want to know how to lower your car. Some other terms you may hear include "air ride," or "air bags/" This allows you to raise or lower your car to a particular height when there is an obstacle. There's also an easier way to achieve a flush because it's possible to lower your car more than what you could with coil over suspension.
WHAT IS THE COST TO STANCE A CAR?
When you want to stance your car, you have to look at overall cost. Much of this will depend on the method you want to use. It's going to involve a combination of suspension, wheels, and tires to provide the desired look. Planning will allow you to get the complete look you want.
The wheels and tires is a matter of personal preference and therefore cost can be difficult right away. You may want 22" wheels or 18" wheels. There are also various profile tires you can choose from.
You also have to look at how the wheels are going to tuck into the wheel well. You may want a lip to poke out or have it flush to the fender. Decide what you want to ensure costs can be calculated properly.
EXPLORE EXAMPLES
It is not only about knowing how to lower your car, but also to know what look you want to accomplish. Look at a few photos for examples of the different styles. You can choose a car with poke, with flushed wheels, or with tucked wheels – each are going to be a little unique. There may be a stretched tire, wheel spacers, and more required to achieve the look.
WHICH CAR IS BEST FOR A STANCED LOOK?
When you find out how to lower a car, the question is, what car? Any car can be stanced. You're going to see a lot of slammed cars out there, so it's your choice as to what methods you want to use. However, there are some cars that are simply more popular to stance than others (such as the Acura TSX and the Audi A4).