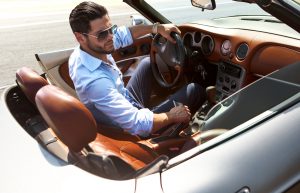 Everyone likes a little bit of luxury. So why not splurge and buy a car with luxury in mind?
There's nothing quite like the smooth ride, raw horsepower, and cabin amenities that luxury vehicles offer. Sure they're expensive, but boy is the money well spent.
There's just something special about hitting the open road in style.
However, not all luxury cars are created equal. You won't ever go wrong buying high-end cars, but you can always improve your choices.
The 2017 release year looks to make choosing the best luxury car as difficult as ever. We're sitting down and creating our list of luxury cars in 2017 you need to know about.
The List Of Luxury Cars:
2017 Jaguar XE
The new Jaguar lineup takes the British car makers into new territory as they continue to branch into the entry-level luxury market.
We're used to seeing BMW-3 series, Audi A3s, and the Mercedes-Benz C-Class dominate this space, but Jaguar looks ready to fight.
The XE sedan comes in at a competitive MSRP, with options multiple options for powertrains. They include a 280-hp turbo V-4, 340-hp supercharged V-6, and a 180-hp turbodiesel.
Steering and road grip are up to par, and gas mileage is more than acceptable (depending on how you drive it, of course).
2017 Mercedes-Benz E-Class
Tesla gets all the praise for high-tech driving, but Mercedes-Benz is looking to change that. The 2017 E-Class positions itself to directly compete with Tesla's market.
This car is all about moving away from driver control and letting the computer take over. The E-Class uses what Mercedes calls "Drive Pilot" to allow for semi-autonomous driving.
Drive Pilot keeps your car in your lane and at a safe distance from other vehicles at speeds of up to 130mph. It also allows for computer controlled lane changes.
The company promised that drivers must frequently touch the wheel to keep the system engaged, or else the car automatically slows down and pulls over. Driver Pilot isn't fully autonomous control.
Of course, all of the luxury you've come to expect from a Mercedes-Benz cabin is still present.
2017 BMW X6
Our next car mixes the blend of luxury and function that families rely on more than ever.
The BMW X6 in an undoubtedly stylish car. The fastback design and clean lines make it hard to imagine kids in the back.
This coupe's engine is also impressive, with a base 3.0-liter inline-6, optional twin-turbocharged 4.4-liter V-8, or unneeded (but awesome) uprated turbo V-8 that makes 567 horsepower.
The cargo room and rear bench seat mean the kids are getting to school in style.
2017 BMW M6
Next on our list of luxury cars is another offering from BMW, and this time the kids aren't invited.
The 2017 BMW M6 is the company's ultimate grand touring car. This thing is designed for miles and miles of highway.
The M6 boasts a twin-turbocharged 4.4-liter V-8 that rips out 560 horsepower and a 4.1 0 to 60 time. Top speed hits 155 mph, and a ridiculous 186 mph with the M Driver's Package.
Handling is all that you'd expect from a BMW M car and the cabin gadgets help justify the $100,000 price tag.
2017 Tesla Model S
Tesla is taking notice of the competition and using the Model S to retain its place as the king of high tech cars.
The new Model S doesn't look much different, but its internals tell a different tale. Upgraded batteries and chargers give the Model S shorter charging times with longer driver times. A win-win for consumers.
Additional new features, like the HEPA air-filtration system, stick with the eco-conscious narrative.
As always, options for ungodly speed are available for those willing to pay. The 2017 Model S P90D runs 0 to 60 in just 2.8 seconds.
2018 Audi A8
The first 2018 on our list of luxury cars, the Audi A8 looks to retake the lead against the Mercedes-Benz S-class and BMW 7-Series.
This car excites because of Audi's push towards safety features and self-driving capabilities. The history of the A8 as the "sporty" large luxury sedan has us hopeful for slick handling.
The engine specs are out, with standard offerings of a twin-turbo V-6, turbocharged V-8, and a twin-turbocharged W-12. Diesel and all electric rumors are also floating around.
2017 Aston Martin DB11
Another Aston Martin, another mix of new and old. The DB11 moves the brand forward while holding onto what makes these cars so spectacular.
As with any Aston Martin, you won't lack any power. The DB11 comes equipped with a twin-turbocharged 5.2 liter V-12 that produces 600 horsepower and 516 pound-feet of torque.
Yeah, this car is fast.
Though the DB11 also brings the cabin luxury. Daimler electronic architecture brings a high-quality display screen, TFT instruments, and Mercedes-style rotary/touchpad control.
2017 Infiniti Q60
The 2017 Infiniti Q60 is the replacement to the outdated G37 Coupe, and the company's hopeful challenger to the ever popular BMW 4-Series.
This bad boy comes stock equipped with a turbocharged 2.0-liter inline-4 or twin-turbocharged 3.0-liter V-6. Sport models are available.
The Q60 looks a real wildcard coming into 2017, and we're excited to see how it holds up against established competition.
2018 Land Rover Discovery
The 2018 Land Rover Discovery marks another installment in the very popular Discover series, though this time with a few changes.
Gone is the boxy look and replacing it are sleeker angles and a more traditional SUV styling. Yes, in our list of luxury cars this is the first true SUV.
Land Rover has increased the ground clearance, upgraded the Terrain Response system, and increased the wheelbase. They reckon it's the best off-road Discovery yet.
Three rows of folding seats, 88.3 cubic feet of load space, and a wifi hotspot system make this car quite the camping contender.
2018 Alfa Romeo Stelvio
Yes, our last luxury vehicle is another SUV. But this isn't any SUV, it's an Alfa Romeo; the first Alfa Romeo SUV ever.
The Alfa Romeo Stelvio looks to follow up on the Giulia Quadrifoglio's successful U.S. launch with something aimed at American families.
The engine is a turbocharged 2.9-litre V6 "inspired by Ferrari," which promises this SUV is fun to drive.
We expect typical Alfa Romeo pedigree inside, so make the kids clean their shoes off.
Luxury car lovers get ready, because 2017 is shaping up already. Hopefully you enjoyed our top ten list of luxury cars for 2017.
We'd like to stress, these cars are ranked in no particular order. Please don't yell at us for getting the ranking wrong.
Until next time, happy driving. Oh, and don't forget to check out our review section for everything auto.