The original concept for the hybrid, or Hybrid Electric Vehicle, was to have a vehicle that combined a commonplace internal combustion engine—like the ones in everyday cars—with one or more electric motors. These motors were meant to substitute some of a vehicle's needs for fuel. Indeed, the original motivation behind the hybrid design was to reduce hydrocarbon emissions, decrease petroleum consumption worldwide, and diminish the environmental effect that our transportation needs had on the environment. At the turn of the century, Japan rolled out the world's first mass-produced hybrid vehicles.
In a world of performance and design however, it should come as no surprise that the words 'hybrid supercars' have slowly entered our vocabulary over the last 15 years. Some of the world's largest manufacturers have unveiled vehicles that have made people instantaneously suppress the thought of a slow, unattractive Toyota Prius when hearing "hybrid."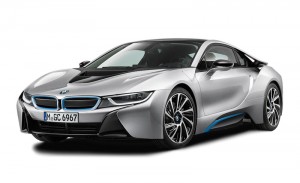 Take, for instance, BMW's 2014 i8 2-door coupe. One of the sleekest and prettiest BMWs out there, the i8 packs a lightweight punch via its aluminum body chassis and carbon fiber-reinforced body panels. Most of all, the i8 is a hybrid that outputs 357 bhp and 570 Nm of torque—with 129 of that bhp coming from an electric motor connected to lithium ion batteries. This means that instead of merely trying to substitute for the petrol engine, the electric motor acts as a serious performance-enhancing device. The i8 goes from 0-60mph in approximately four seconds and has a top speed of 155mph. The most intriguing part of these statistics is that they are comparable to some of the world's most enhanced petrol engines. Not only that, BMW has reported that the i8 can get upwards of a hundred miles to the gallon, and beyond. With its small 1.5-liter turbocharged petrol engine, that's no mean feat.
However, BMW's offices are not the first, nor will they be the last, to toy and tweak with innovation and the next generation of hybrid supercars. Tesla has very much been placed in consumers' minds as the go-to hybrid vehicle. The 2014 Tesla Model S has an equally impressive 0-60mph time of 4.6 seconds and a top speed of 134mph. It has a professional, luxurious design and, contrary to the i8, only has an electric motor. Although not technically a hybrid vehicle, the Model S stands out as the design of the future.
Porsche put its foot forward with its successor to the famous Carrera GT: the 2013 918 Spyder. Its 4.6-liter, V8 engine and two additional electric motors create a devastating output of 887 bhp that propels the vehicle to a top speed of 210mph. Through conservative driving, the 918 can climb steadily to 90 mpg, but it is meant to be driven as a supercar. There is no need to describe the sheer beauty of Porsche's design and styling capabilities, and it is no surprise that the 918 Spyder is slowly becoming known as the ambassador for hybrid supercars.
Standing out as another notable quotable, the scarce 2014 McLaren P1 combines a 3.8-liter, 727 bhp V8 engine with a 177 bhp electric motor to create a force of madness. Reaching 0-60mph in 2.7 seconds and rocketing to a top speed of 217mph, the P1 symbolizes a mixture of mechanical and stylistic perfection in the world of supercars. It does, on the other hand, come with an average mpg in the low 30s.
It is highly likely that there will soon be a drag race between manufacturers on who can produce the most exotic, attractive and commercially-viable hybrid supercars; and we live in the perfect time to witness this extraordinary transitional battle.