The automobile industry has undergone several evolutions since its inception many centuries back. Right from the simple carriages to the current designs with massive horsepower, it has been a great journey full of all kinds of designs worth looking at. To get a better look at some of the world's strange vehicles, we have to go back several decades and centuries when the auto industry was evolving. Many manufacturers came up with prototypes that stood out in all kinds of ways.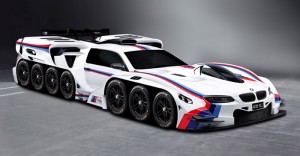 Some of the prominent auto manufacturers of all time have had their unique masterpieces that will leave you mesmerized. They include BMW, Mercedes, Ford and Fiat from Europe and there are Toyota, Nissan and Subaru from Asia without forgetting great dealers from the USA such as Cadillac, Lincoln and the Jeep among many others. BMW has a strange vehicle concept with 42 wheels. Of course this is just the work of a creative mind that will not hit the production lines. Perhaps this is just a publicity stunt by the renowned German auto maker.
Coming down to real cars with very strange features, you should take a look at the Fiat Panda, a 4×4 monster truck with wheels similar to those of a tractor. This is strange because the vehicle is actually a small coupe that should have ordinary size 13 or 14 tires. With the huge tractor tires, it is designed to drive easily on rough terrain and especially in snow and ice. It is mainly used in mountainous places where there is lots of ice during winter because it has better traction under such conditions.
The other strange vehicles that have caught the attention of many include the Takayanagi Miluira from japan and the Subaru WRX STI TRAX. The Takayanagi Miluira is a strange vehicle that looks more like an old carriage that was horse drawn during the old days. It has very large wheels and comes in many shapes giving the occupants options to choose from. Although the looks of the Takayanagi are so antique, it is interesting to note that it is actually a very modern electric car. The electric technology simply means it is a vehicle of the future as opposed to the looks that may give it away as an old time classic of sorts.
It is however designed to set just a maximum of two passengers. It only has a single seat and is actually topless. This makes it a luxury car that you can only use to enjoy an afternoon drive especially in warm weather. It is highly fuel efficient as well as environmentally friendly which has been the main dream of the auto industry for the past two decades.
The delta wing is another car the features among the list of very strange vehicles. This one is a speed monster that is very small and looks like a fighter jet. The front is in the shape of a sharp capsule that is ready to take off. This American automotive innovation simply looks like the formula one racing cars with space to seat no more than the driver. The Subaru mentioned above is a strange vehicle for one reason; it does not have ordinary wheels but instead drives on chains similar to those of bull dozers and earth movers. This gives it the ability to grind its way through snow in very unnatural conditions that the ordinary 4×4 SUV cannot tackle.
Ordinarily, the jeep has always stood out as a great SUV that can tackle almost all kinds of terrains. To make this trade mark even more real, the Jeep hurricane has been designed in a very strange way. Besides having very large wheels similar to the ones used on tractors, the wheels are designed in a way that the jeep can actually move in circular motion on the spot.