For a long time, there was no specific way of integrating your iPhone 6 with the charging and audio system of a car until the iPhone 6 car mount was introduced. This unique accessory provides a turnkey solution that ensures you phone is fixed in a safe and comfortable position even when taking a sharp turn. Here is a short look at some of the ten best iPhone 6 car mount models in the market today. The list is not in any particular order since all the iPhone 6 car mount models mentioned come with all the necessary features to keep your precious phone safe and intact while driving.
Fuse Chicken Une Bobine
This is one of the top iPhone 6 car mounts in the market today. It previously went by the popular Kickstarter brand name. The Fuse Chicken Une Bobine is more than a car mount. It comes with a strong metal-reinforced bendable Lightning cable similar to the one that holds a public payphone cable. The cable is rigid yet conveniently rigid. It has a USB plug on one end and a Lightning connector at the opposite end that can mount and charge different types of iPhones. At the time of writing the Fuse Chicken Une Bobine is available for around $35.
iKross iPhone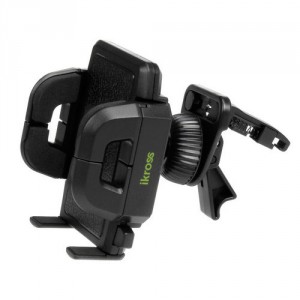 The iKross is also worth a mention in the list of the best iPhone 6 Car Mounts. Currently going for around $49.99 with great discounts at Amazon, the iKross iPhone car mount is quite versatile. It comes in a special kit that allows you to mount it on the dashboard, the windshield, or any other convenient location inside your car. It also has an extra-rigid arm capable of absorbing vibrations to provide you with a stable view of the phone while driving. The car mount fits different iPhones with a width range of between 54mm and 85mm.
iOttie Easy 1 Touch
The iOttie Easy 1 Touch is designed to give you an easy and unhindered access to your iPhone 6 inside your car. It comes in a unique design that incorporates a suction cup and a stable mount that can swivel 360 degrees to give your iPhone a secure fit. It can accommodate large phones too making it a great iPhone 6 plus car mount. The iOttie Easy 1 Touch can be used for smart phones with different widths ranging from 2.3 to 3.2 inches. Its rubber suction cup enables you to mount your phone on either your dashboard or window. It has a conveniently placed bottom section that is open for all time charging. At the time of writing the iOttie Easy 1 Touch is available for around $25.
TaoTronics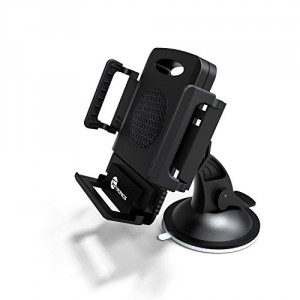 This is another great iPhone car mount that provides easy 360 degree rotation. It is also quite versatile and can be mounted on different locations inside your car using a strong suction cup that locks easily on any surface. The car mount is designed to withstand high temperatures and can firmly hold different types of iPhones with width sizes ranging between 1.97 and 3.94 inches. The iPhone car mount comes with a 1 year warranty too.
iClever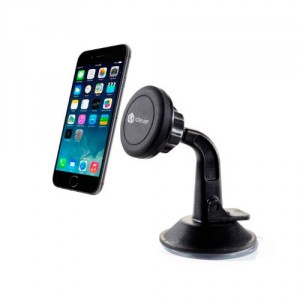 The iClever features a nice adjustable tilt, easy 360 degrees rotation, and a swivel mechanism that gives you the best viewing angles. It comes with a sticky gel pad to hold your iPhone firmly and a reusable suction cup. This iPhone car mount holds devices with width ranging from 1.9 to 3.7 inches. It also features a quick release button for easy retrieval of your iPhone.
MONTAR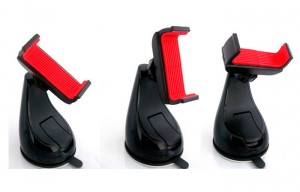 Designed by WinnerGear, MONTAR is a strong rigid suction cup that can be used to mount your iPhone of any sticky surface within your car, such as the dashboard. It has a strong combination of suction and adhesiveness and can even stick quite firmly on glass.
Iwotou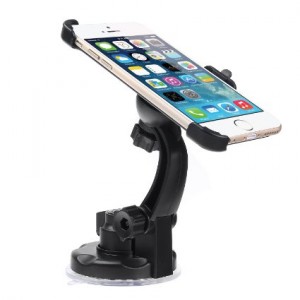 The Iwotou iPhone 6 car mount relies on air suction to hold your iPhone firmly and safely while driving. It has 360 degrees rotation and even provides both landscape and portrait views of your iPhone. It is also quite affordable and was going for around $9.99 at the time of writing.
TechMatte
The TechMatte car mount has great 360 degrees rotation with a mounting system that securely holds your iPhone even while taking sharp turns. On the inside layer, the car mount has soft foam cushions that protect your iPhone from scraths and other damages. It has a suction cup that attaches easily but strongly on the windshield or dashboard.
EnGive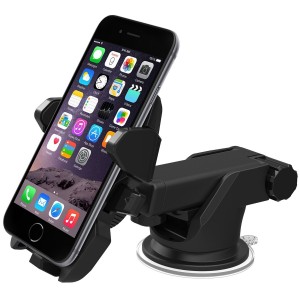 The EnGive is an easy to install iPhone car mount that fixes firmly on the dashboard. It is ideal for the iPhone 6 and is reasonable priced at around $19.99 with great discounts at Amazon.
IceFox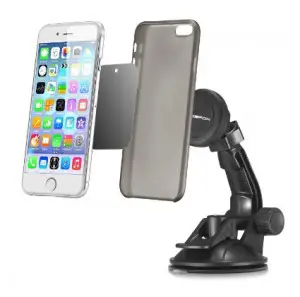 The IceFox is a fully adjustable iPhone car mount with the dexterity of 720 degrees rotation. It also provides both portrait and landscape views of your iPhone. Unlike other car mounts, the IceFox features a cradle-less mount and holds the phone using safe magnetic pads. It is one of the best iPhone 6 mount for car solutions.