Taking your mountain bike with you is a great way to escape into the great outdoors, without needing to move deep in the heart of a mountain in order to hit the trails. Now, to do this, you need to have some sort of a hitch bike rack on your vehicle. There are a few different bike racks out there that you can choose from, so whether you opt into a roof mounted bike rack or would rather go for something else, there is always a way to take a bicycle with you, no matter where you travel to or what kind of vehicle you do have.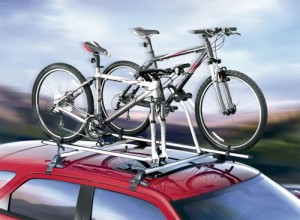 First, the most popular way of transporting your bike while attached to a vehicle is through the aid of a rear mounted bike rack. There are a few different benefits associated with this. First, it is easy to install, can attach through the trunk and is really easy to move, so you can take the rack off whenever you want.
A roof mount bike rack is an option, although this is usually directly mounted to the top of your vehicle and it is not as easy to remove. In fact, many times it is just left in place. It also takes a bit more effort in order to secure your mountain bike to the rack as you need to be able to reach the top of the vehicle. If you are on the short side, this might not be the best option for you. Of course, if you are purchasing a new vehicle such as an SUV and it has the option for a thule roof bike rack, you might want to go with this option, simply because you no longer need to worry about adding and removing a bike rack.
A hitch rack is something that works very similar to a rear rack. Now, your vehicle first needs to have a hitch. It is possible to install a trailer hitch onto just about any vehicle, although this does add to the expense drastically. When installing a hitch, you need to look at the class of your vehicle. A sedan, coupe or crossover is usually going to use what is known as a Class I hitch, while a larger hitch, such as a truck or large SUV, is going to use what is known as a Class III hitch. The main difference is simply the size of the opening. Due to this, you need to know what size of class your hitch is before you purchase a hitch rack. A hitch bike rack is a great way to transport more bicycles at once. Some allow you to travel with up to five different bicycles at once and it can be easily installed onto the hitch without much of a problem at all, not to mention it is probably the most secure, and your bicycle is not going to co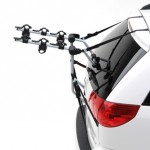 me into as much resistance from the wind.
A hatch rack is also known as a trunk mounted bike rack. This is the least expensive option, if you do not already have a hitch on your vehicle or a roof rack on top. The trunk mounted rack is going to attach to the trunk through a combination of straps. Now, you are going to carry fewer bicycles than what you might with a hitch, but if you only have one to possibly three bicycles to move, this is a nice way to go. Of course, it is very important to test out your rack before heading out onto the highway. The last thing you want is for it to fall off.